Soak up the sunshine on sandy beaches...or enjoy a dip in the warm ocean
Dear Reader,
Costa Rica's South Pacific rates as our most popular chill weekend destination. Trips here book up quickly, and sell out months in advance. Three years back, the developer ran seven or eight chill weekends a year. Today, he is running up to four a month...and he still can't keep up with demand.
Now, that demand is partly down to the beauty of this area. It's a rich, lush wonderland of dizzying mountain peaks, virgin forest, and a sandy coastline. But there's another reason why this place is becoming so popular. This location is poised...on the edge of a major boom.
The Boom is Just Beginning
You see, until 2010, this place was almost impossible to get to...unless you were adventurous (some would say foolhardy). It's not that you didn't have a choice of route. You did...but none of them classed as even vaguely comfortable or easy.
The first option involved hours bumping along one of the worst roads in the region. I say road...but it was more like a lunar surface...pockmarked, scarred, and gouged by giant craters. Rickety single-track bridges linked one sorry section with another. It took an average of seven hours to navigate the bone-shaking, back-shattering, stomach-lurching road. And in rainy season, you weren't going anywhere. The road was normally impassable then.
The other road option would suit cross-country freaks, or those with a fetish for mountaineering. Reaching 11,322 feet high at one point, the road's sharp twists, bends and turns make for...well, let's say interesting driving. You can't afford to lose attention here--not even for one second.
You can take the domestic flight option. But banish all thoughts of jumbo jets, duty-free and first-class lounges. What you get is an open-sided hangar...wooden bench seats...a tiny airstrip...and a tiny plane (12 or 18 seats) to go with it. Not quite VIP travel...
But thankfully, that's all changing. A new coastal road opened in January 2010. It's a joy...smooth, easy to drive, nicely surfaced...and it cuts the drive time from San Jose (Costa Rica's capital) to the South Pacific in half...to just over three hours.


What a difference a new road makes...
So getting to the South Pacific is now quicker, and more relaxed. And government plans call for an international airport. And we know what that means for property values...
History Repeats Itself
Back in the 1980s, Guanacaste was a tough five-hour drive from San Jose on rough, potholed roads. Backpackers and surfers braved those roads, but mainstream tourists, retirees and second-home buyers stayed away. The local airport at Liberia only offered occasional international flights.
Then, the road was re-paved...and Delta started regular international flights to Liberia in 2002. The rest, as the saying goes, is history. In 2003, 50,000 visitors used Liberia airport. In January alone this year, more than 31,000 visitors used Liberia airport.
More tourists traveling here meant that more tourists fell in love with the area...and wanted to rent or own a piece of it. Resort and residential developers snapped up land for hotels and private communities. The inevitable happened. Prime property in Guanacaste quadrupled in value in the three years after the direct flights started. Today, an ocean-view condo can set you back $1.4 million dollars...and an ocean-view lot $550,000.
Costa Rica's South Pacific is following the same path to success. It's now open to mainstream tourism. More tourists means:
More demand for accommodation. There isn't much on offer in the region right now...just small family-run hotels, and B&Bs. Your home here could earn rental income when you're not using it. There is also medium-term rental demand from owners currently building homes in the area, who want to supervise construction.
Business opportunities to cater to growing tourist numbers. Today, new commercial plazas are springing up in the Southern Zone to cater to increased tourist traffic and the growing number of expats, retirees and second-home owners.
Resort and residential developers chasing beachfront and ocean-view land to build hotels, tourist amenities and subdivisions. This is exactly the reason why property prices rose quickly in Guanacaste.
This is like turning the clock back ten years. If you missed out on your chance in Guanacaste, you need to pay attention to the South Pacific.
Why it's Worth The Trip
The South Pacific is simply stunning. Forest-cloaked mountain spines drop sharply to the blue Pacific. Waterfalls cascade down sheer slopes. Up above, the deep growl of howler monkeys rings out across the tree tops. Underneath the canopy, anteaters move busily on the jungle floor...iguanas creep quietly along tree branches...and tiny tadpoles swim in a tiny pool of rainwater. Cool shade envelops the trees, broken by the gleam of a jade and cobalt hummingbird. The beaches run for miles...

The beaches in the Southern Zone are unspoiled and free of crowds
The roads come with special crossings for tapirs, and monkey bridges. Sign posts indicate canopy tours, whale watching trips, and horseback rides.
There is more land preserved in national parks and reserves in this region than anywhere else in Costa Rica. Ballena National Marine Park is a hotspot for humpback whales. Corcovado is awesome, reputedly one of the most bio diverse forests in the Americas, and home to endangered plant and animal species.
Life's Little Luxuries
The South Pacific isn't a forgotten wildlife outpost, though. A small group of expats have already set up shop here. Their little restaurants serve organic food, Indonesian food, Italian food...wood-fired pizza, smokehouse chicken, and crusty French bread. If the aroma of fresh-brewed coffee doesn't tempt you, perhaps the wide selection of cheese, wine, chocolate or cigars in the local deli will...
An 85,000 square foot modern hospital opened in April 2008. It's a little large for the small population in the South Pacific right now...but should come in handy for the planned international airport.
Surprisingly, you can own a home site with amazing mountain views here for only $40,000. For $120,000, you get stunning ocean views (and for around a fifth of the price of a similar lot in Guanacaste). And those lots are in an established community called Pacific Lots...with more than 200 homes already built or under construction.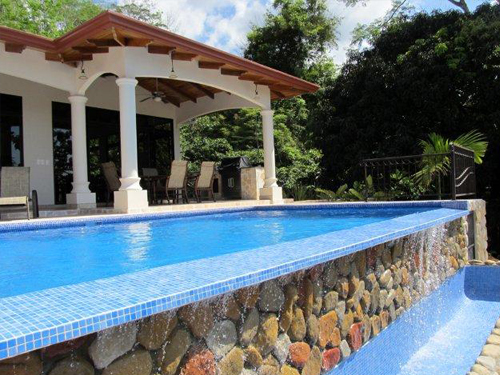 With warm weather year-round, you'll appreciate outdoor space...and a pool
The community is fully serviced with roads, water, electricity, satellite TV, Internet, and a modern communications system. And you can build your dream house...with custom construction running around $100 a square foot. Take a look at some of the finished interiors below:


Custom-built homes feature hardwood cabinetry and granite countertops
Chilling on the South Pacific
Now, you can probably see why the South Pacific chill weekends sell out so fast. This is a special place...with remarkable potential. And we'd like you to have the chance to see it for yourself.
So Pacific Lots is running a chill weekend trip this coming August 9th-12th, 2013. You can check out the beaches and forest... chat with residents, and see the community for yourself...and just how much view $40,000 buys you here.
You can explore the little local towns... or simply savor the relaxed atmosphere and freshly-prepared meals in the guest house overlooking Costa Rica's dramatic unspoiled coastline.
All you have to do is get to San Jose airport, and the Pacific Lots team will take care of the rest. Best of all, the chill weekend is only $299 for three nights and four days in one of Costa Rica's most beautiful and unspoiled spots... accommodation and meals are included. Click here to reserve your spot.
Remember, these trips sell out fast. And tourists, retirees and second-home buyers are set to come here in their thousands. Beat the crowds...and snap up your piece of paradise...by reserving your place on the South Pacific chill weekend today.
Margaret Summerfield
P.S. Here's what fellow readers Jackie and Dave had to say about their chill weekend trip: "We had a good time at the guest house; plenty of good food, wine and company. Our intention was to buy just one lot; however the more we saw the more we liked. We ended up buying two lots. One was akin to a trek into the jungle and up a mountain and you couldn't see the whole thing but Dave just had to have it. "My" lot was a no brainer. It is a 9 ocean view and a 10 mountain view. Breath taking no matter which direction you choose to look. We are extremely pleased that we now have a vested interest in such a special place."