Own a Home on This Exotic Caribbean Island a Short Walk from Unspoiled Beaches and Crystal-Blue Waters…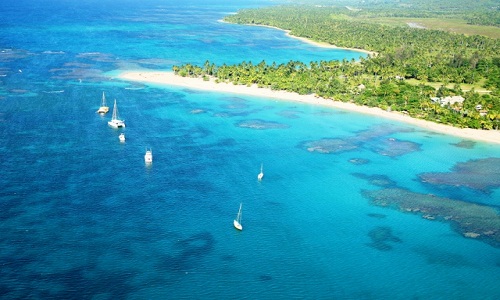 You are invited to experience for yourself this stunning island
getaway, relax on the white-sand beaches…and
discover some very affordable real estate.
Dear Reader,
You pull up a chair in the shade of a palm tree, kick off your shoes and dig out your bathing suit.
You take a dip in the bright-blue ocean…relax and let go of your stresses as the peaceful warm waves wash over you…
You're free as a bird. You're planning a lobster lunch, beachside, with your toes in the sand. Then it's time for a nice, long siesta to laze away the tropical afternoon…
It's hard to believe you left home this morning, waving goodbye to the gray, dreary weather back home. Yet here you are, on a postcard-perfect beach for lunch, soaking up the warm sunshine and the gloriously laid-back atmosphere.
This Caribbean island bolt hole is gorgeous and it's quick and easy to get to. It's a great spot for a weekend break or longer vacation.
And you can make it a permanent getaway, too, thanks to its bargain property prices. You can buy a condo a short walk from an unspoiled beach for only $72,000.
Today, we're inviting you to visit Las Terrenas in the Dominican Republic to experience the lifestyle, and see the amazing property values here for yourself. You'll find out how to reserve your place on a Las Terrenas Property Tour shortly, but first, what makes this island location so special?
Why Choose This Caribbean Island?
The Dominican Republic is a great location for a second-home. Here are some of the reasons why:
It's quick and easy to get to. Flights take 2 hours 10 minutes from Miami, 3 hours 35 from Atlanta, and 3 hours 41 from New York. Low-cost airlines like Spirit and JetBlue help keep fares low.
It's got great beach weather. Temperatures along the coast hover in the 80s year-round.
The Dominican Republic offers powder-fine beaches and crystalline Caribbean Sea, and much, much more. It's home to the Caribbean's highest peak, Pico Duarte. The island's landscape includes waterfalls, mountains, valleys, forest, and lakes. In Santo Domingo, the capital city, you'll see colonial buildings and ancient forts.
It's easy to become a resident here.
The economy is strong. The estimated growth rate for 2013 is 4.7 %. Traditionally the country focused on agriculture - the export of cane sugar, tobacco and coffee. Today, the big earners are tourism and Free Trade Zones.
Property prices are still affordable in the Dominican Republic compared to other Caribbean locations.
Affordable Island Property - Why?
The Dominican Republic has been a popular vacation spot for Europeans for many years. But it wasn't well-known to North Americans. That's slowly changing.
In 2002, for the first time, more North American tourists visited the island than Europeans. The number of North American tourists continues to grow. Most travelers fly into Punta Cana, the island's busiest airport.
Tourists come to Punta Cana to relax and party in the big all-inclusive hotels that line the white-sand beaches. Their beach loungers pack the sand. These resorts are convenient but they're bland. They lack any local flavor.
It's not just big hotels that jumped on Punta Cana. When it came to property development, this place pulled out all the stops.
Development centered on the coast around Cap Cana, 7 minutes from the airport. Big-name luxury resort and residential developments moved in. They built fancy high-rise condos and homes with multi-million dollar price tags. They promised golf courses, marinas and luxury spas. Swarms of international investors got on board.
Cap Cana became the Dominican Republic's hottest boom zone. But in recent years the frenzy ground to a halt. Some developers scaled back big projects or shelved them. Property prices today are a far cry from the boom years.
But the area I want to tell you about, Las Terrenas, is a far cry from Cap Cana.
Las Terrenas skipped the craze for triple golf courses and budget-busting condos. Away from the mainstream crowds, it followed its own beat; low-key, low-rise and laid-back.
Today, Las Terrenas is a pretty beach town in the east of the island with remarkably affordable property and some surprisingly luxurious amenities.
Las Terrenas: Boutique Chic
Thirty years ago, Las Terrenas was a rustic fishing village in the Samana peninsula. You hopped on a boat or a donkey to get here. In 1985, the town had three small hotels, dirt roads, no electricity or phone coverage.
Las Terrenas boasts a gorgeous setting with 19 miles of stunning beaches surrounded by steep green hills carpeted in palm trees. It attracted French and Italian tourists, who came to relax on the untamed beaches in the area.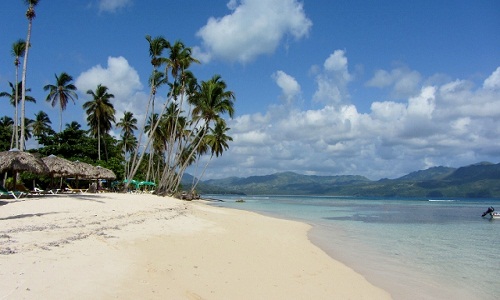 Imagine mile after mile of stunning white-sand beach…
They fell in love with the town's rustic charm and settled here. They didn't want to change the town too much. They simply wanted to add some home comforts. They opened small restaurants, spas, boutique hotels, cafes and bakeries.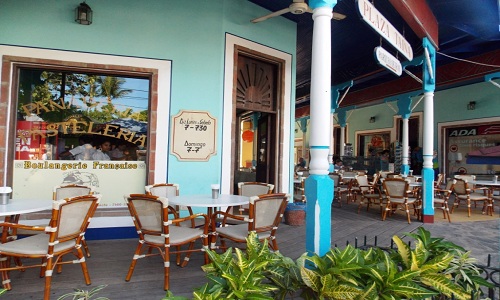 Las Terrenas is full of charming bakeries, cafes, and restaurants…
Restaurants in Las Terrenas serve everything from simple snacks to gourmet food. You can try grilled fish, wood-fired pizza, steak or lobster. You can buy flaky croissants from the French bakery in the morning. And hand-made Italian gelato in the warm afternoons…
The town got hooked up to the electric grid in 1994. That was a real game-changer. But Las Terrenas remained under the radar, popular only with wealthy locals and independent travelers.
Today, thanks to new road access, it's easier than ever to get to this boutique destination. More North Americans are buying second homes here, seduced by the setting, the relaxed island lifestyle and the undervalued beach homes.
The New Highway Makes Getting Here a Breeze
A new highway connecting the Samana peninsula with Santo Domingo, the island's capital, opened in 2009. It cut the drive time to Las Terrenas from Santo Domingo in half, to 2.5 hours. But the last part of the journey was the trickiest part of the trip.
It involved a steep climb into the hills, on a curving, narrow road. The road was rough with lots of potholes. There were no safety barriers or street lights. It was a winding, tricky drive on a dry day - and a scary prospect in the dark or heavy rain. And it took at least 45 minutes to cover that last 12-mile stretch of road.
But a new coastal boulevard road opened in October 2011: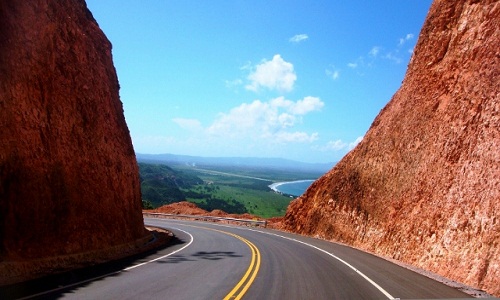 It cuts out the climb through the mountains around Las Terrenas. It makes getting here a breeze…
It now takes around 90 minutes to drive to Las Terrenas from Santo Domingo. So it's easier for locals to come here for the weekend or longer vacations.
It's easier for foreign tourists and expats, too. The new road places Las Terrenas only 25 minutes from the international airport at El Catey. The airport currently receives direct flights from Toronto, Montreal, New York, London and Paris.
Properties to Suit Most Budgets
Las Terrenas is one of the most affordable island beach destinations in Latin America. And it's now quick and easy to get to.
This chic beach town attracts travelers looking for a tranquil spot, far from partying crowds and sprawling hotels. Those visitors often prefer the space and seclusion they get with a private rental. So your home here can earn a very handsome rental income when you're not using it yourself.
Take a look at some of the properties available in Las Terrenas today:
| | |
| --- | --- |
| | A brand new one-bed, one-bath condo with quality finishes in a small complex with a pool and social area, located in the heart of Las Terrenas, close to the beaches, restaurants and shops… for $72,000. |
| | A large two- bed one bath apartment with 1,226 square feet. The community boasts a beautiful pool and social area. The condo is close to beaches, the main shopping area, and restaurants. It's priced attractively at $119,500 |
| | This three-bed home is just a short walk from the pretty Las Ballenas beach. Situated in a small private community with a pool and lush tropical gardens, this is the perfect Caribbean holiday home. You can walk along the beach to the shops, cafes, bars and restaurants in Las Terrenas. It's listed at $185,000. |
| | Or, if you're looking for more space, you can snap up larger homes from $295,000…such as this three-bedroom town home, in a quiet residential area. It boasts an infinity pool with the most amazing ocean views, and a large outside deck where you can spend the evening watching the sun set over the clear blue waters below. It's on the market for $295,000. |
| | If money's no object, you can get the beach home of your dreams in Las Terrenas. A 6-bed 5-bath home, with a games room, large pool and built in bar, set on a stunning ¾-acre beachfront plot. The home comes with a proven rental history. The price has just been reduced to $1.49 million. |
The best way to check out these properties is on a Las Terrenas Property Tour. You'll get the lowdown on Las Terrenas - the best beaches and restaurants, what it's like to live here and the real skinny on rental income potential - from your host, local real estate agent Toni Green.
Toni relocated to Las Terrenas from the UK seven years ago with her young sons. She visited Las Terrenas for a Christmas vacation, liked what she saw and decided to start a new life in this little beach town. Once you spend some time here, you'll understand why.
Toni is inviting you to sample the Las Terrenas lifestyle for yourself, checking out the best properties (and, of course, soaking up the sun on the pristine beaches) on a Las Terrenas Property Tour.
A Trip You Can't Afford to Miss
If you'd like to try on Las Terrenas for size and see if it fits, contact Toni here to snap up your spot on the Las Terrenas Property Tour.
This trip will give you a taste of Las Terrenas' chic island style. You'll truly relax in this amazing setting. You'll explore the town and the surrounding area, meet expats who have already made the move and check out a range of properties with prices and styles to suit your budget.
This is a custom trip, organized to suit you. So, you will only see the properties that suit your tastes, needs and budget - when you want to see them.
Don't worry, you'll get plenty of time to kick back on the stunning beaches, too…enjoying the warm sun, relaxing on the soft sand and launching yourself into the sparkling ocean…
Toni can organize everything for you…airport transfers, transport, and accommodation. She'll be on hand to help you make the arrangements. She's your contact on the ground who can take all the hassle out of planning your trip…and more importantly, make sure you see the best-value properties here.
Of course, there's a catch. If you want to see these properties before they get snapped up, you need to act now. Toni's calendar fills up fast.
You can get more details and reserve your place on a Las Terrenas Property Tour with Toni here.
Las Terrenas is a unique island beach town with some amazing property bargains. If you're in the market for an affordable beach home that you can use at weekends or for longer vacations…in a setting with show-stopping beauty…you should put this little town top of your shortlist.
And come and see it for yourself on a Las Terrenas Property Tour - soon.


Margaret Summerfield
Managing Director, Pathfinder
P.S. Here's what fellow readers Robert and Virginia had to say about their recent Las Terrenas trip: "The short story is that we fell in love with Las Terrenas. We recently purchased a small condo a short walk to the ocean and close to this eclectic town. It's a delightful town, in a truly beautiful location."
Don't delay. These trips are extremely popular, and Toni's calendar fills up fast. Contact Toni here, today, to reserve your Las Terrenas Property Tour.