Sugar-White Sands, Aqua Water, and Emerald Forest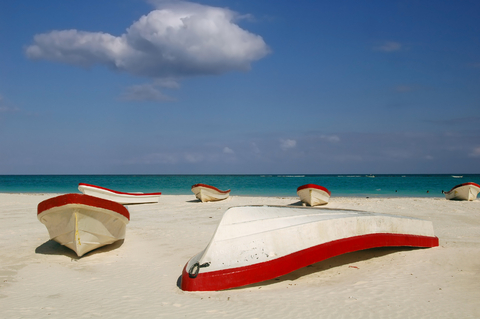 An unspoilt Caribbean paradise...
Dear Reader,
Tripadvisor readers voted Tulum #5 in their list of the world's top 25 Beaches in 2011. When you see the beaches, it's easy to see why ... silky white sand, dotted with palm trees, and washed by bright-aquamarine Caribbean waves. Offshore, the coral reef beckons, with a rainbow of exotic fish.
Inland, a rich jungle landscape awaits. Dense tropical foliage curls around ancient Mayan ruins...and frames crystal-clear cenotes. Jagged limestone outcrops stud the forest floor. Jewel-bright butterflies flit overhead...iguanas bask in sunlit clearings...and birdsong drifts from tree to tree.
You don't have to choose between beach and jungle...reef or rainforest. In Tulum, you can have both. Plus, you can enjoy culturally-rich Mayan history and archaeology...hang out in the hip beach town of Playa del Carmen...and benefit from a Path of Progress story.
Following the Path of Progress Along the Coast
Tulum is set for a major infrastructure and accessibility upgrade. We've seen the impact of this before in places like Cancun and Northern Costa Rica. Anything that improves the accessibility of a piece of real estate increases its desirability. More tourist amenities also improve desirability. The more desirable a piece of real estate is, the more valuable it is.
This is what we call profiting from The Path of Progress. The Path of Progress started in Cancun in the 1980s, turning a former coconut plantation into the thriving tourist hub we see today. The Path then headed east along the coast, reaching Playa del Carmen's packed sand streets.
Fifteen years ago, $10,000 bought you a corner lot in Playa...which was then a quiet beach village. Today, the ground floor retail unit on that lot would rent for up to $20,000 per month.
And today, models, music and movie stars hang out on Playa's fashionable 5th Avenue. The restaurants and cafes serve traditional Mexican food, alongside Thai, Italian and organic fare. The stores sell luxury goods, handcrafts, jewelry and textiles. Playa's definitely moved on from its fishing village roots...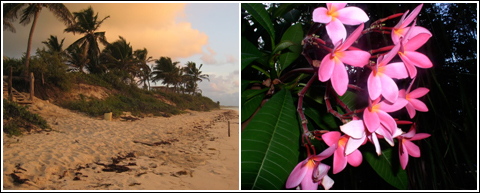 Now, it's Tulum's turn. Plans call for a new international airport, which would bring more tourists directly to Tulum. The town's gaining popularity with expats and property buyers, and finally attracting the attention of the mainstream press. But Tulum will never become another Cancun...
Tulum is currently only 2 hours from Cancun's international airport. Yet, despite how easy it is to get here, Tulum feels secluded, hidden...off the beaten track.
The Sian Ka'an biosphere is partly responsible. This reserve covers 2.3 million acres of land, around one-third of Mexico's Caribbean coast. The biosphere is home to endangered turtles, jaguars, tapirs, manatees, and hundreds of species of birds and mammals.
Development is restricted outside the biosphere, too. Tulum watched the rise of Cancun--and decided to follow a different path.
Clusters of high-rise condos... faceless hotel chains...all-inclusives sprawled along the beach....Tulum wanted none of that. There are strict height and density restrictions in place. Tulum wants to keep its eco-chic, low-profile credentials.
So, the biosphere means a scarcity of developable land--and the tight planning restrictions limit the amount of development. That's good news for Tulum's beaches and rainforest--and good news for property investors.
Jungle Lots on the Riviera Maya
One development fits Tulum's eco-chic vibe perfectly.
Los Árboles Tulum is 12 minutes from Tulum's perfect beaches. This exclusive, off-the-grid development has 221 home sites spread over 1200 acres of pristine jungle.
Generously-sized five-acre lots give you room to stretch out, and a sense of privacy. You can improve 1000 square meters of your lot, and use 30% of this for the footprint of your home...and put a pool, meditation platform or amphitheater on the rest. The peaceful jungle, and her flora and fauna, envelop your home.
Developer Greg Schnurr did things the right way...the Tulum way...in Los Árboles. It took him five years. It was worth the wait. The development is now taking shape as a community.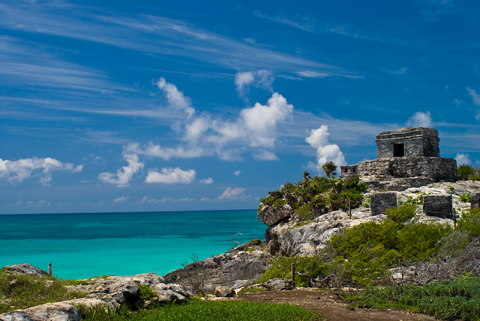 Tulum has it all: Ancient ruins, reef and rainforest
Plans call for a community center with a clubhouse, and a mini outdoor theater. Fifteen acres of nature trails weave their way through the project. The concept is eco-friendly. Homes are powered by the state of the art solar systems with low decibel generators for back-up. Your power will come from the sun, or the refreshing breezes that blow above the tree line.
Don't think that off-grid means a rustic cabin, though, or that this type of development will only attract green warriors. Jungle lots in private communities appeal to middle-class professionals and wealthy businessmen in Mexico. They value the space and privacy. The clean lines and simple details of their fashionable homes harmonize with the surrounding jungle, rather than trying to compete with it.
Los Arboles offers a choice of stylish home designs. or you can design the custom home of your dreams. Developer home prices start at $167,000.
Los Arboles gives you an affordable, large private lot, surrounded by peaceful jungle...twelve minutes from postcard-perfect beaches. It really is the best of both worlds. And the Los Arboles team wants you to try on this eco-chic lifestyle for size...and see if it fits...on a Tulum chill weekend.
These trips give you a flavor of what Tulum has to offer...exploring the world-famous Mayan ruins...swimming in the cool clear waters of a natural limestone cenote...and discovering the natural beauty of the Sian Ka'an biosphere. You'll have time to relax on Tulum's perfect beaches--and explore Los Arboles. The 2 day trip is $249 per person.
Spaces are limited. Pay a refundable deposit, and you can select your lot and home package, and arrange to see it on a chill weekend. Reserve your spot today by contacting Donna here.
Margaret Summerfield