The Best Lake Buy in Latin America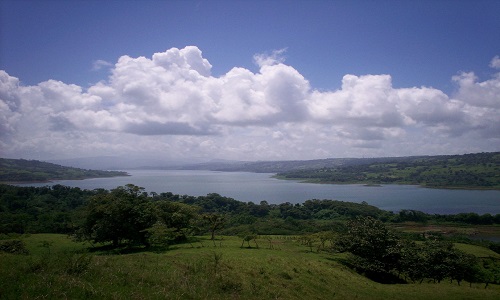 You can afford a lake-view home here
—from as little as $49,000
Dear Pathfinder Alert Reader,
Vincent van Gogh is a household name today. Most folks are familiar with at least one of his paintings—a self-portrait, Irises or Sunflowers, perhaps even The Starry Night with its dark, rippling cypress tree and bright, swirling stars. Van Gogh is incredibly popular. So much so that his paintings are reproduced around the world on mouse mats, t-shirts, calendars and bags.
Yet Van Gogh's works were unknown, unremarked and neglected during his lifetime.
Of course, as soon the art world proclaimed him a genius, the value of his works soared. Van Gogh became a desirable commodity. Everyone wanted to own a piece of him.
It's the same in the world of real estate. Occasionally, very occasionally, we'll find a spot that should command top dollar. But it's undervalued and underpriced—because nobody knows about it or appreciates its intrinsic value.
It's straight-up economics of supply and demand. Demand drives prices. You can have a killer product. But you still won't sell a dime if nobody knows about it.
Costa Rica's Lake Country falls into this overlooked and undervalued category. It's a killer product: Gorgeous properties with jaw-dropping lake views in a stable, friendly country that's a breeze to get to.
But it's off the mainstream radar. Joe Public doesn't know about it yet. Only a few savvy insiders can see its potential.
There's a silver lining, of course. That's the low, low property prices. You can buy the most incredible 3.5-acre parcel of lakefront, lake-view property for only $99,000. For the same money, you can bag a lake-view two-bed home.
I'm not sure how long this situation will last. This was a secret spot. But word is slowly getting out about this location. We've watched a trickle of buyers get on board in the last three years. That trickle could become a fast-moving stream…and then a flood…anytime soon. And when it does, you can wave goodbye to bargain-basement property prices. The clock is ticking…
It's a Little Slice of Rural Paradise

Like Van Gogh's paintings, Costa Rica's Lake Country is exquisite. The centerpiece is a shimmering, sparkling lake. It's more than 18 miles long and just over three miles at its widest point.
A series of hills and mountains and sharp volcanic peaks wraps around the lake: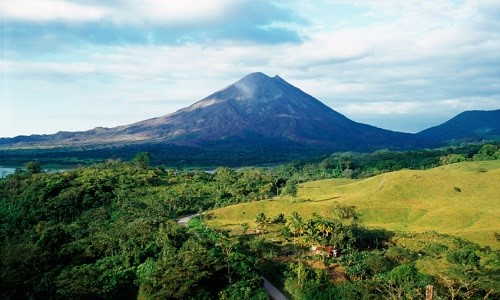 Crashing waterfalls tumble down green slopes. Hot springs bubble from deep underground to provide natural soaking tubs.
Monkeys and jewel-bright birds call out from the treetops. A fresh breeze sends ripples across the lake, sending a cloud of butterflies soaring over a meadow. Exotic blooms hang from trees, peek through pastures and spill over fences in shades of hot-orange, brilliant scarlet and tropical pink.
It's a little slice of rural paradise.
In many lake locations, it's hard to see the charm. You know it's there but it's buried in a sea of tourists. You battle your way through partying day-trippers and summer vacationers. You wait in line at every eatery. You share the lake with pleasure cruisers, screaming jet-skis and flocks of fishermen. You may not want to visit in peak season because you know you simply won't enjoy it.
That's not the case in Arenal. Most days, you'll see the odd boater or fishermen out on the water, or perhaps a couple of kayakers paddling away peacefully. One part of the lake gets strong winds for a chunk of the year, so that corner is popular with windsurfers. But it's never busy. Some days, you'll even get the lake all to yourself.
There's no obvious reason why Arenal is quieter than other lake regions. It's easy to get to. A good road connects the lake with Costa Rica's capital, San Jose. It's a three-hour drive through scenic coffee-growing highlands and rustic towns. Another road connects Arenal with the coast and the country's second international airport at Liberia. Liberia airport is only a couple of hours drive on a good road.
The weather is warm and sunny year-round. Average temperatures run in the 70s. There's no snow, no ice, no hurricane risk. It's perfect for folks that want to spend as much time as possible outdoors.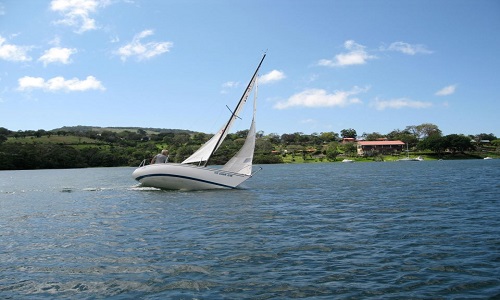 There's no better way to spend the day…
If you're building a home here, there's one piece of advice you should always follow. Make sure you've got a lot of outside space. You'll breakfast alfresco, enjoying the view along with your morning coffee. Here's where you'll eat lunch and dinner, grill, entertain and relax in the tropical afternoons. You can add a pool or a hot tub for the ultimate in luxury lakeside living…
Owning a home in Arenal won't break the bank. In fact, it costs a lot less than you might expect for such a gorgeous destination.
Here's Why So Many Folks Love Costa Rica
Costa Rica is a country with a high standard of living and an excellent quality of life. It's highly-rated for safety, its world-class healthcare and its laid-back pace of life.
The country's renowned for its natural assets. Costa Rica has a little bit if everything. It's got thick jungles, foaming river rapids, fiery volcanoes and mile after mile of sandy beach.
It's amazingly bio-diverse for such a small country. It's home to 860 species of bird, more than the U.S. and Canada combined. You'll see sedentary sloths and agile wild cats, massive whales and tiny tree frogs, sharp-billed parrots and moss-like ferns. A quarter of the country's land lies inside national parks and reserves.
The beaches and wildlife help attract a large number of tourists. Costa Rica is a tourist magnet, bringing in more than two million visitors a year.
It's also been a hot spot for expats and retirees for many decades. And thousands of North Americans own second homes in Costa Rica.
So why aren't all those tourists, retirees and property shoppers coming to Arenal in droves? It's simple. They just don't know about it. They're spending their time—and their property dollars—in better-known destinations in Costa Rica.
But that's good news for you.
You see, it means that property prices in Arenal are still low. Real estate pricing, after all, is all about supply and demand. There isn't a strong demand in Arenal just yet.
So you can get a lake-view house for as little as $49,000. For now, at least.
Here, Everything Is Low-key and Small Scale
The low price you'll pay for property prices is one upside of Arenal's lack of recognition. And there's another big benefit.
That's the lack of over-development. This isn't a lake region that's paved over with concrete, drowning in high rises and jammed with malls.
Everything in Arenal (apart from the lake) is on a small scale. Little farms sit on the hillsides. Little villages dot the two-lane lakeshore road. Little restaurants and cafes serve up rich coffee, tasty snacks and gourmet meals.
The folks who have already discovered this hidden corner of Costa Rica want it to stay low-key and low-rise. They love the natural beauty of Arenal and want to preserve it. The unspoiled landscape is what got them hooked on this place. They don't want to ruin it with row after row of cookie-cutter homes or urban sprawl.
Arenal's escaped the attention of big-bucks commercial and residential developers. The hotels are boutique affairs, family-run, with a personal touch. The stores and eateries are your typical mom'n'pop businesses with personal service and a warm smile. The residential communities are small and unpretentious with custom-designed homes.
The atmosphere is small-town friendly. Pull up a stool at the bar in some of the expat hangouts and you'll soon start meeting people. They'll share their stories with you, make you feel welcome and even invite you to a pot-luck dinner, a wine and cheese party or the next expat get-together.
They're all happy to share why they chose Arenal. For some, it's the peace and quiet. For others, it's the lack of pollution and big-city hustle and bustle. They all say that it was the views and the scenery that got them hooked. But what keeps them here is the community feeling and the friendly atmosphere.
One is living the good life, he tells me. He's into fishing and boating. He loves nothing better than inviting some buddies round for a day on the lake, angling for guapote or the fighting machaca fish the lake is famous for. Even if the fish don't bite, he laughs, they still have good fun.
Most admit they couldn't hope to buy the type of home they currently have back home. "I've got million-dollar views", one expat told me, "but I'm no millionaire. I never dreamed I could own a property like this when I retired. But I've got the home of my dreams in Arenal."
It's Like Lake Como…
Our real estate contact in Arenal is Moran Real Estate, founded by Terry Moran. In the 1950s, Terry Moran's family moved to the Virgin Islands and set up a real estate business. Terry joined the family firm when he got out of college.
In 1995, Terry retired to St. Bart's. But he quickly became bored. In 2001, a friend suggested a trip to Costa Rica. Terry loved the country so much, he relocated there. He spent his first year around San Jose.
A Costa Rican friend recommended that Terry should try the hot springs in the little town of La Fortuna. Terry told me: "They never mentioned Lake Arenal, even though it's so close to La Fortuna. I stayed at one of the hot spring resorts in La Fortuna. But there's only so much soaking in hot springs a body can take!
"So, I hired a car. One day, I headed out of town and saw the lake for the first time. I'd never heard a word about it, but I was stunned by its beauty and size. It reminded me of Lake Como and other beautiful lakes I had seen on my world travels."
Terry was hooked. By the time he got to the west side of the lake, close to the town of Nuevo Arenal, he knew one thing. "My real estate bones kicked in and I said, something is going to happen here, something big."
Terry moved to Nuevo Arenal and set up Moran Real Estate. Over the years, the area has grown. But it hasn't seen a crazy-fast boom. While other parts of Costa Rica have seen prices rise to the point they're no longer good value, Nuevo Arenal is still very affordable.
You don't have to take our word for it. Just look at some of the properties on the market today:
This one-bed house in a quiet neighborhood is newly-refurbished.

It's got a nice porch, skylights in the roof and a lake view. It's also furnished.

It would make a nice home for a single person or a couple on a tight budget. Price: $49,000.

This recently-built four-bed two-bath lake-view home comes furnished.

It boasts lake and volcano views and sits in 2.25 acres of land. The seller is motivated and has just cut the asking price.

The list price is $139,000.

This is a 6.8-acre parcel of land with two small houses.

The houses aren't fancy but they're liveable and would make a good base while you build your dream home. Then they'd make nice guesthouses or rentals.

The property is priced at $150,000.


This is 30 acres of prime land with views.

The property is on a public road with access to telephone and electricity.

It's six miles to the town of Nuevo Arenal. It sits alongside a public road. It's got elevation and lake and volcano views.

The asking price for 30 acres is $199,000.
"As soon as we saw the lot, my wife said this is the one. With a deal in hand we drove back to San Jose excited that we had just purchased a little piece of paradise.
"If you happen to visit this part of the world, we highly recommend both the Gingerbread Hotel and Moran Real Estate. You'll love 'em both!"
—W. & R. Powell
I really liked another property on the market—a remodeled lake-view house for $89,000. I figured a savvy buyer would snap it up quickly. And they did. It just sold.
Arenal is a great spot for a second or retirement home. And nothing beats seeing it for yourself and getting a taste of its friendly small-town atmosphere.
There's an easy way for you to explore this tranquil location for yourself…meet the friendly expats…and see the best property bargains on offer here. It's all in one neat package, the Arenal Property Tour.
We'd Love You to See Arenal's Bargains Firsthand
"…we were "just looking," and were not ready to buy. But the more we experienced the Lake Arenal environment, the more we liked it. Although we saw several resale homes that could have easily worked for us, we saw two developments that really caught our eye, and suddenly found ourselves talking about buying something right then and there.
"We could not have found a more welcoming and fun-loving group of people, soon to be our neighbors. We quickly came to an agreement, and within days we were property owners in Costa Rica.
"Every time we come home to Costa Rica, we are more convinced we made the right choice. The minute we cruise through customs in Liberia, our blood pressure goes down, and the pura vida grin creeps onto our faces. We have found our little slice of paradise." —Charley & Candace V.
The Arenal Property Tour is a one-on-one custom trip. You're in control. You decide when you want to go and what you want to see, at your own pace.
The first step is to contact Moran Real Estate. Let them know your budget and what type of property you're looking for…a move-in ready home…a lake-view lot where you can build your dream house…or a big chunk of land where you can grow your own produce or keep horses. Whatever it is, there's likely something that fits the bill—and your pocketbook—in Arenal.
Once you've figured out your custom property viewing itinerary, you can start planning your trip. Moran Real Estate will help with accommodation, car hire or airport transfers.
You can stay, for example, at La Mansion, a lakefront property with little private cottages set in 25 acres of landscaped grounds. You can eat at the Gingerbread, which boasts some of the best food in Costa Rica. The Gingerbread's a good spot for meeting expats, too. They come here to relax over a gourmet dinner and swap stories. Pull up a seat at the bar and you'll quickly make new friends.
The Moran Real Estate team will show you the sights and the best real estate deals. You'll fall in love with Arenal's small-town atmosphere. And you won't believe how much your real estate dollar buys you in this charming lake location.
This three-day property tour includes two nights' discounted accommodation for two at a lakeside hotel from only $200 and a special discounted rate on car hire from $32.50 per day. But you can organize a trip for as long or as little as you like.
It's easy. Just choose the dates you'd like to visit, contact Moran Real Estate to make arrangements and then book your flights. That's it. Once you arrive in Costa Rica, you can kick back, relax and soak up the atmosphere—everything else is organized for you.
These tours are popular and the team's calendar fills fast. To make sure you get your preferred dates, contact Moran Real Estate today to start planning your trip.
I really can't think of another lake location that's as appealing as Arenal—and where you can get so much bang for your real estate buck. It truly is a special place…one that you need to check out for yourself, while prices remain low.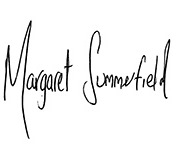 Margaret Summerfield
Managing Director, Pathfinder                 
Editor's Note: These Chill Weekend trips are only available to members of our real estate club, Real Estate Trend Alert. Members of this club always hear about our hottest new opportunities first, so they get first pick of units...they get exclusive discounts, special payment terms and financing, access to pre-release inventory and a whole lot more. You're leaving money on the table if you're not a member. Find out how you can become a member and maximize your property profits here.