A Tale of Tourists, Bananas and Big Business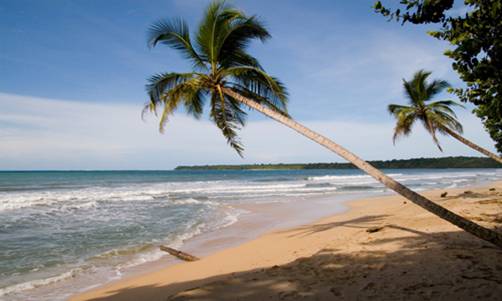 How could anyone forget a coast like this?
Dear Reader,
It's got a nickname, Costa Rica's Caribbean coast. It's not the worst nickname you could give a place. Instead, it's a reflection of the area's checkered history. It's dubbed the Forgotten Coast.
Everyone forgot about this side of Costa Rica. Many Costa Ricans have never visited this coast. Big business forgot about it and focused on the capital city, San Jose. Tourists forgot about it and flocked to the country's Pacific coast. Property shoppers forgot about it, getting caught up in a buying frenzy on the northwest Pacific coast and in the Central Valley.
But this Forgotten Coast is shaking free of its past. It's opening up to business and tourism. I expect it won't take long for the property shoppers to follow...and the Forgotten Coast nickname to finally fade away.
If you're wondering how anyone could forget a coastline rich in national parks and gorgeous beaches, well, it all stems back to one company.
Let's Start with the Past
It started with tourism and coffee. The Costa Rican government wanted a railroad to link San Jose with the Caribbean coast. The railroad would transport coffee from the highlands to a Caribbean port for export overseas. It would also bring tourists out to the Caribbean's pretty beaches.
That was the dream. But reality didn't quite match it. Work on the railroad began in the 1870s. It was grueling. Thousands of workers died cutting the tracks.
Then the government ran out of money. They granted large land tracts and a lease to operate the railroad to United Fruit. United Fruit bailed out the project and carried on laying track.
So far, so good. But by the time they completed the railroad in 1890, tourists were in short supply. The railroad wasn't profitable. But there was a whole new business opportunity - in bananas.
To keep their workers supplied with food while they built the railroad, United Fruit planted bananas beside the tracks and along the Caribbean coast. Bananas were in hot demand. So they switched business plan - from tourism to bananas.
The banana business grew quickly. Soon, bananas were the biggest export from Costa Rica. United Fruit expanded their operations. They operated the railroad. They owned the docks in Limon, the main port city. By 1929 they employed 95% of the people in Limon.
But diseases affecting the banana crops and worker unrest pushed United Fruit into pulling out of Limon in the 1960s. And the Caribbean coast slipped into a period of quiet decline.
The decline had some upsides. It preserved the Caribbean coast's unique culture and traditions. And it kept property prices low.
But Costa Rica's Caribbean is now on the move.
The Present...into the Future
It's taken a long time to start reversing this coast's downward trend. But finally, the Caribbean side of Costa Rica is getting the attention it rightfully deserves.
For starters, Costa Rica's Caribbean is attracting mainstream tourists. Wildland and Disney both now offer Caribbean tours. Frommer's ranked it a "must-see" destination for 2011. There's a thriving cruise ship business with plans to double cruise ship arrivals to 500 annually.
A luxury boutique hotel, Le Cameleon, opened in April 2009, catering to the well-heeled tourists traveling to this coast. There's growing interest in surf spots like Uvita and Puerto Viejo. The Caribbean coast also attracts divers and sport fishermen.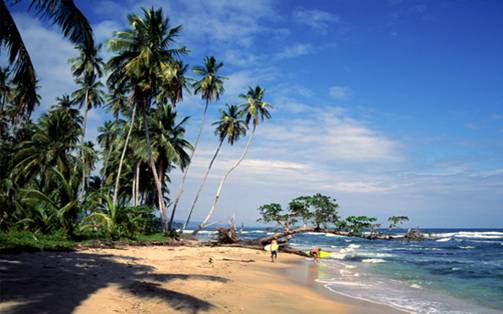 The Caribbean coast offers great surfing, diving and fishing
And business is coming to this coast. A new free-trade zone in Bufalo will house 12 companies. Each company must invest a minimum of $100,000 to operate here. But that's dwarfed by the investment in the Caribbean ports of Limon and Moin.
On August 30, 2011, the Costa Rican government signed a $1 billion concession with Dutch company APM to build a new port terminal in Moin. It's the biggest concession contract in the history of Costa Rica. Construction will start in 2013, and should take three years. It will increase the port's capacity and turnaround time. And it will bring jobs to the area...an estimated 2,000 direct and 8,000 indirect jobs.
Many of those workers will need accommodation...and amenities like cafes, restaurants and shopping. And to build and deliver those, you need land. This could be a trigger pushing property prices upwards...
A Caribbean Opportunity for You...
There isn't a lot in the way of residential development on Costa Rica's Caribbean side. But one development, Grand View Estates, stands out. It's a community set in 640 lush acres, in the Talamanca Mountains.


Grand View is surrounded by nature and wildlife...
The 1300-feet elevation means fresh ocean breezes, and ocean views from some lots. Nature surrounds you in Grand View...rainforest, rivers, waterfalls, bright macaws, big butterflies, monkeys and sloths.
Yet it's 90 minutes from San Jose (and world-class hospitals, shopping malls, restaurants and cafes) on a good paved road. And it's only thirty minutes from the white sand beaches of the Caribbean.

Grand View Estates is an established community
Grand View started selling home sites in 2007. Today, it's an established development, with roads, electricity, water, Direct TV, cell and internet cover. Thirteen homes are complete or under construction. It's got a social area, complete with infinity pool and barbeque. There are on-site stables for those who want to keep or ride horses.
Grand View is a successful project. The first three phases sold out in less than four years. Now the developer is launching phase four.
Lots in phase four start at $80,080 for 1.24 acres.
That works out to $16 a meter. That's a great price. Grand View's developer bought this land many years ago. You couldn't buy this land today, at current prices, and sell lots this low. Today you could pay $30 a meter for land close by, outside a gated community.
You can take advantage of interest-free financing, too. You can pay 35% down, and spread the rest over 24 months. Contact the developer here for details of this finance offer.
Plus, you can come and try out the Grand View lifestyle for $349 per person on a Grand View chill weekend. You'll stay in one of the finished homes in the community. The developer will show you the area, to help you decide if it's right for you. You'll check out Grand View, the little towns and villages nearby and the Caribbean beaches.
You can contact Gill Phelan here for more information on available lots and pricing, and the chill weekend.
Margaret Summerfield
P.S. The chill weekends are on a first-come first-served basis. If you're interested, don't put this on the back burner. Contact Gill today for a full information package.