Dear Reader,
Sunlight sparkles on the wide blue ocean. White-capped waves roll up on a curve of soft-sand beach. Wild cats and tapirs prowl the rich green forest that covers the mountains and hillsides. Toucans with rainbow bills and delicate hummingbirds fly through the canopy. Whales drift past as you gaze out to the ocean from the cliffs running along the shore.
It's tranquil here - secluded and private. This piece of coast is free of high rises, mega-resorts and chain hotels. That's because it was really tough to get here. But there's a big advantage to that lack of accessibility: property prices stayed low.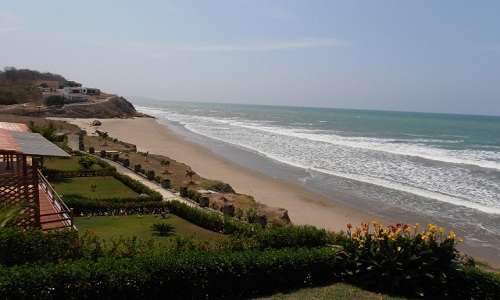 You can own a condo here from $94,000
But a new road has opened this coast up for the first time. And property prices are already starting to rise. There's a window of opportunity. But you need to act now.
Getting to this stretch of Pacific coast was no easy task. Thirty years ago, it took at least 18 hours to drive here from Quito, Ecuador' capital city. You raced along a beach, forded a river - all fun stuff. But in rainy season, it was impossible to get to. And it ruled this location out as a weekend getaway for locals from Quito, or foreign tourists. By the time you got here, it was almost time to turn around and go back home again.
This coast has changed a lot in the last 30 years. But the biggest change is the most recent one: the new road.
The Nicest Stretch of Coast in Ecuador
In January 2011, this piece of coast hit a milestone. A new coastal highway opened. It winds its way from Quito, Ecuador's capital city, through the mighty Andes Mountains. Driving this route, you can't help but appreciate the mammoth engineering task involved in carving this road through the mountains.
The new road is smooth and easy to drive. It's much quicker too, cutting the drive time in half. It now takes 3.5 hours to drive from Quito to this section of coast. That makes this piece of coast the closest beach area to Quito.
That's an important point. Previously, the closest beach area was a town called Atacames. But Atacames is a 6-7 hour drive from Quito...compared to the 3.5 hours it now takes to get to Pedernales.
This coast is poised for major growth. Already, we're seeing more local tourists and buyers from Quito...and growing interest from foreign buyers looking for a second or retirement home.
Real estate developers are planning to build residential communities in this area...
But one developer is ahead of the game. That's because his family has spent time on this coast for more than thirty years.
Francisco del Castillo's grandfather owned a house on this coast long before the new road opened. And as I mentioned, thirty years ago it took 18 hours to drive from Quito to his grandfather's house. But Francisco loved spending time on this coast. So when his family decided to start a residential community, Francisco suggested this place.
It took Francisco some time to persuade other family members of the location's potential. But finally, they began planning Jama Campay. And today it's a reality -an established community.
A Beachfront Community with Condos from $94,000
Jama Campay is a small beachfront community of lots, houses and condos. It's right in the center of the nicest stretch of coast. Backed by steep forested hills, the project's elevated setting gazes out over the waves breaking on the shore to the sparkling blue ocean beyond.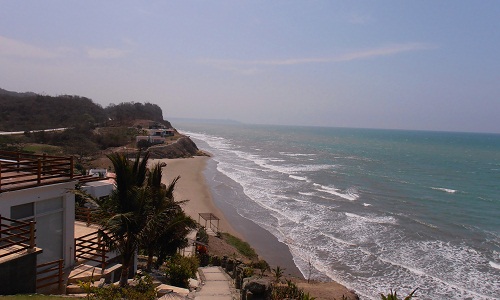 The Jama Campay community wraps around a soft sand beach
The rocky coastline drops onto a soft sandy beach. The homes in Jama Campay sit on low cliffs, with panoramic views stretching along the horizon. Warm breezes keep the tropical afternoons comfortable.
Completed homes have already sold to wealthy families from Quito. And owners are seeing the effect of the new road. A trend of rising prices has already started.

Eighteen months ago you could buy one of the oceanfront homes in Jama Campay for $115,000. Today, there is not a single home left and the last two remaining ocean- view homes were listed at $144,800.
Typically with locations like this, it takes time for a rental market to develop. Because you are early-in, before renters or tourists come in numbers, there aren't people to rent to. This isn't the case at Jama Campay. Here, the rental market is already strong.
You see, most of the homes here are owned by wealthy people from Quito. They don't rent their homes when they're not here. Yet this spot is becoming known domestically and internationally as a very desirable place to visit.
That's why an owner of one home was able to gross $3,800 in rent in December 2011. Not bad considering he bought this home, just last year, for $180,000. That's a gross yield of 2.1% in December alone. And the value of his home is also rising.
December is a strong month for rentals, as is January. February brought Carnival this year...try getting a comfortable bed here around Carnival!
I can see why people would want to spend time here. I always work a couple of "chill hours" into my schedule when I visit.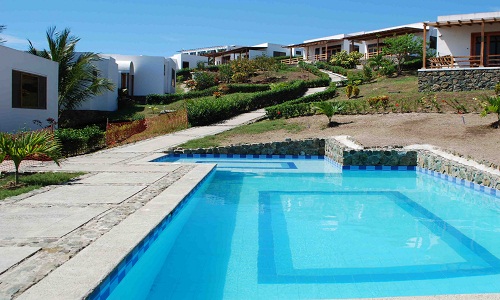 This is a great place to spend time...
At sunset you can amble down the steps to the beach for a dip in the mighty Pacific and a stroll along the miles of beach that open up as the tide drifts out.
There are always fun and relaxing jobs to be done. Like negotiating with fishermen who bring their catch onto this beach. Grilling on the terrace. Blending strange-looking fruits into juices with explosive flavors.
The home owner I mentioned has the best of all worlds. An amazing beach home that he bought cheaply. It's rising in value. He visits three times a year. When he isn't here, he lets the on-site rental management team know and they rent it out and take care of the details.
Going, Going, Gone
As I said, the last two houses for sale in Jama Campay are now gone. They sold quickly. We expect the same to happen with the newly-released condos. There simply isn't anything like them for sale right now along this coast.
Sitting on the highest point of the community, the condos are only a 4-5 minute stroll through landscaped grounds to the beach. And every condo looks out towards the ocean. Condos on the ground floor come with great ocean views, thanks to the elevated setting. The top floor condos boast expansive ocean views right along the coast.
These condos are not just attractive- they're priced attractively, too. They're the lowest-priced condo in their class...this close to the beach, with this type of view...in the locations on our beat. Try buying a similar condo in Costa Rica, Panama or Nicaragua, and you'll pay at least twice the price you'll pay in Jama Campay.
Take a look. The condos come in two sizes. The 960-square-foot two-bed two-bath units start at $94,000. That's $97.91 per square foot.
The condos will have spacious, open-plan layouts, similar to the existing houses in the community: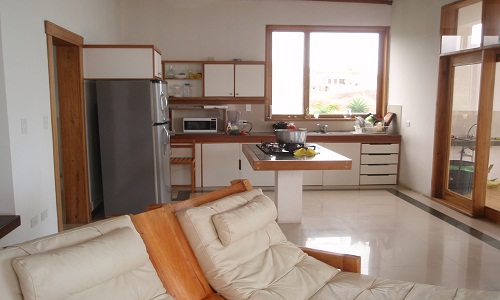 Homes in Jama Campay feature spacious open-plan layouts
Condos are scheduled for delivery during December 2013, September 2014, and December 2014.
It all sounds dreamy. But if you're interested, you need to act fast.
You can reserve your condo with a refundable deposit...and then come and see this special location for yourself.
Try This Coast On for Size
You need to check this coast out. And there's an easy way to do that - on a Jama Campay chill weekend trip.
Francisco would like to extend an invitation to you. He'd like you to try a chill weekend - a mini break on this coast that lets you see it first-hand, try it on for size, and see if it fits.
Francisco's team will plan a custom chill weekend for you. They'll meet you at the airport and drive you down to Jama Campay where you'll spend a few nights in one of the already completed homes.
You'll see the new road up close...stop for breakfast in a cloud forest town that's famous for bird watching...and reach Jama Campay in time for an afternoon dip...
Francisco's team will show you Jama Campay, the condos (some are already under construction), and the finished homes in the community so you can get a feel for the Jama Campay lifestyle.
Don't worry, you'll get plenty of time to relax and soak up the atmosphere...and before you head back to Quito, you'll enjoy dinner in Canoa, a fun little beach town close by.
You can contact Francisco's team here to get more details on the condos -and to start planning your trip.
Don't wait too long, though. Francisco is fast running out of inventory. If you wait, you may miss the boat altogether.
Contact Francisco here to lock down your condo and to schedule your chill weekend.
Margaret Summerfield