Discover Ecuador's Southern Pacific Coast, Home to Some
of the World's Best-Value Beachfront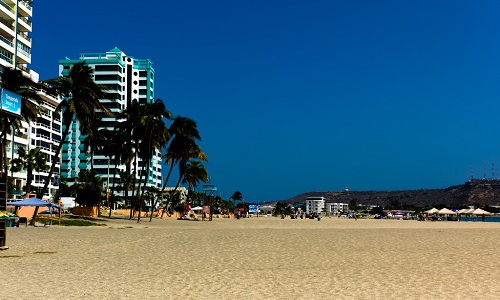 You'll Enjoy A Low-Cost Beach Lifestyle in This Location, and You Can Still Snap Up Beach Condos for as Little as $75,000...For Now!
Dear Reader,
When I first visited this small beach city in Ecuador more than 6 years ago, I liked it. It was pretty but not isolated...fun but convenient...and property prices were a steal.
It rated highly in my books as a retirement or second home destination.
But I noticed something curious. There weren't many expats. When I finally found a couple and asked why I didn't see many North Americans, the surprising answer was: "They don't know about it - because if they knew how good it was here, they'd come in droves." The two expats I met were married to locals. If they weren't, they wouldn't have known about this place either. But things are changing.
Today, six years on... it's a different story. You'll notice expats on the beach and boardwalk, in the stores and bars and restaurants. There's a stream of North American retirees, snowbirds and vacation buyers coming to this beach town.
They're coming for sun, sand, fun...and bargain property. You see, in this town, you can still afford your dream beach home.
A brand-new condo a couple of blocks from the beach and boardwalk comes with a price tag of only $82,000. A town home with an oceanfront setting is listed at $87,000.
Until now, this country's coast - with mile after mile of unspoiled beaches - was overlooked and undervalued. But that's now changing...
Undervalued, Overlooked and Ripe with Potential
Scouting Ecuador's Pacific coast six years ago, I immediately saw its potential. And its beauty...
It boasts long stretches of sandy beach, tiny secluded coves and hidden bays, washed by the sapphire-blue ocean.
I stopped in little fishing villages for lunch, hung out in cute surfer towns and checked out the bigger cities. I strolled on the sand, watched the pink and gold sunsets from my terrace and looked at dozens of properties.


Beach-lovers and water-worshipers will love Ecuador's Pacific coast
I spent a month traveling from one end of the coast to the other. And at the end of my scouting trip, I reached one conclusion.
This coast could boom. It looked good, it stacked up against other Pacific coast destinations, and it made a perfect second home or retirement location.
Starting in 2003, North American buyers rushed to snap up beach property in Panama, Nicaragua and Costa Rica. They triggered massive price rises in some locations. I recall one buyer writing us that he'd decided not to go ahead with his purchase of a small condo on Panama's Pacific coast. Fifteen months later he changed his mind again and returned to Panama - only to discover that he'd need to fork out a lot more to buy the same condo. The price had almost doubled in that time period.
That wave of foreign investors never targeted Ecuador's Pacific coast, though. And that's why Ecuador's coast remained so undervalued and why it's still incredibly affordable. It was simply overlooked.
Historically there were good reasons why people weren't flocking to Ecuador's northern Pacific coast. It was really difficult to get to six years ago. It was a nightmare of bad roads, limited domestic flights and the uncertainty and hassle of a ferry crossing that could delay you half an hour - or on a busy day, up to four hours. You'd easily lose a day just to get there.
But the country's southern Pacific coast was a different story. It's much more developed, with a string of coastal cities and small towns. And one of those coastal cities made the most sense to me for second home buyers.
This city is easy to get to. It's got golden sand beaches. It's got a good choice of property with low price tags. Perhaps best of all, it's a nice mix of resort amenities and city conveniences.
And today it's attracting a growing number of North American property shoppers. They're looking for a place where they can slash their monthly bills, live better for less and get the most bang for their real estate buck.
This coastal city is Salinas.
I'll explain how you can come and discover it for yourself in a moment. But first, let me tell you why you should put Salinas on your shortlist.
Why You'll Like Spending Time Here
The best way to get to Salinas is to fly into the international airport in Guayaquil, Ecuador's largest city. Then it's a 90-mile drive on an excellent paved highway to reach Salinas.
Salinas has long been the "in" playground for Ecuadorians. They come to Salinas for the weekend and longer vacations. They enjoy the beach and water during the day. And when the sun goes down, it's time for fine dining and buzzing nightlife in clubs, bars and live music joints.
I've visited Salinas several times. On a trip last year, I watched a fashion show in my hotel, with hot guys and girls parading past in designer swimwear. On the boardwalk, expensive sports cars cruised along, engines growling.
Fast Facts: Salinas
90 miles from international airport at Guayaquil
45,000 residents (200,000 in greater city area)
Average Temp.: 70s-80s F
Rainfall: 4-5 inches a year
Currency: Dollar
The boardwalk runs alongside Salinas Beach. It's the busy beach, close to bars and restaurants, right in the heart of the city. A sweep of high-rise towers, stores and cafes line the street next to the boardwalk. People jog and walk their dog on the boardwalk; couples stroll hand-in-hand.
Chipipe Beach is quieter, away from the boardwalk. Homes sit right next to the sand. It's popular with families and those looking for a tranquil spot to while away the afternoon. Kids splash in the surf, build sandcastles, and share a picnic lunch with their parents.
A yacht club separates the two beaches. It's one of two yacht clubs in Salinas which has a long history as a sailing and sport fishing hot spot. Back in the 1940s and 1950s Ernest Hemingway, Harry Truman and Pablo Picasso came to Salinas to fish.
The population of Salinas is around 45,000. If you factor in the population of neighboring towns like La Libertad, it reaches 200,000. So along with the fun resort amenities, you get all the practical stuff for year-round living...supermarkets, beauty salons, hardware stores, banks, a movie theater and a big produce and seafood market.
But despite all those amenities, Salinas remains affordable. You can buy lunch for less than $5...throwing in a beer will add $1 to the tab. A maid typically charges $60 to clean the house twice a week. You'll find medical and dental care much cheaper than in the US. A doctor's visit costs just $30. In fact, it's possible to live comfortably on $1,500 a month.
And your dream beach house won't break the bank either. Take a look at these four sample properties:
A brand-new two-bed two-bath condo with ocean views in a beachfront community with a swimming pool.


Price: $75,000.

A brand-new condo two short blocks to the beach on the left and close to stores, restaurants and cafes. The low-rise building has a swimming pool, wet bar and sauna.


Price: $82,400.

A big, 3,000-square-foot house with 5 bedrooms that's close to this beach.


Price: $65,000

A 1400-square-foot oceanfront town house with granite counters, hardwood cabinetry and amazing ocean views.

Price: $133,000.
The Easy Way to Test-Drive Salinas
To get an up-close look at the best-value property in the Salinas area today, I'd like to invite you to join Amy and Gerardo Pinoargote on a Southern Pacific Chill Weekend.
Amy's an expat herself, originally from the U.S. She's now living full-time in Salinas with her husband Gerardo (who grew up in Salinas), and their two young kids.
Amy knows what foreign buyers want when they're looking for a home in Salinas. And Gerardo's local connections help them find the best deals. They'll help you uncover this amazing location, and give you the lowdown on what it's really like to live here.
You'll see the little fishing villages and quaint beach towns on the Southern Pacific coast...take in the sights, soak up the atmosphere...and, of course, check out the best properties. But don't worry, you won't get a hard sell sales pitch on this tour. Amy and Gerardo will give you all the information you need to decide if this area is right for you, but there's no pressure to buy.
You'll get to relax and soak some of the atmosphere, too...go on a walking tour of a lively surfer town nearby, stopping off for some souvenir shopping, and sampling the local cuisine. Plus, you can kick back on the beach and take in the expansive views of the Pacific Ocean...
Amy will help you plan your trip and she'll organize a customized itinerary of property viewings for you, based on your budget and preferences. You'll see what you want to see, when you want to see it, at your own pace.
You can get more details and book a tour with Amy and Gerardo here.
Salinas is a place where you can still afford that rare opportunity to live just a couple of steps from the sand, or live in an affordable condo with a panoramic ocean view from your living room. But be warned, Salinas is now on the shortlist of many U.S. retirees and second home buyers. The excellent values won't last much longer. If you wait too long, you may miss out. Contact Amy and Gerardo today to arrange a tour.
Sincerely,
Margaret Summerfield