Friday, December 21, 2012


Colinas de Miramar offers quiet country living, close to the city and beach
Dear Reader,
Cross the deep blue waters of this wide bay and you can stroll on beautiful soft sand beaches and spot international movie stars, models and musicians. The setting is lush - a backdrop of cloud forests, coffee-growing highlands and towering mountains.
It's easy to get here. I'm just over an hour from Costa Rica's capital city. But few outsiders know about this place. It's overlooked and undervalued. This is why you can buy a 1.25 acre ocean-view lot from $89,100.
If you're thinking of buying a second home in Costa Rica, this area should be on your shortlist. Here's why…
It's Easy to Get To
For a start, this place is now very accessible. A new highway opened in 2010, connecting this area with San Jose, Costa Rica's capital. The new road cuts the drive time from San Jose in half. It now takes just over an hour.
It takes 90 minutes to get to San Jose's international airport. But you can also fly into Liberia, Costa Rica's second international airport. The drive time from Liberia is roughly two hours.
It's a quick, easy and comfortable drive to Escazu, San Jose's most upscale neighborhood. It's packed with amenities. These include top-class hospitals like Clinica Biblica and CIMA; cinemas, restaurants, cafes, bars and clubs; big supermarkets and shopping malls. But you're not in a remote outpost here. You have a world of amenities on your doorstep…
Fun & Adventure Awaits You
It's beautiful here. Mountains and hills tumble down to the wide, sparkling-blue waters of the Gulf of Nicoya. Sandy beaches, dotted with palm trees, run for miles along the coast.
In the Tilaran Mountains behind the coast the scene switches from beach living to country living. Farms and small villages dot this pastoral landscape. Nature reserves and wildlife refuges protect big chunks of unspoiled forest.
You have beautiful beaches 10-15 minutes away. You have surfing, horse riding, sport fishing, white water rafting, zip lining, canopy tours, and nature hikes all on your doorstep.
One of the highlights of the area is a pretty village called Miramar. It's a little hidden gem. A small white church with twin red-roofed towers sits on the central plaza. Exotic flowers in shades of pink, scarlet and cream spill over walls and fences.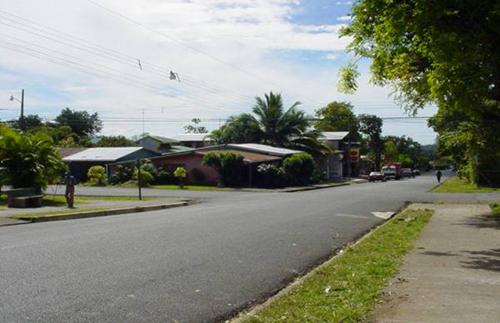 The little town of Miramar is a lovely place to spend time
Miramar boasts a doctor, dentist, supermarket, bank, butcher, and hardware store. Little bakeries, cafes and restaurants offer light snacks and hearty meals at low prices. You can shop at the little family-owned stores. Thursday through Sunday, the local farmers market offers fresh fruits and vegetables, cheeses and herbs. It's a lovely peaceful place to spend time…
If you carry on driving through Miramar, up into the mountains, you reach a mirador (lookout point). You can look down the valley, across the farms and forest-covered hills, out to the Gulf of Nicoya. It's an awesome view. A restaurant at the mirador serves chilled beers and freshly-prepared food.
It's a good spot for hiking, horse riding and bird-watching - as well as adventure sports such as white water rafting, zip lining and para-sailing.
Take a short ferry ride across the gulf, and you're in Nicoya. Nicoya's beaches are popular with surfers and celebrities alike. You could spot Mel Gibson, Bruce Willis, Harrison Ford, or Gisele Bundchen strolling on the sand…
An Up-and-Coming Location
This place is overlooked by foreign tourists and property buyers. It's a popular day trip destination for locals who want to relax on sandy beaches. It's quicker and easier for them to get here with the new highway. The cruise ship port at Puntarenas brings in foreign tourists. But most of them head elsewhere in Costa Rica for tours. Only a few come to this spot, mostly to take zip lining tours.
Land prices in this area have risen in the last 2-3 years. The construction of the new road triggered a flurry of interest in this newly-accessible location. I've heard of a number of planned residential communities in this area. But only one is forging ahead. It's called Colinas de Miramar.
An Early-In Community
Colinas de Miramar is set in 647 acres of gentle hills, with streams and centuries-old trees. Colinas de Miramar is around 5 minutes from Miramar village, and 20 minutes from the port city of Puntarenas.
Situated at the base of the Tilaran Mountains, many of the lots in the community have panoramic ocean views, over the Gulf of Nicoya. The developer is a Miramar local. His well-connected family has lived here for generations.
Colinas is a master-planned community. Plans call for a community center, swimming pool, tennis and squash courts and a gym. Road construction and the water supply are complete in the first phase, as is the first model home:

Home lots in this community are large, averaging 1.25 acres. Mountain-view lots start from $50,000. Ocean-view lots, with views of the wide bay, start from $99,000.
With developer financing, you pay 1/3 of the price down, and then have two years interest-free financing on the remainder.
Owners can either hire their own builder, or choose a home/lot package. (Home/lot packages start from $220,000.) But there is no requirement or timeframe to build; you can sit on your lot for as long as you like.
Pathfinder readers get a discount of 10% until February 28, 2013. So you can buy a 1.25-acre mountain-view lot for $45,000, or get ocean views for $89,100.
Come & See It For Yourself?
There's an easy way to see this area and Colinas de Miramar for yourself.
Just contact the developer here. They'll give you lots of information on the project. They'll also help you arrange your trip, and give you a free tour of Colinas and the area around it while you're in Costa Rica.
It's the easy way to check out this hidden haven in Costa Rica, try it on for size and see if it fits. And if you like what you see and decide to buy, they'll give you a $1000 travel credit, deducted from the purchase price. That's $1000 credit on top of your 10% Pathfinder discount.
If you love country living but can't give up the beach and want to stay close to city amenities, Colinas de Miramar fits the bill. And the early-in prices on offer are tempting…even more so with your 10% discount.
You can get an information package here.
Margaret Summerfield
---
---
You might also be interested in:
---
Posted Under:
costa rica, chill weekends, developer financing, lots
---