Friday, July 27, 2012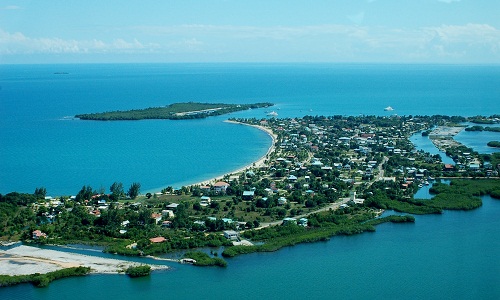 Looking for a boater's paradise?
Dear Reader,
There are many reasons why second-home buyers and retirees choose Belize. It's close to North America. It's a small country with a small population - and they're friendly to boot. They'll wish you good morning, stop to chat when they see you on the street, and make you feel welcome. And because the country's official language is English, you'll quickly make friends and feel at home here from the get-go.
Plus, Belize is rich in natural beauty. It's a mix of rainforest and mountains, Mayan ruins, exotic wildlife, savannah and wetlands. Offshore, the Belize Barrier Reef is the second-longest in the world. Around 450 little islands and atolls dot the bright turquoise Caribbean Sea. Thanks to crystal-clear water, it's a hot spot for snorkeling and diving. And it's a favorite with sailing and sport fishing enthusiasts, too.
You'll find a small expat community in Placencia, a small village in southern Belize. Many of them are boat-owners and passionate about diving, fishing and sailing. You'll find sixteen miles of white sand beach, too, if sunbathing and swimming are your idea of heaven.
You'll see good restaurants, gourmet ice-cream, grocery stores, and bars in Placencia. But despite some very high-end boutique hotels and upscale residential communities, it remains a relaxed Caribbean beach village - a barefoot paradise where shoes and shirt are optional. Locals and expats stop to shoot the breeze on the sandy streets. They often use golf carts to get around. There's no rush or hurry or pressure. It's a small, sunny outpost with a friendly appeal and a ton of charm.
This duplex in Placencia offers the privacy and security of island living. It's on a finger of land with a canal on one side and the Caribbean on the other. It's peaceful and secluded. Yet it's only five minutes from the village center. It's in a building with 8 units, a swimming pool and covered rooftop deck for entertaining.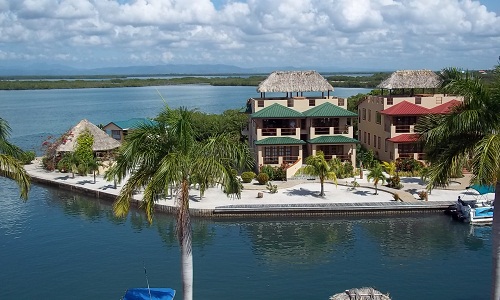 A perfect setting for water lovers…
A boat dock with assigned 30-foot slips is included for owners. There's a pontoon boat that owners can use to cross the canal and a golf cart for trips into the village. The seawall in the canal accommodates much larger boats.
The views from the home look to the lagoon and the Caribbean Sea. Because of the building's location at the tip of Placencia peninsula, it's ideal for boat-lovers. You're only yards from the Caribbean, and a short boat ride from the barrier reef, atolls and islands off the coast.
I stayed in a unit on the opposite side of the canal on my last trip to Placencia. It's a quiet neighborhood with upscale homes a short walk from the village. I watched boats coming along the canal at dawn, heading out to sea for a day's diving, snorkeling or fishing. Families and groups of friends set off for picnic lunches on tiny deserted islands with powder beaches. Some owners simply enjoy sailing.
This duplex is large, with 2,000 square feet of living space. It has two large bedrooms and bathrooms downstairs. The kitchen and living room are upstairs. The kitchen features tropical hardwood cabinetry and granite countertops.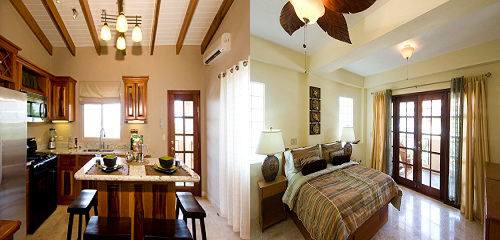 Inside, the duplex is bright and airy and very spacious
Outside, the open terrace is perfect for relaxing in the ocean breeze, cooking up a barbeque and fresco dining.
The home is priced at $386,500.
If you'd like more details, contact local real estate agent Boris Mannsfeld here. Boris can help you arrange a trip to Placencia, too, to see if this little slice of paradise is right for you.
Margaret Summerfield
P.S. If this isn't your dream home, but you like the sound of Placencia lifestyle, contact Boris here and let him know the type of property you're looking for.
---
---
You might also be interested in:
---
Posted Under:
belize, ocean-view, oceanfront
---
Sign up here for your free Pathfinder Alert e-letter, and we'll send you our $50,000 Report...showcasing seven real estate opportunities for $50,000.
We value your privacy.