Saturday, November 06, 2010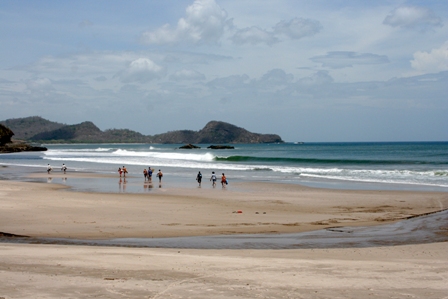 You can own a condo, close to this beach, for $45,000
Dear Reader,
When a country falls out of favor with the mainstream media, it can end up with more than its fair share of bad press. And that bad press scares foreign tourists and investors away. On the flip side, bad press can help property investors. It keeps real estate prices low, or cuts them. In a location with intrinsic value, but a real estate market that relies heavily on sales to overseas buyers...and a serious case of bad press...that means one thing. Opportunity.
Opportunities like this one: a 700 square-foot condo in a beach and golf community for $45,000. That's only $64 a square foot. More on that in a moment...but first, why Nicaragua deserves a second look.
It boasts a dramatically beautiful Pacific coastline. Sheer cliffs rise from crashing surf. Around the next curve, sparkling waves wash up on the shores of sheltered bays. The beaches are gorgeous, sweeping ribbons of sand, unexplored (thanks to that bad press) and pristine. Inland, towering volcanoes smolder and smoke, and vast freshwater lakes shimmer in the afternoon sun. Quaint colonial cities give a glimpse of a glorious past...
Despite the bad press, tourist numbers grew this year (up 9.6% to date). They grew last year too, in spite of the world slowdown. Tourist numbers should get a boost from the latest series of Survivor, currently filming on Nicaragua's south Pacific coast. Beamed into the living rooms of 13 million Americans weekly, the program gives the mainstream audience a sample of this country's exotic beauty and quiet charm.
Nicaragua is a low-cost country. In cost of living terms, it's almost the lowest in the Americas. According to Mercer's annual report, the country's capital, Managua, ranked as the second-cheapest city worldwide. If you can prove income of $400 a month, you can become a resident here. That's one of the lowest income levels for residency in the countries on our radar. The country's economy, like many others, dipped last year. This year, and next, projections show growth of 3%.
It all sounds good...so why $45,000 for a golf condo? Simple. The real estate market here relied heavily on Americans. With the slowdown in the US, buyers couldn't access cheap credit lines back home. They couldn't get bank financing in Nicaragua. And the bad press didn't help. Mostly, it concerned the country's president, Daniel Ortega. It doesn't matter that he has strengthened private property ownership during his presidency. Negative reporting focused on his left-wing policies. That scared buyers.
The pool of buyers dried up, and Nicaragua's market stalled.
Some owners who bought here in Nicaragua's boom (which peaked five years ago) now need to sell. They have financial commitments back home. They face a problem. In a market with few buyers, how do you sell, especially if you need a quick sale?
The answer is slashing the purchase price. That is what the owner of this golf condo did. He needs to sell fast. The unit originally sold for more than $100,000. Today, the owner is asking $45,000. The price is not negotiable (hardly surprising, given the huge discount).
The loft-style unit has an open-plan living area downstairs and a bedroom upstairs. The unit comes furnished. It's located in a private beachfront community, with a nine-hole golf course, and more than a mile of soft-sand beach. The infrastructure is already in, and the resort is up and running. It offers property management.
If you're looking for a second home overseas...on a stunning coast...for a fraction of what you'd pay back home (and a fraction of what you'd have paid here five years ago), this condo fits the bill. Contact local broker Bryan McMandon here, and he'll send you more details of this bargain property by e-mail.
Margaret Summerfield
---
---
Posted Under:
nicaragua, appreciation potential, profit play, distressed
---
Sign up here for your free Pathfinder Alert e-letter, and we'll send you our $50,000 Report...showcasing seven real estate opportunities for $50,000.
We value your privacy.