Sunday, June 03, 2012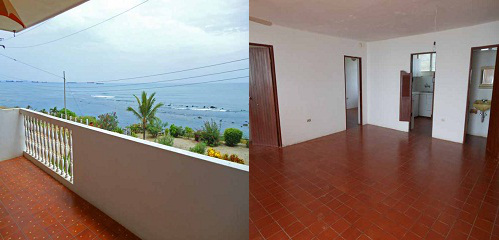 A rare breed: an oceanfront condo for $60,000
Dear Reader,
It sounds enticing: an oceanfront condo for $60,000. It's a two-bed two-bath unit with 1500 square feet of living space. It comes with appliances. So what's the catch?
There isn't one. Sure, the condo could use some updating. And it's on the second floor of a building without an elevator, so it won't suit everyone.
But it's a good condo, with great views. It's in a small beach town 10 minutes outside Salinas (Ecuador's nicest resort town). And condos with tiny price tags like this one are a rare breed these days.
That's partly down to readers like you.
You see, Ecuador's coast hasn't experienced the real estate boom we saw in other countries such as Panama, Costa Rica and Nicaragua. Foreign buyers fuelled the boom in those countries. It started with speculators and investors, eager to snap up a slice of undervalued beach or ocean-view property. Then the second home buyers piled in. The resulting buying frenzy sent real estate prices rocketing - doubling them in some locations in only a couple of years.
Ecuador missed out on that frenzy. It's not a speculator market or a place for a quick flip. Instead, it followed its own path - a slower, steady upward climb when it comes to property prices.
Until a few years back, it was the Ecuadorean middle classes driving the property market here. Today, North Americans (including your fellow readers) are joining in. They're realizing that their real estate dollar goes a long way on Ecuador's coast. If you've got a tiny budget, but you still want a beach home...or you want a spacious beach house instead of an off-beach studio...Ecuador will give you the most bang for your buck.
Two to three years ago, it was easy to find a property in the Salinas area for $50,000-$60,000. Today, they're much more difficult to find. You just don't see many properties in this price bracket. And they usually sell fast.
If you're interested in this $60,000 condo, you can contact real estate agent Amy Pinoargote here for a full information package.
Margaret Summerfield
---
---
Posted Under:
ecuador, affordable, oceanfront
---
Sign up here for your free Pathfinder Alert e-letter, and we'll send you our $50,000 Report...showcasing seven real estate opportunities for $50,000.
We value your privacy.