Wednesday, July 25, 2012
Dear Reader,
If ocean living is your thing - sailing, fishing, swimming, surfing, messing about in a boat or just relaxing on wide sandy beaches- put Ecuador's South Pacific coast on your second-home shortlist.
For more than 60 years sport fishermen have fished the waters off this coast. Today, the coastal city of Salinas is a sport fishing hot spot. It attracts fishermen looking to land blue, black and striped marlin, dorado, tuna and wahoo. The city regularly hosts international fishing tournaments.
Salinas boasts two yacht clubs, Salinas Yacht Club (which dates back to 1940) and Puerto Lucia. Puerto Lucia has tennis courts, a football field, swimming pools, a hotel and restaurants, as well as a marina and yacht club.
Over the years, many famous names have visited Salinas to fish, including Ernest Hemingway, Harry Truman, Pablo Picasso and Ted Turner.
If you'd prefer to sunbathe, surf, swim or simply daydream on the sand, the beaches around Salinas fit the bill. You can take your pick from long sweeping unspoiled beaches, little surf towns where you can dance the night away, and rustic beach eateries serving up the tastiest, freshest seafood.
Salinas comes alive at weekends and vacations. Happy crowds enjoy the boardwalk and urban beach. The restaurants, cafes and ice cream parlors fill with families and couples. At night, bars and clubs, live music joints and little discos are buzzing.
And despite its high-profile visitors, Salinas is one ocean location where you can afford a beach or ocean-view home. Prices for this type of property are the lowest of any country on our beat. And the holding costs are a fraction of those back home.
Take a look at this condo and you'll see what I mean.
It's a condo in a prime location on the boardwalk. You can see Salinas yacht club on the left in the photo: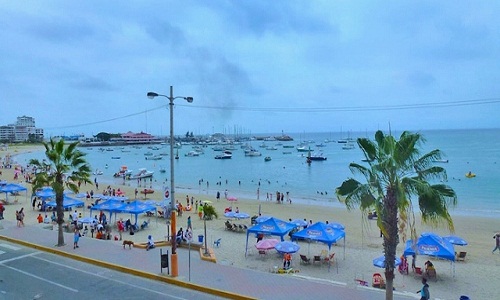 The condo overlooks Salinas beach, with wide ocean views from the large terrace. You'll enjoy spending time on the terrace -people-watching, relaxing with a nice cool drink, or just swinging in a hammock in the ocean breeze:
The condo has three bedrooms and two bathrooms. It's a very spacious 1700 square feet. It's fully furnished and move-in ready.
With a list price of $129,000, this condo is great value. The asking price works out to only $76 per square foot. Condos like this, in a prime boardwalk location in Salinas, normally average $100 per square foot.
It's not just the asking price that is low. Running costs on this condo won't break the bank either. Property tax currently runs around $260 per year (yes, that's correct, per year). Building fees cost $85 per month. The owner spends $50 a month on utilities and $28 on phone and internet service.
Those lower running costs give you more wiggle room in your budget. You can pay for help with household chores, for example. That in turn frees up more time for your passion - whether that's fishing, swimming or surfing.
If you'd like a full information package on the condo, you can contact local real estate agent Mike Sager here.
Margaret Summerfield
---
---
Posted Under:
ecuador, affordable, boardwalk
---
Sign up here for your free Pathfinder Alert e-letter, and we'll send you our $50,000 Report...showcasing seven real estate opportunities for $50,000.
We value your privacy.