Wednesday, February 12, 2014
Dear Reader,
Today, I'm going to tell you about a home for sale in Cotacachi, Ecuador. But first let's take a look at why this mountain town has captivated so many expats and retirees.
Cotacahi is a little highlands village in Ecuador, a two-hour drive from the capital city, Quito. It's close enough to access Quito's excellent medical facilities and modern shopping malls – but it's far from the city hustle and bustle that surrounds you in the big city. With the opening of Quito's new international airport in 2013, it's now easier to get to Cotacachi.
Cotacachi is a surprise on many levels. The first thing you notice is the scenery. It's dramatic. The village is set in a valley around 8,000 feet, and it's surrounded by mountains and volcanoes: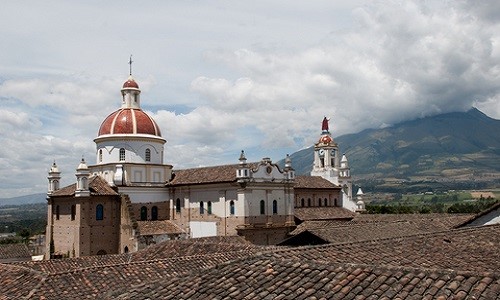 It's a pretty village, with a clean central plaza, quiet streets and colonial buildings. You'll see tiled roofs, hidden courtyards and domed churches. Colorful flowers spill over walls and gates. This is rose-growing country. They're shipped to North America and Europe, where they're purchased as expensive gifts for special occasions. But they're an everyday item in Cotacachi. You can pick up a bunch of five dozen for only $5.
It's not just roses. There's an abundance of fresh produce in the local markets – potatoes, carrots, berries, broccoli and peppers. They're incredibly cheap. This area has rich soil and a year-round growing season thanks to its mild climate. There's no snow or ice. It's warm and sunny by day and cool at night. You won't need air conditioning, but a log fire in the evenings makes it nice and cozy. Temperatures run 50F-70F on average.
Cotacachi is famous for its leather goods. On Leather Street, you can browse family-run stores for locally-made purses, jackets and boots (and even saddles for horses). Only 20 minutes away, the town of Otavalo hosts one of the biggest markets in Ecuador with all kinds of handcrafted goodies – wool sweaters and blankets, woven bedspreads and scarves, intricate paintings and pottery.
You can get amazing hardwood furniture custom-made by local craftsmen – and pay less than you would for inferior, mass-produced furniture in a big-box store back home.
A big surprise is the number of expats who call Cotacachi home. Some live in the village year-round. Others ride out the cold winters back home in this quiet haven. They're very active, with their own Facebook groups and online blogs.
New businesses are catering to this new expat market. You can buy a hearty traditional lunch in the village for $2.50. But you can also get a gourmet prix fixe lunch for $8.50, or splash out on the luxurious la Mirage. Their guests include royalty and the super-wealthy. The restaurant serves up delicious food, with an emphasis on local ingredients, including rose petals. The Mirage's spa is heavenly, with reflexology and aromatherapy treatments.
A growing number of North American expats and retirees are looking for homes for sale in Cotacachi. There are many reasons why Cotacachi is so popular with North American expats, but a big factor for many is its affordability. It's a low cost destination where you can truly live well for less. The cost of fresh produce, eating out, help around the home and healthcare are much lower than back home. Property prices in Cotacachi are affordable, too.
A Model Home for Sale in Cotacachi
If you're looking for a home in Cotacachi, then take a look at this opportunity. The El Encanto community is a small complex of 23 homes around landscaped gardens. The developer, the local Proano family, grows roses for export. They've also got a leather store in the village.
This is their first project. They hired one of the country's top architects to design their model homes. The style is a careful blend of colonial and modern. They're making use of local products such as custom cabinetry, traditional roof tiles and adobe bricks: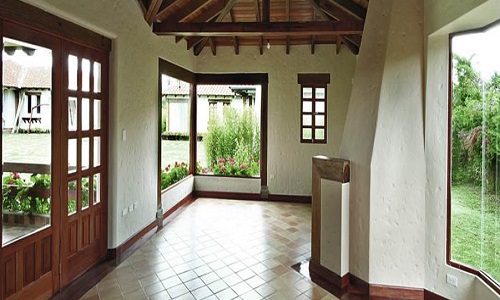 But the homes also come with open-plan kitchens and large picture windows to frame the mountain views: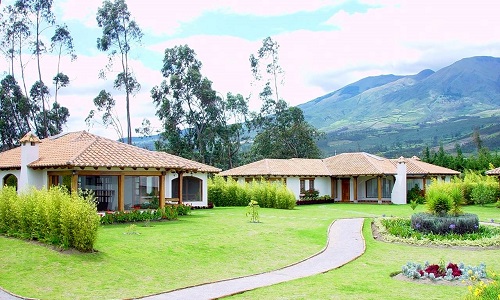 You pick your lot and then choose your model home in El Encanto. More than half of the available lot/home packages have already sold.
The start price for a lot plus a 1,410-square-foot house is $135,000. You'll pay roughly $100 a year in property tax on a home like this.
If you want more information on this home for sale in Cotacachi contact Salome Proano here.
Margaret Summerfield
P.S. Members of our insider club, Real Estate Trend Alert, get a $5,000 discount on all lot/home packages in El Encanto until February 28th, 2014. That's just one of the many deals and discounts exclusive to RETA members. If you're looking to get in early on the best deals at the best possible price to maximize your profit potential, you need to join Real Estate Trend Alert. You can find out how to become a member here.
---
---
Posted Under:
buy a home in cotacachi, homes for sale in cotacachi, cotacachi
---