Sunday, August 26, 2012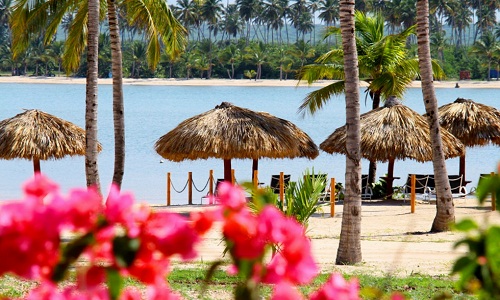 Life here is about to get a whole lot better...
Dear Reader,
I'm sipping fresh passion fruit juice while the waves lap gently on the white-sand beach. A small school of fish darts through the shallows before circling in the shade cast by the palm trees overhead. On the other side of the bay, a young couple sunbathes and a man loads fishing gear into a boat. I'm enjoying myself in this emerging Caribbean beach town. Life is pretty good here already. And it's about to get a whole lot better.
I'm in Playa Nueva Romana in the Dominican Republic.
The Dominican Republic is well-known as a tourist hot spot. And it's becoming a firm favorite with second-home buyers. Here's why:
It's quick and easy to get to. Flights take 2 hours 10 minutes from Miami, 3 hours 35 from Atlanta, and 3 hours 41 from New York. Low-cost airlines (Spirit and JetBlue) help keep fares low.
It's got great weather with temperatures on the coast in the 80s year-round.
It offers powder beaches and crystalline seas, and much, much more - mountains, waterfalls, valleys, forests, lakes and a rich cultural heritage.
It's easy to become a resident here.
Property prices are still very affordable compared to other Caribbean locations.
Playa Nueva Romana: A Grand Vision
Playa Nueva Romana sits between two international airports. Santo Domingo's airport lies 50 minutes west and La Romana's 15 minutes east of this resort. Playa Nueva is conveniently located with good access to hospitals, shopping, restaurants, cafes and pretty beaches.
But all that's a moot point. You see, Playa Nueva Romana is gearing up to transform itself into a self-contained beach town. The kind of place where you can visit the hospital, buy groceries, enjoy tennis, horse riding or golf...dock your boat at the marina, dress up for dinner or dress down for the beach. And you will do all this without leaving the resort.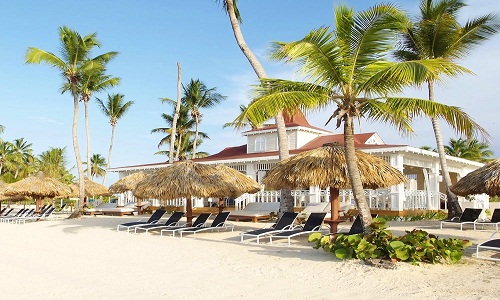 You can relax at the beach club...
Playa Nueva Romana is the brainchild of Grupo Pinero. They're an impressive company. They own resorts in Spain, Jamaica, Mexico and the Dominican Republic. They sell vacation packages through their tour companies in Europe, the U.S. and Canada. They fly guests on their own charter planes. It's a private company that started from modest roots. It's grown enormously since it started in the 1970s. But it's still family-owned and family-run.
The Gran Bahia Principe hotel chain is part of Group Pinero. We've written before about the Gran Bahia resort on Mexico's Riviera Maya coast. We've followed progress at the Mexico resort over the last six years. We watched Group Pinero add a high-end residential community, a 27-hole golf course and clubhouse, a luxury hotel and top quality infrastructure.
Grupo Pinero spent tens of millions of dollars on the infrastructure in Mexico. They didn't wait for sales to fund it. And we can see the same thing unfolding now in their resort in Playa Nueva Romana.
The plans for Playa Nueva include a golf course, a 200-slip marina, restaurants, bars and cafes, tennis courts, a commercial center, an equestrian center, beach clubs and luxury hotels.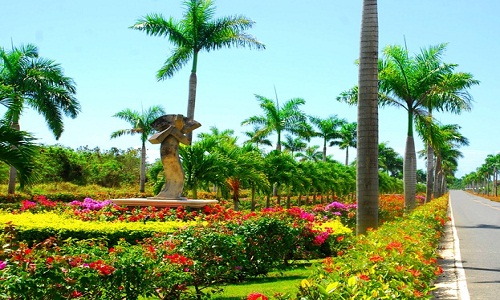 The infrastructure in Playa Nueva is top quality
And just as they did in Mexico, Grupo Pinero is not waiting on sales to fund their vision. The first luxury hotel is due to open in December. The hospital should open in the next six months. The first nine holes of the golf course are heading for completion.
You can check out the imposing model homes with their polished marble floors, massive hardwood entrance doors and private swimming pools: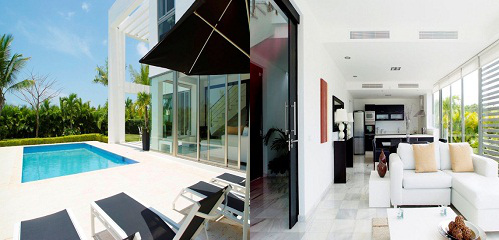 You can sip cocktails at the beach bar. Residents are relaxing poolside in the first condo neighborhood. Rich landscaping curves around wide streets and spacious sidewalks.
This is a Strong Opportunity
But it's still early-in here. In Grupo Pinero's residential community in Mexico, early buyers sat back and watched prices rise once the infrastructure and amenities (including a signature golf course) were up and running. This is a similar deal - the chance to snap up a piece of Playa Nueva while it remains affordable.
Today, you can buy a lot in Playa Nueva Romana's Residencial Athletic Field for only $73,000. And members of Ronan McMahon's Real Estate Trend Alert (RETA) group can take advantage of a 5% discount and special payment terms. They make a down payment of $21,350... 36 monthly payments (interest-free) of $800...and a final payment of $19,200.
You have to build on your lot within two years. The developer wants to create a proper community. So this deal isn't for you if you want to sit on your lot.
RETA members also get a 3% discount on the purchase price of condos. Condo pricing runs from $127,000. That's a minimum $3,810 discount on condos in the resort.
There is already a room shortage at the Playa Nueva resort for six months of the year. Demand for overflow space is growing. And as with Grupo Pinero's other project on the Riviera Maya, many people initially come to vacation in the resort hotel. But when they return, they often prefer to stay in a villa or a condo.
Because La Romana is so accessible via the Santo Domingo or La Romana airports, I expect a strong rental market. You can leave most parts of the U.S. or Canada in the morning and arrive here in time for lunch on the Caribbean sands.
While this all sounds very tempting - an early-in deal with excellent terms from a strong developer with an established track record - you know that we always advise you to try before you buy.
You know, see a place for yourself before you sign a sale contract, to decide if it's right for you.
Chilling Out and Having Fun
And you can do that in style at Playa Nueva Romana. They're inviting you to come and visit - to try on the Playa Nueva lifestyle for size and see if it fits. You'll explore Playa Nueva Romana and check out the model homes, the golf course, and the hospital. You'll spend time on the beaches. You'll get a taste of what your life here could be like, and the time to figure out if it's the right place for you.
The trip costs $360 per person. That includes all-inclusive accommodation, airport transfers and a couple of exciting excursions. You can get more details from Sonia Lee here.
On one excursion, you'll visit Santo Domingo's colonial district. It was founded in 1496. This is the oldest continuously inhabited European settlement in the Americas. It's a popular spot with tourists and locals, who come here to see the ancient fortress, castles and churches - or to sip espresso or rum in the little bars and cafes that dot the plazas and cobble stone streets:
You can wander for hours here, stopping off at museums or art galleries; each corner reveals another fragment of the city's grand past.
The second trip is a world away from the bustle and buzz and three million residents of Santo Domingo. It's a tropical island that's easy to get to - by boat. It's a classic "Desert Island":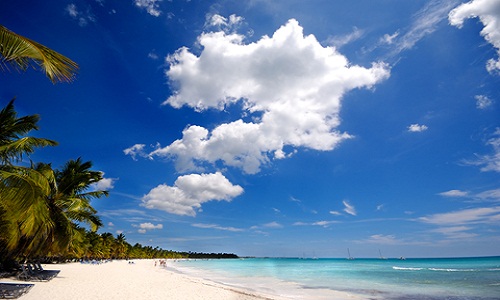 Film crews come to this picture-perfect beauty when their script calls for powder beaches, brilliant turquoise seas and not a soul in sight.
You'll spend an afternoon on Saona Island, where you can snorkel in the crystal-clear waters above fields of starfish. Or simply kick back and relax in this little piece of paradise...
If you'd like to get more details on Playa Nueva Romana Sonia is standing by here to send you a full information pack.
Margaret Summerfield
P.S. As I said, the trip costs $360. But RETA members only pay $180 per person. It's one of the many perks that RETA members enjoy. (Remember, they also get a 5% discount on lots and a 3% discount on condo prices in Playa Nueva). You can find out how to become a RETA member here.
---
---
Posted Under:
chill weekends, dominican republic, developer finance
---
Sign up here for your free Pathfinder Alert e-letter, and we'll send you our $50,000 Report...showcasing seven real estate opportunities for $50,000.
We value your privacy.