Saturday, November 23, 2013
Dear Reader,
Boris Mannsfeld knows his stuff. He's got an international economics degree and an MBA under his belt, plus many years' experience as a real estate developer in Colorado. He's always on the lookout for the next business opportunity. And he found it in a place he didn't expect – in a little town in Belize.
Boris started investing in Placencia, in southern Belize, 21 years ago. Back then, the town was tough to get to. A dirt track connected it to the country's capital city. It could take all day to drive to Placencia – if the road wasn't washed out.
Sure, the little airstrip flew passengers from the capital city direct to Placencia. But this town really started to open up with the paving of the road a few years back. Today, it's a smooth three-hour drive. More tourists are coming here to enjoy the gorgeous beaches, warm Caribbean Sea and some of the best fly fishing, scuba diving, and snorkeling in the world.
Boris was ahead of the curve on this one. He saw the potential in Placencia before it opened up. He's the developer of a beachfront condo community in town, the Villas at Cocoplum. He's a partner in the award-winning Robert's Grove, a boutique hotel with full-service marina, restaurants and bars. He's owned and sold and rented land and commercial buildings in Placencia over the years. He knows the local market as a buyer, as a seller, as a developer, and as a landlord.
That's good news for potential buyers. Because Boris also runs a real estate agency in Placencia. He can help you find whatever you're looking for – a dreamy beach house, a commercial property, apartments you can rent out, a lot to build your retirement home. You can use Boris' knowledge and market savvy to help you get the best deal.
This new listing, for example, is one that's got Boris excited. It's a huge 2-storey home that's partially completed. It definitely needs some work – but it's got huge potential.
This is the view you can enjoy from the house: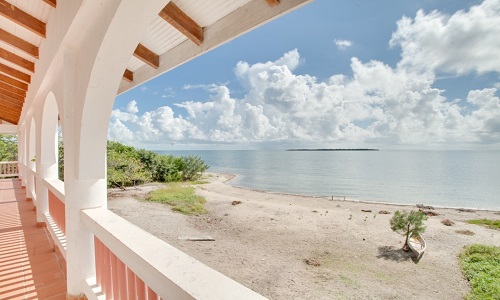 As you can see, take a few steps and you're on the sand. Take a few more, and you can dip your toes in the Caribbean…
The home, built of cinder block and concrete, offers a wrap-around porch with beach and sea views, three bedrooms and two bathrooms. It's got 2400 square feet of interior living space and an additional 1,000 square feet of outdoor living space: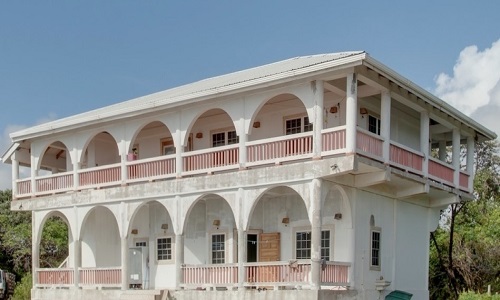 It's listed at $475,000.
Boris rates this home because it's in a desirable high-end neighborhood. It's built on a double beach lot, 200 feet wide in total. Two lots, 100 feet wide, directly adjacent to this house, went on the market for $250,000 each in 2012. They sold straight away. As Boris puts it, the value of the land alone exceeds the asking price of this property.
Boris can put you in touch with contractors, architects and even interior designers he has used himself to help you complete the property. You could turn this house into your dream vacation or retirement home.
If you'd like more information on this – or other properties in Placencia – you can contact Boris here.
Margaret Summerfield
---
---
Posted Under:
belize, beach home, placencia, fixer upper
---