Wednesday, December 12, 2012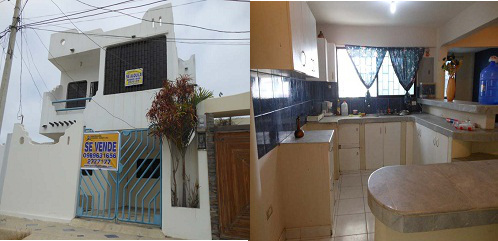 This home comes with some furniture – and a $65,000 price tag
Dear Reader,
It's harder and harder to find a low-cost home close to the beach these days. That's the story even in Ecuador, where you can find some amazing prices on beach and ocean-view property. Five years back, it was relatively easy to find homes a short walk from the beach for $50-$60,000 in Ecuador. Today it's much more unusual to find these low-priced homes.
Prices for this type of property have risen steadily over the last five years. That's down to a mix of continuing local demand and an increase in the number of foreigners buying second and retirement homes here. And higher construction costs driving up the price of building a new home make re-sale homes more appealing to buyers.
If you're in the market for a home close to the beach with an affordable price tag, this home deserves your attention.
It's in a good location in a quiet residential neighborhood in the resort city of Salinas on Ecuador's Pacific coast. It's a couple of blocks from a big supermarket and some restaurants. It's 250 meters to the beach. And it's five minutes by car to the boardwalk in Salinas and a shopping mall.
It's a very large house with more than 3000 square feet of living space. It's got five bedrooms, three bathrooms and an open floor plan. It's also got a small yard, a parking space and a laundry. It's in good condition and comes with some furniture.
It's listed for $65,000. Better yet, the owner is open to negotiation on the price.
That's a great price. It's priced below current construction costs. You couldn't build this house today for $65,000.
If you'd like more details, contact local real estate agent Amy Pinoargote here.
Margaret Summerfield
---
---
Posted Under:
ecuador, beachfront, affordable property
---