Friday, November 16, 2012
Dear Reader,
At a private closed-door gathering last month, members of Real Estate Trend Alert heard about an exciting opportunity in Brazil—the latest find from Ronan McMahon.
Now, below, you'll learn some of what they learned, and how to get in on this deal before anyone else. As always, the full story is reserved for members of Ronan's Real Estate Trend Alert group.
Margaret Summerfield
***************************************************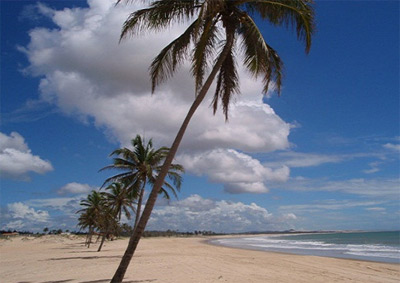 This beach is where couples stroll hand in hand, snorkelers meander their way through schools of brightly-colored fish, kite surfers catch the warm breezes and propel themselves into the air from incoming waves.
Five minutes from this beach, you could buy a lot with $2,522 down and monthly payments of $280. More on that in a moment.
Back from the beach sits a charming beach town. Think cobblestone streets…exotic flowers…fishermen's houses. Many of these old-fashioned buildings have been converted into European restaurants or cocktail bars…dive shops and cafes.
The building lot I mentioned is a killer deal. Not just because of the nearby beach and town. Something much bigger and more powerful is underway. It's happening now, in fact. It will impact on global trade in this country but it's still under the radar for now. The opportunity to buy the real estate I'm talking about hasn't even been released to connected locals.
I should back up and explain.
Famous for endless miles of white-sand beach, turquoise lagoons populated with tropical fish and buzzing in-city beaches…Brazil was known as "the country of the future". For many decades we looked on in envy at her beaches, beautiful people and staggering potential to be one of the world's richest places.
Today Brazil is a global power broker. It's the world's sixth-biggest economy and host country for the 2014 soccer World Cup and 2016 Olympic Games. No other country exports more food. Brazil is energy independent…a world leader in renewables whilst also awash with oil. And it's a strong manufacturing sector of planes, trains and automobiles.
Real estate prices in Rio and Sao Paulo are high—think Manhattan. For a decade prices doubled every three years.
Prices in the prime areas of Brazil's regional capitals have also appreciated strongly in the past five years. Members of Real Estate Trend Alert who bought condos pre-construction along Fortaleza's boardwalk in 2009 saw their values increase by 60% in two and a half years.
But with this opportunity to buy a lot with monthly payments of $280, we are getting in at the ground floor. With the benefit of seeing what happens in Brazil when a big event comes along…
Brazil's boom won't be news to Pathfinder readers. You're aware of the vast potential for future growth. You will also be aware of the bottlenecks that are constraining growth. Delays at ports. Obsolete highways. Bureaucratic red tape. High and complicated taxes.
There's one pocket of opportunity close to the beach I showed you above where a mega government program is cutting through the bureaucratic bottlenecks and creating best-in-class infrastructure from scratch. (Sometimes it's easier to start with a blank canvas than tinker with something that's in place already.)
In this place, the "outside" tax rules and bureaucracy won't apply. World-class infrastructure will converge. Hundreds of thousands of jobs will be created. Already, some employees are being offered 50% salary rises to come here. And come they do…from the south of Brazil, Spain, Portugal, South Korea…
Our opportunity is to buy where the new management will want to live. That's where we can reserve a lot with a down payment of $2,522 and monthly payments of $280.
Until launch this is a Real Estate Trend Alert "off market" deal. In this video I explain how these off-market deals work…and how you can get in on this opportunity before its official release.
Ronan McMahon
---
---
Posted Under:
---