Sunday, January 16, 2011


Say goodbye to scraping ice...and hello to your new life overseas
Dear Reader,
If you're planning a new life overseas in 2011... you want to escape those dreary gray northern winters ... you dream of a Caribbean lifestyle but think you can't afford it...well, you should put Belize on your shortlist.
This small country has great natural beauty, with virgin rainforest, dramatic Mayan ruins, and gorgeous white-sand beaches. Offshore, you'll find turquoise seas, sprinkled with tiny islands and palm-topped atolls...
And buying a bolt hole here won't break the bank. You can buy a lot in a waterfront community for $44,000, and build your own vacation home for $90 a square foot. Not bad for owning a slice of Caribbean paradise...
This country is small, but packed with fun things to do. In fact, here's what you could be doing in this Caribbean haven, instead of scraping ice and shoveling snow back home...
Snorkeling and Diving.
Flying over Belize, you can't help but notice the shimmering blue-green Barrier Reef, the world's second-largest coral reef system. The reef includes seven marine reserves, and hundreds of tiny atolls and sandy cayes.The clear, warm water makes an ideal environment for snorkeling. You'll see sponges, bright-colored corals, and a Technicolor display of fish...giant groupers, turtles, sharks, and maybe even a manatee.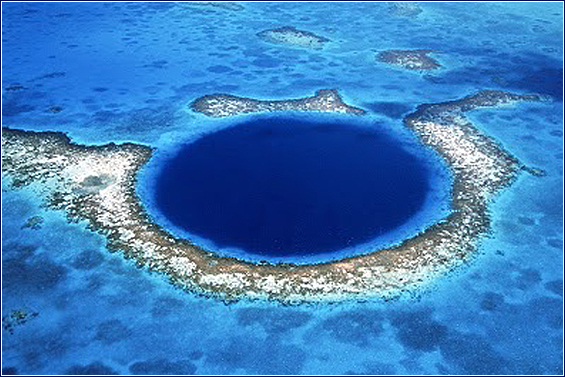 Divers worldwide come to Belize to dive the Blue Hole. This underwater sinkhole, made famous by Jacques Cousteau, is 407 feet deep and 984 feet across. It's an impressive spectacle from the air, and equally stunning to dive. It gives divers an opportunity to swim amongst massive stalagmites and stalactites...an experience described as awesome.
Enjoying Watersports.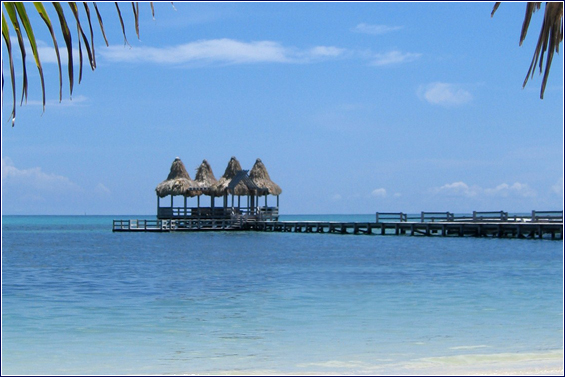 Whether you're into sport fishing (barracuda, bonefish, wahoo, tarpon, sailfish, marlin, to name but a few), sea kayaking, or sailing, Belize is a water-worshiper's paradise. Year-round sunshine, and warm Caribbean waters, means you can enjoy the ocean year-round.
Rainforest trekking, bird watching, wildlife spotting, and waterfalls.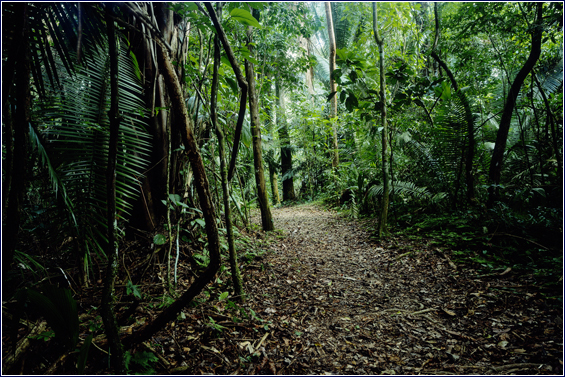 Lush, tropical rainforests cover around half of this country, with 80% of that forest protected. Birdwatchers can look out for 500 species of bird...you can see thousands of different exotic plants and flowers...and some wildlife hiding in the dense foliage...jaguars, ocelots, giant electric-blue butterflies, armadillos and tapirs.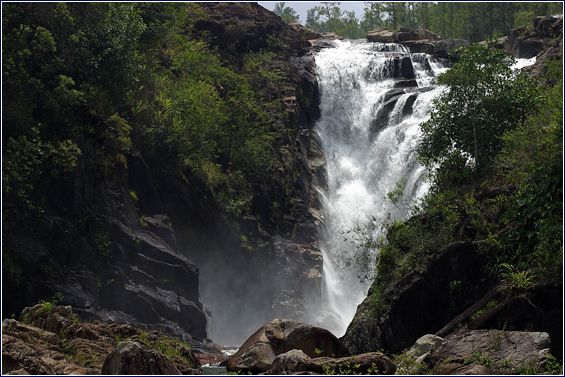 Belize boasts Central America's highest waterfall, Hidden valley Falls. Indeed, you'll come across waterfalls throughout Belize. The pools underneath the waterfalls are cool and inviting...ideal for a refreshing soak after a jungle hike.
Exploring Mayan Ruins.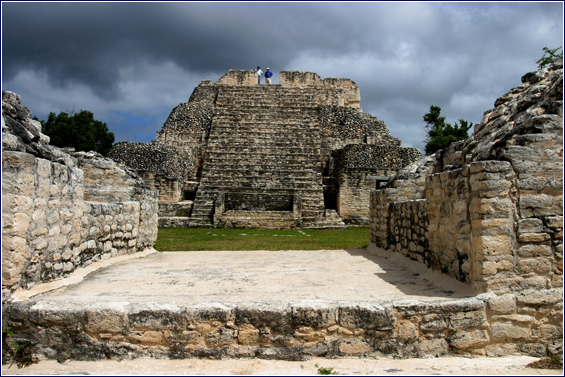 Belize is home to a number of historically important Mayan sites. Caracol, for example, contains the remains of thousands of ancient structures.
Beach, beach, beach.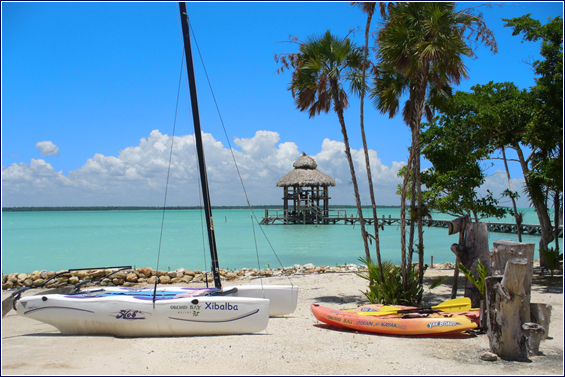 Well, this is the Caribbean...and what better way to shake off the winter blues than to soak up the sunshine on a white-sand beach, with the turquoise sea lapping gently on the shore...rock in a hammock in the cool afternoon breeze...or savor tasty grilled lobster and a cool Belikin beer alfresco...
To get a sample of this Belize lifestyle, try a Belize chill weekend, run by Orchid Bay.
A chill weekend is a mini-vacation. It's your chance to spend some time in your potential second-home destination...meet the locals, and other expats who have already made the move...ask all the right questions about buying overseas...check out your real estate options ...and (of course) chill out on the beach.
Orchid Bay is a waterfront community, centered on a beachfront bar and restaurant. Located in Corozal (rated as one of the top retirement spots by AARP last year), it sits on the shores of Chetumal Bay. Orchid Bay is peaceful, tranquil, and laid-back. But just ten miles across the bay, the city of Chetumal provides all the amenities you'll need--hospitals, shopping malls, supermarkets, and cinemas.
Orchid Bay offers home sites from $44,000...and you can build here from $90 a square foot.
The Orchid Bay team knows that once you see this place, you'll want to spend time more here. And to help you see their community, they'll pick up some of the tab.
Their Belize chill weekend trip is $399 per person, $648 per couple sharing, including transport, meals and accommodation. You'll see Mayan ruins, and have a seafood grill on the beach. And Orchid Bay takes care of all the logistics. Just show up at Belize airport and the team takes over from there. You can sit back and start to enjoy Belize from the get-go...
To receive an information package on upcoming chill weekends (the next one runs March 18th-20th), just fill in your name and e-mail address here, and the Orchid Bay team will contact you shortly.
Why try making it through another cold northern winter? Put Belize on your shortlist today...and book your spot on a Belize chill weekend. That great new life overseas you're promising yourself is closer than you think.
Margaret Summerfield
---
---
Posted Under:
---
Sign up here for your free Pathfinder Alert e-letter, and we'll send you our $50,000 Report...showcasing seven real estate opportunities for $50,000.
We value your privacy.