Friday, December 02, 2011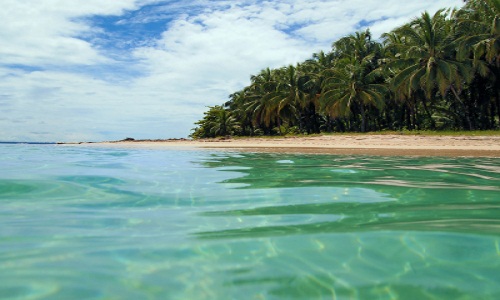 Gorgeous white sand, gorgeous clear ocean - and an investment opportunity
Dear Reader,
This sun-drenched beach is just one of many scattered along Costa Rica's Caribbean coast. These beaches are beautiful – the best in Costa Rica. But they're usually deserted. That's because Costa Rica's Caribbean coast is the Forgotten Coast. At least, it was until now.
On August 30th this year, Costa Rica's Caribbean coast hit the headlines with a record-breaking billion dollar investment deal. And that's just one of the reasons why this side of Costa Rica is starting to catch on. It's now getting the attention of the mainstream press and mainstream tourists. But they haven't yet tuned in to the opportunities to buy here.
Right now, you can buy a spacious 1.34 acre lot for $65,028 on Costa Rica's Caribbean side. A special 10% discount cuts the price to $58,525. That works out to $10.80 a meter. That's a killer deal. These lots are in a successful, thriving community, the finest in this part of Costa Rica.
Plus, you can take advantage of developer financing. You'll get a 5% discount, and you can spread your payments with easy monthly installments.
The developers of this community, Gill Phelan and William Ogen, have their finger on the pulse of what's happening here. Their project is the largest in the area, and their tourism business hosts visitors on fishing, scuba diving and rafting trips.
They're excited about what's happening right now on Costa Rica's Caribean side. They'd like to share that excitement with you. They're hosting a free webinar on Tuesday, December 6th, at 9pm EST. The webinar will give you an insight into why Costa Rica makes sense as a place to live or invest, and how recent trade deals have opened up new business opportunities.
Gill will focus on Costa Rica's Caribbean side, explaining why it makes sense for investment or as a second home destination. He'll even suggest some ideas for new businesses in the area. And he'll show you how you can stake your claim here with those lots from $58,525 - and two ways to finance your purchase.
You can sign up for the free webinar here.
Margaret Summerfield
---
---
Posted Under:
costa rica, developer financing, opportunities, caribbean
---
Sign up here for your free Pathfinder Alert e-letter, and we'll send you our $50,000 Report...showcasing seven real estate opportunities for $50,000.
We value your privacy.