Sunday, April 22, 2012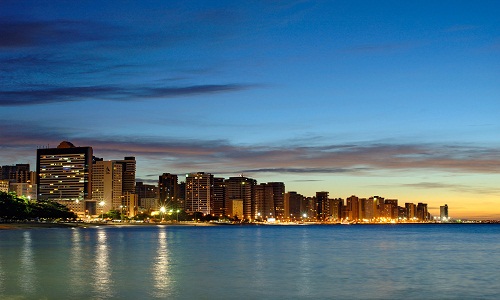 A booming city, a beach, a boardwalk - and a new rental opportunity
Dear Reader,
It's a warm evening in Iracema. We're relaxing over a tasty pizza and some chilled beers in a big plaza. And we're watching the world go by. There's a real buzz in the air. Groups gather to watch improvised dance displays or listen to live music. Others head to the art exhibition at the cultural center. It's early yet. The plaza will get busier as the evening goes on and the clubs and bars in the area open up.
This neighborhood is fast becoming trendy. A few years back, it wasn't a desirable place to live. But that's changing. Iracema is a neighborhood on the rise in a city that's booming. And there's a way for you to profit.
Iracema is a neighborhood in Fortaleza, a city on Brazil's northeast coast. Brazil is on a roll. Brazil is energy independent, with vast reserves of oil, precious metals, agricultural land and water. It boasts a strong manufacturing base.
It's the sixth-largest economy in the world. And more than half of Brazilians are now middle class.
Fortaleza's growth outstrips that of Brazil as a whole. Shiny new shopping malls testify to the rise in income levels. Unemployment hit an all-time low last year. Moreover, there's oil offshore, triggering the expansion of Pecem port. Plans for the port include thermal power plants, an oil refinery, and a massive duty-free zone.
This will create thousands more new jobs. That will attract young professionals from other parts of Brazil.
These professionals often want to rent quality accommodation in Fortaleza. They'll pay top dollar for a new condo in the right location with decent furniture.
Unfortunately for them (and fortunately for us) there's a shortage of that type of accommodation for rent right now.
And that means opportunity for you. In a moment, I'll give you the low down on a new residential project in Iracema aimed at middle class professionals - where you can take advantage of developer financing and generate rental income.
But first, a little more detail on Iracema.
Beach, Culture, Nightlife & Shopping
Iracema's already got a lot to offer, starting with a wide sandy beach that's perfect for beach volleyball tournaments and New Year's parties.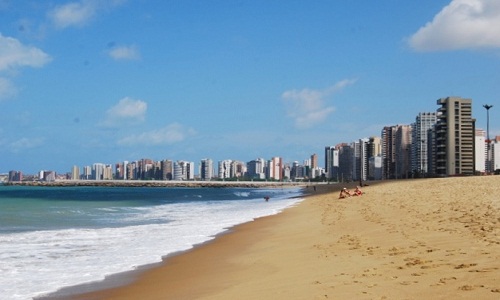 Iracema Beach hosts volleyball tournaments and New Year's parties
It boasts a cultural center that hosts art exhibitions, concerts, movies, and music and dance events. Restaurants, cafes and small hotels occupy historic colonial buildings, painted hot pink and lemon yellow.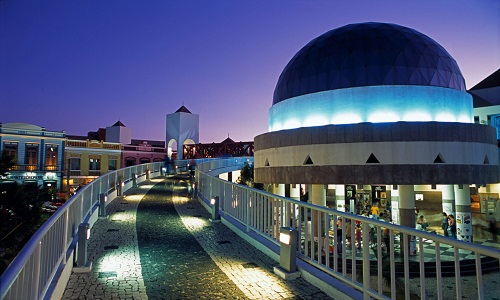 Fortaleza's cultural center is in Iracema
Iracema has a surprise or two up its sleeve. A concrete shell reveals an ornate cast-iron theater with stained glass and painted ceilings. Old warehouses that look shabby on the outside house art galleries, artisan workshops, nightclubs and music venues.
Even the shopping is different here. Instead of the modern malls you'll find in other parts of the city, small stores line little streets, stocked with shoes, handbags, furniture, clothes...at lower prices than you'll pay in the malls.
Iracema feels bohemian and fun. Some of the city's top restaurants are now located here. It's fashionable with a younger crowd. And it's appealing more and more to families.
A New Boardwalk Equals New Opportunity
A few years back, Iracema didn't have a boardwalk. Many of the bars and restaurants were dark and dingy. The neighborhood became run-down and overlooked. A small red-light zone started up. This put off families and middle class professionals. They no longer wanted to buy or rent property in Iracema.
That's now changing. The local municipality declared war on the red-light clubs and bars, issuing closure notices, tightening business licenses, and even stopping some charter flights that brought sex tourists to the city. The municipality's plans for Iracema don't include red light areas. They want it to become a new tourist hot spot and the city's cultural heart.
The dingy bars and cafes will become art galleries and trendy cafes. And down on the beach, we can see signs of change already. That's down to the new boardwalk.
The boardwalk in Fortaleza is the city's focal point. It's busy morning and evening with joggers, walkers, and roller-bladers. People come here to eat and socialize in the restaurants and cafes. They catch up with friends and family. Tourists come to browse the street stalls selling souvenirs, jewelry and clothing. The boardwalk is a prime spot. It's where everyone dreams of living.
Gleaming condo blocks sit alongside the boardwalk. They've filled all the available land along the boardwalk. It's built out. But the high rises thin out when you reach Iracema.
That's because until April 2011, Iracema didn't have a boardwalk. Today, Iracema's new section of boardwalk blends with the old boardwalk. The morning joggers now carry on down into Iracema. And at the end of this new section of boardwalk, they're going to build the biggest aquarium in Latin America. The aquarium should bring more tourists into Iracema.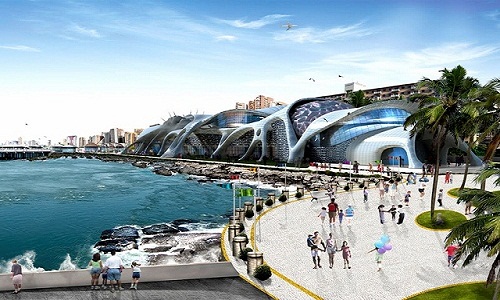 An artist's impression of the aquarium at the end of the boardwalk in Iracema
The Facelift Pays Off
Iracema's facelift is starting to pay off. There's a flurry of development. Big developers realize the potential of this place. It's easy to see when you compare property prices.
I mentioned that you can't tell where the old boardwalk ends and the new Iracema boardwalk begins. But there is a dividing line when it comes to property prices. The old boardwalk is mostly built out. It's a wall of shiny high rises. You'll pay up to 10,000 reals ($5,471) per square meter to live on this section of boardwalk.
But in Iracema, you'll pay significantly less for a condo - up to 50% less. And rental demand is high. Fellow readers who have already purchased small studios in a building in Iracema are renting them out to young professionals, and generating a nice income.
Those little studio condos (around 500 square feet) earn up to 1800 reals ($985) a month. In this new residential project, the larger condo size means a wider market of potential renters - families as well as young singles and couples.
The Deal
This new project is Piazza Coliseu. It's 100 meters from Iracema Beach. Its neighbors include private social clubs (where families play tennis, work out in the gym or join a yoga class), single family homes and hotels. It's close to shopping, restaurants, cultural activities and nightlife.
The 76 square meter (817 square feet) condos have three bedrooms and three bathrooms. That might seem a bit of a tight squeeze. But the third bedroom will command a premium when renting or re-selling to the local market.
The condos face east, to get morning sunshine and an ocean breeze. The large balcony provides outside space for a hammock or chairs.
Prices start at 395,255 reals ($210,143). That's 5200 reals per square meter. Compare that to the 10,000 reals you could pay on the old section of boardwalk...
Developer finance is available for either 38 or 60 months. For the unit priced at 395,255 reals, with 38 months finance, you'll pay 31,620 reals ($16,800) down and 3068 reals ($1630) per month (with some adjustments for inflation).
The delivery date is September 2015.
Right now, for a nicely furnished three-bed three-bath condo in this location, you'd expect to get 33,600 ($18,158) a year in rent. That's 8.5% on this unit.
You can contact our local real estate agents, Daniel and Hanna Neves, here. They will send you a full information pack on Piazza Coliseu.
Daniel and Hanna also offers full property management services in Iracema- helping with furnishing, finding tenants, and dealing with rental payments. They can provide details of costs and rental rates for properties they manage in Iracema.
If you're looking for a rental investment - outside the U.S. and outside the dollar - Piazza Coliseu fits the bill. Contact Daniel and Hanna today to snap up your unit.
Margaret Summerfield
P.S. If you'd like to see Iracema for yourself, contact Daniel and Hanna here. They'll help you plan your trip, talk about the best places to visit and the hottest real estate opportunities for you to consider. Then they'll map out your itinerary and meet you at your hotel for breakfast on the first morning. Click here to start planning your trip.
---
---
You might also be interested in:
There's Opportunity Out There: Here's One
---
Posted Under:
---
Sign up here for your free Pathfinder Alert e-letter, and we'll send you our $50,000 Report...showcasing seven real estate opportunities for $50,000.
We value your privacy.