Saturday, September 11, 2010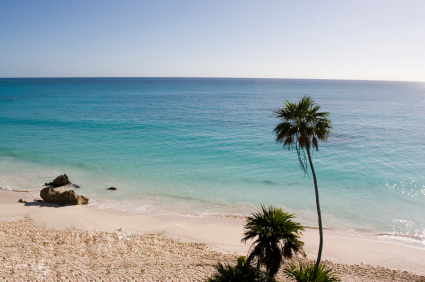 A paradise that's chic and pristine, and wants to stay that way
Dear Reader,
The Path of Progress is one of the market forces that signal a rise in property prices. Sometimes it's new roads, bridges, or airports...or upgrades to existing infrastructure...that make getting to an area easier. Alternatively, progress can mean new tourist amenities: hotels, spas, and restaurants. Both of these bring in more visitors to an area... who will like what they see...and want to stay longer. That's good news for buyers looking for appreciation, or rental income.
Tulum is one such place. On the southern end of the Riviera Maya, Tulum was off the beaten track (and mostly off-grid) 25 years ago. A few small hotels served the needs of backpackers and archaeology buffs (Tulum boasts the only Mayan coastal ruins in Mexico). Mainstream tourists didn't travel here. And that saved Tulum from over-development. You won't see high-rises on the beach, or wall-to-wall subdivisions. Moreover, it helped Tulum focus on a particular niche, as an eco-chic destination.
The lure of Tulum is obvious. Miles of inviting powder beach meet the sun-dappled Caribbean. A rainbow-colored coral reef lies just offshore. Inland, thick jungle conceals a wealth of hidden wildlife. The thick stone walls of the Mayan fortress sit high over the ocean, a symbol of the past. But Tulum's definitely looking to the future.
This year, the Mexican President announced plans for a new international airport in Tulum. The airport will bring more tourists here for sure. But three factors should preserve Tulum's boutique destination status:
Strict planning with tight height and density restrictions. Tulum learned lessons from Cancun's solid line of mammoth hotels blocking the beach. They don't want that in Tulum.
A lack of developable land. The protected Sian Ka'an biosphere covers 1.3 million acres. There's an additional 200,000 protected acres south of the biosphere. That limits the amount of land available for residential and resort development.
The tourism marketing campaign for Tulum. The tourism authority want a more upscale and independent traveler to come to Tulum. Think yoga on the beach at sunset, rather than crowds of spring-breakers partying.
Recent news articles highlight Tulum's chic, trendy vibe. The jazz festival just finished, and a piece on global fashion trends named Tulum as the fashion industry's year-round hot spot. The incredible scenery provides the perfect backdrop...and Tulum's easy accessibility means you can get here in half a day from many cities in the US. Plus, you have boutique hotels, sweat lodges, de-toxing, yoga, spas, and bikini boot camps. What more could a fashionista want?
Tulum had 600 residents in 1986. Today, there are 20,000, and more expats are waking up to the possibilities of living in this Caribbean outpost. Some of the early expats described what drew them to Tulum many years ago, and their experiences of setting up businesses here, in a Bloomberg article this week. Despite some misgivings, (mainly the discovery that running a business in paradise isn't as easy as it looks), they all seemed happy with their lot--and intent on maintaining Tulum as a low-key destination.
Two new residential projects here fit with Tulum's stylish, trendy vibe. They couldn't be more different. One takes full advantage of the five-star amenities in an established beach and golf resort... the other boasts eco-friendly credentials, and five-acre lots, for $60,000. They have something else in common, too...attractive developer financing.
They've joined forces to offer a single chill weekend trip this October, for 5 days, at an unbeatable price. This chill weekend is the easiest way to explore this stunning location...and get the real skinny on why it's such an investment hot spot...for an unbeatable price. Stay tuned for Monday's alert from Ronan, when he'll give you the lowdown on one of the projects...and the heads up on the chill weekend.
Margaret Summerfield
---
---
Posted Under:
---
Sign up here for your free Pathfinder Alert e-letter, and we'll send you our $50,000 Report...showcasing seven real estate opportunities for $50,000.
We value your privacy.