Sunday, May 13, 2012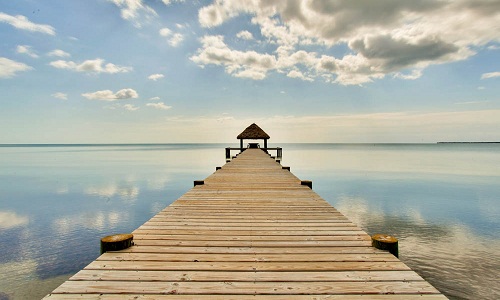 This part of Belize has a lot to offer...
Dear Reader,
My Belize trip started with a driver from northern Belize who spoke Spanish at home and English with clients. It ended at Belize City airport, watching a large group of Mennonites; the women and little girls in old-fashioned dresses and bonnets, the men and boys in dungarees and straw hats. In between, I met people from many different cultures and backgrounds.
They all had one thing in common. They love Belize.
It's easy to see why once you're here. This tiny country is quiet but quirky. It doesn't attract the attention of the mainstream media very often. It doesn't have a mega-budget to promote itself as the next "in" place for tourists. Celebrities don't flock to its beaches with a camera crew in tow.
So you're not likely to see Belize in the pages of a glossy magazine or splashed across your TV screen anytime soon.
It's easy to overlook this sleepy country when you're considering a second home or retirement destination. And that's a shame. Because Belize has a lot to offer...
Why Belize?
For starters, this country is close to the U.S. You can fly to Belize from Miami in two hours, and from Houston in two and a half. And once you land, it's easy to get around: The country is only the size of Massachusetts.
You won't need to learn a foreign language. Most of Belize is English-speaking. So there's no adjustment period where you struggle with a phrase book, point at what you want and hope for the best. Instead, you can start making friends from the get-go (and believe me, with the friendly locals and expats you'll come across, it won't take long to build up your social circle).
Belize offers an easy retirement program called the Qualified Retirement Program (QRP). It's available to anyone aged 45 and over with a proven income of at least $2000 a month.
Belize encourages offshore business and financial privacy. Belizean laws allow asset-protection trusts, for example. Plus, there's no capital gains tax and no inheritance tax.
Belize is a Caribbean country. But property prices are still affordable here.
And, last but not least, Belize is beautiful. With turquoise Caribbean seas sprinkled with sandy atolls and islands ... a huge barrier reef, the second-largest in the world, filled with clouds of tropical fish...the Blue Hole, a famous dive spot...mountains, rainforest and ancient Mayan ruins...the landscapes are just as diverse as the people who call this country home.
And one little peninsula in Belize offers the relaxed Caribbean beach lifestyle so many of us dream of.
Beaches, Turquoise Seas and a Small Town Vibe
Placencia is a small town in the Stann Creek district of southern Belize. Its varied history includes the Maya, pirates and buccaneers, English Puritans and Spanish conquistadors. It's a charming spot that's still a barefoot paradise. But it's a barefoot paradise that comes with some very nice amenities.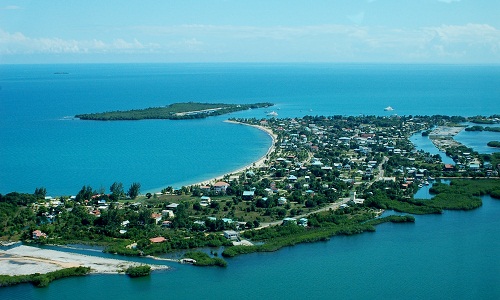 This little peninsula attracts water-worshipers from across the globe
Placencia's focus is the beach and Caribbean Sea. Small condo complexes sit alongside little marinas and docks. Sport fishing is big here, as well as snorkeling, sailing and diving in the crystal-clear water. You'll see boats everywhere, from humble fishing boats to sleek trimarans. And with 16 miles of white sand beach, there's plenty of room for swimming, sunbathing or relaxing in a hammock...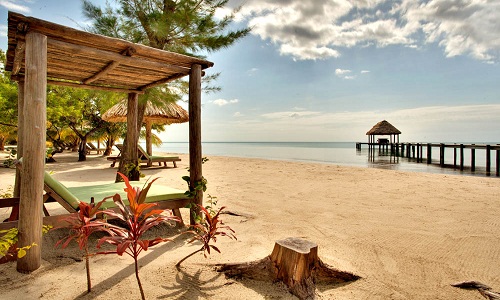 Placencia is home to 16 miles of beach
The village's charm harks back to small-town America maybe 60 years ago. It isn't cookie cutter or master planned. Hand-painted signs point the way to eateries half-hidden by the lush tropical foliage spilling over walls.
The sandy streets in town straggle around stores painted in vivid pink and bright yellow. You'll find a coffee shop, a couple of supermarkets, some good restaurants, and a gelateria with mouth-wateringly good flavors (coffee, coconut, and pistachio).
There are also dive shops, a produce stall, a health center, spas and beauty salons, a hardware store, banks and bars.
Outside town, boutique hotels and chic resorts attract well-heeled visitors. The best-known is Turtle Inn, owned by Francis Ford Coppola.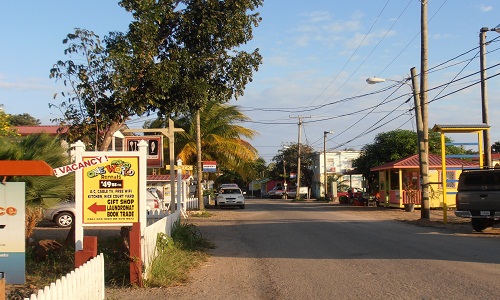 Placencia's quaint small-town feel is charming
Placencia remains true to its chilled, laid-back roots. There's no rush here. People stop and chat on the street, shooting the breeze. Locals greet tourists as well as each other with a friendly good morning or afternoon. That friendly atmosphere is one reason so many expats have chosen to put down roots here.
What About Real Estate?
Many of those expats are from the U.S. Placencia's popularity with American expats led to a mini-boom in new residential communities, and a sharp rise in property prices. But the slowdown in the U.S. put many projects on hold, or left them with completed but unsold units.
Placencia is now a buyer's market, open to negotiation on pricing. Treat sticker prices as a guide point - and negotiate. The deals and discounts on offer will surprise you.
Here are some sample properties on the market today:
A one-bed one-bath home with a wrap-around porch. It borders the main highway on one side and a canal on the other. A one-minute boat ride takes you to Placencia lagoon, and 20 minutes gets you to the Caribbean. Walking distance to restaurants, cafes and the beach. Price: $145,000.
A home with 1680 square feet of interior space and outside decks covering 390 square feet on a canal with direct access to the lagoon and the Caribbean. A guest apartment on the ground floor could provide rental income. The owner will consider financing. Price: $220,000 (reduced from $280,000).
Lots at a marina development from $55,000.
A fourplex right in town, with excellent rental income. Priced at $325,000 (reduced from $375,000).
A new two-bed two-bath condo in an upscale beachfront community. With

beach and ocean views and very high end finishes, there's a $50,000 discount on the $385,000 list price, cutting it to $335,000. Best of all, it's fully furnished down to the linens and cutlery

.
A three-bed two-bath house with a guest suite. Originally listed at $575,000, it's now priced at $495,000.
Test-Drive it for Yourself
There is an easy way to test drive Placencia...dip your toes in her turquoise seas...and see if it's right for you...on a Placencia chill weekend.
You'll spend a couple of nights in one of the local hotels...meet other expats...relax over a beer or a plateful of coconut shrimp...and soak up the relaxed atmosphere...
You'll also get a personalized property tour. You can contact local real estate agent Boris Mannsfeld here. He will discuss with you what you're looking for, send you sample listings, and arrange a customized schedule that's tailor-made for you.
You'll see what you want, when you want, at your own pace. Don't worry, you'll get plenty of time to check out the beaches, too. And if you'd like to try your hand at fishing, snorkeling or diving, you can add that in to your customized schedule.
Boris will help you plan your trip if you contact him here.
The chill weekend will give you a taste of laid-back living, Placencia-style. You'll really get a feel for what it's like to live here. And you can decide if it's your piece of paradise...
Contact Boris here today to start planning your custom chill weekend.
Margaret Summerfield
---
---
You might also be interested in:
Boats, Beach, and a Laid-back Lifestyle in Belize
No Shirt, No Shoes, No Problem
---
Posted Under:
belize, chill weekends, beach, discounted property
---
Sign up here for your free Pathfinder Alert e-letter, and we'll send you our $50,000 Report...showcasing seven real estate opportunities for $50,000.
We value your privacy.