Saturday, May 12, 2012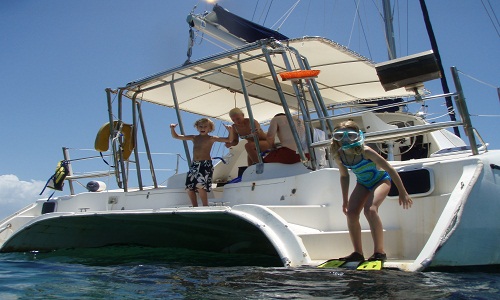 If you like sailing, snorkeling, swimming and diving, you'll love Placencia
Dear Reader,
The rising sun splashes rays of light across the dawn sky. Golden shafts of sunlight streak over the sea. A steady stream of little boats sails past, all set for a day's battle with elusive permit and tricky bonefish. Those on board wave as they pass the oceanfront terrace of my rented condo. I'm in prime position - in a boater's paradise.
I'm in Placencia, Belize. It's a quaint place, with plenty of charm, and a small-town friendliness that's instantly appealing. When you get into a taxi or order a coffee in a small café, your host will chat with you. It makes you feel that you're part of a community, and one that welcomes newcomers. It helps that English is the first language for most locals. And the laid-back expats will shoot the breeze with you when meet them in bars, restaurants or on the beach.
It's easy to see why Placencia charms so many visitors into making this place their second home. The pretty beaches and Caribbean Sea help, too...
Flying overhead, you can see just how many boat-owners live on this peninsula. And the boats come in all shapes and sizes. I saw sturdy fishing boats, sleek catamarans and fancy yachts. The sport fishing scene really took off here in the last five years. Salt water fly fishermen flock to Placencia, to catch snook, tarpon, bonefish and permit. And there are bigger fish to stalk: Wahoo, tuna and dorado.
But it's not all about fishing. A quick boat ride takes you to the cayes (pronounced "keys"), a string of little sandy islands, for the ultimate in privacy on stunning white sand beaches fringed with turquoise seas. Travel a little further and you reach the Belize Barrier Reef, the second largest barrier reef in the world. It's a wonderland for divers and snorkelers, packed with marine life and colorful corals. In April, May and June each year, magnificent whale sharks grace the waters around the peninsula.
If you'd prefer to just kick back, you can relax in a hammock with a good book in the shade of some palm trees...sunbathe on the unspoiled beaches...or take a dip in the bright blue sea in the drowsy tropical afternoons. You'll truly relax in Placencia. It's a place that's refreshingly free of hustle and bustle, stress and strain.
As one local put it: I wake up each morning, the sky's blue, the sun's out, and the beach inviting. My maid greets me with freshly-brewed coffee and a tropical fruit platter. Hummingbirds breeze past while I breakfast on my balcony. What's not to like?
Placencia's popularity with North American expats led to a mini-boom in new residential communities, and a sharp rise in property prices. But the slowdown in the US put many projects on hold, or left them with unsold (but finished) units. Placencia is now a buyer's market, open to negotiation on pricing. Treat sticker prices as a starting point. The deals and discounts on offer will surprise you.
That's not to say that property in Placencia is cheap. Like other beachfront locations in Belize, property prices can seem high relative to other Latin American destinations. But Placencia scores highly for its unique small town appeal, and for the fact that it's English-speaking. No need for phrase books or dictionaries or struggling to make yourself understood.
If you want a laid-back Caribbean lifestyle with plenty of opportunities for adventure and you don't want to learn another language, this place fits the bill perfectly.
Here are some sample properties on the market today:
A home on the water. This one-bed one-bath home features a wrap-around porch and a large lot. It borders the main highway on one side and a canal on the other. A one-minute boat ride takes you to Placencia lagoon, and 20 minutes gets you to the Caribbean. Walking distance to restaurants, cafes and the beach. Price: $145,000.
A home with 1680 square feet of inside living space and outside decks covering 390 square feet in the center of the peninsula. It sits on a canal with direct access to the lagoon and the Caribbean. A guest apartment on the ground floor could provide rental income. The third floor deck has views of the beach, mountains and the lagoon. The owner will consider financing. Price: $220,000 (reduced from $280,000).
A new two-bed two-bath condo in an upscale beachfront community. With beach and ocean views and very high end finishes, there's a $50,000 discount on the $385,000 list price, cutting it to $335,000. Best of all, it's fully furnished down to the linens and cutlery.
A three-bed two-bath house with a separate guest suite. Originally listed at $575,000, it's now priced at $495,000.
If you're interested in Placencia...but not sure if it's the right fit for you...then you can contact local real estate agent, Boris Mannsfeld, here. Boris will help you plan your trip to Placencia, where you'll get a taste of the laid-back lifestyle...try your hand at fishing or snorkeling...test out the local restaurants...and explore the real estate opportunities on offer.
Just give Boris some details of the type of property you're looking for here and he'll send you some samples. Then he'll tailor a real estate tour just for you. You'll take things at your own pace, and only see what you want to see - with plenty of time to kick back, relax and soak up the atmosphere.
Contact Boris here to start planning your trip.
Margaret Summerfield
---
---
You might also be interested in:
No Shirt, No Shoes, No Problem
---
Posted Under:
belize, beach, discounted property
---
Sign up here for your free Pathfinder Alert e-letter, and we'll send you our $50,000 Report...showcasing seven real estate opportunities for $50,000.
We value your privacy.