Sunday, March 23, 2014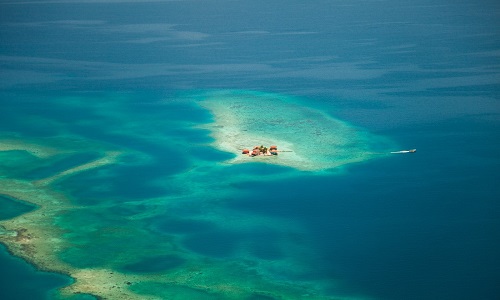 Who wouldn't want to buy a home in Placencia, Belize?
Dear Reader,
You've got to love a country that calls one of its main highways the Hummingbird Highway. But then this is a country with only four main highways – and they're only two-lane.
But this country doesn't need interstate highways with complicated numbering systems. Belize is a small country, slightly smaller than Massachusetts, with a population of just over 334,000.  It's a quiet, English-speaking haven with Mayan temples, exotic wildlife and Caribbean beaches. It's a wonderful country to spend time in, a bolt hole from the hustle and bustle and stress back home. It's the kind of place where you come to unwind, relax and recharge your batteries.
And if you're looking for a second home or retirement destination that's a little off the beaten track, then buying a home in Belize makes perfect sense.
Don't get me wrong. It's easy to get to Belize. You simply take a direct flight from a hub airport in North America and a few hours later (2.5 from Houston, 5 from New York) you land in the capital city, Belize City. From there, I'd recommend you head south to the little beach town of Placencia.
Buying a home in Belize is like buying a slice of paradise. It's a 16-mile peninsula, bordered by the clear Caribbean Sea on one side and the blue waters of a sleepy lagoon on the other. Long popular with adventurous tourists and expats, it's fast gaining a reputation as Belize's next big thing. That's if it's possible to have a next big thing in such a laid-back country…
Around three years ago, the road linking Placencia to Belize City was finally paved. It's now a smooth three-hour drive. That's opening Placencia up to tourist growth and putting it on the map for property shoppers.
If you want a taste of life in Placencia, picture this. It's a typical beach in this area: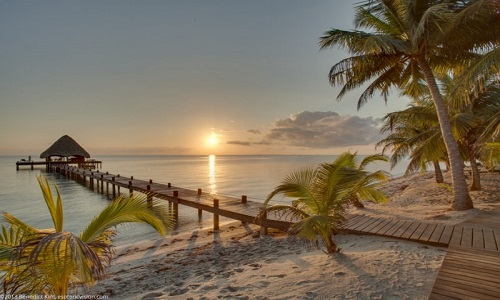 Why you Should Consider Buying a Home in Placencia
Surrounded by water, Placencia is a boater's paradise. Lots of homes in the area feature a dock. Sailing and saltwater fly fishing are big sports. The warm, clear Caribbean waters are perfect for swimming and snorkeling and diving. The lagoon side of the peninsula teems with birds and wildlife and shy manatees. The sea is sprinkled with islands and sandy atolls that beg to be explored.
Placencia is low-rise. You won't see condo towers or giant shopping malls. It's on a small, friendly scale, with mom'n'pop businesses and brightly-painted stores. You can dine on fresh-caught conch fritters or local-style creole shrimp, buy fresh-roasted coffee or a seaweed shake, and watch the sun set as you sip a dragon fruit cocktail or a Belikin beer. The town has a nice selection of restaurants and cafes, serving local and international cuisine, with an emphasis (naturally) on local seafood.
Placencia's charm lies partly in its pretty setting and partly in its people. They're easy going and friendly. They say hello to passing strangers, invite you to join them for a game of football or a drink or a barbeque. Of course, it helps that everyone speaks English. You can skip struggling with a dictionary while you try buying groceries or ordering in a restaurant, and get straight in to making new friends.
Boris Mannsfeld first came to Belize 22 years ago. He quickly saw the potential in Placencia. He's a partner in one of Placencia's top boutique hotels. He runs a real estate agency in town. And he's the developer of a small complex of condos in a tranquil beachfront setting, the Villas at Cocoplum.
Boris has already completed the first two condo buildings in the Villas at Cocoplum and work is underway on the third. The social area and pool are finished: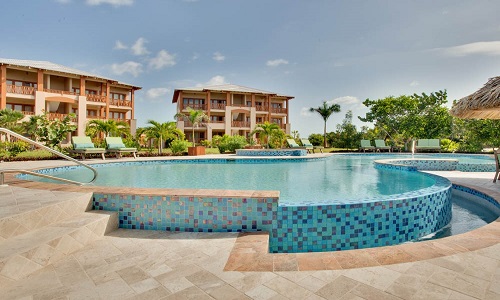 And the buildings are only a few feet to a white-sand beach, the community pier and the Caribbean Sea: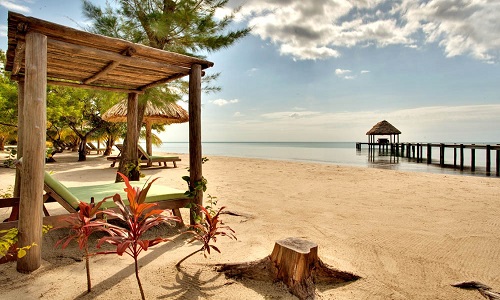 The finish quality on the Villas at Cocoplum condos is high-end. They're a two-bed two-bath layout with a spacious terrace. Units on the second and third floors get gorgeous beach and sea views. You can buy a fully turnkey unit with a custom-made furniture pack, appliances, housewares, linen and cutlery, so you can move straight in.
A couple of finished units are for sale. One's a second-floor turnkey condo that's priced at $375,000. That's not cheap – but it is good value when you stack it up against other Caribbean locations. You'd easily pay upwards of $600,000 for a beach-view condo in other Caribbean locations such as St. Kitts.
You can get an idea of the style and finish of the Villas at Cocoplum condos from this unit below:
At the Villas at Cocoplum, you can live the laid-back Caribbean lifestyle of your dreams. You can breakfast on your terrace in the fresh sea breeze, do yoga on the beach a few steps from your door or take a dip in the pool or the sea. You'll slow down, relax, and discover how to enjoy life again.
If you'd like more details on the Villas at Cocoplum, contact Boris here. Boris can help you plan a trip to see Cocoplum (and Placencia) for yourself, too. He'll even give you a special rate at the boutique hotel he's a partner in. Contact Boris here to start planning your trip.
Margaret Summerfield
P.S. I mentioned that Boris also runs a real estate agency. So, if you're looking to buy a home in Placencia, and if the Villas doesn't fit the bill for you, let Boris know what you're looking for here and he'll send you some of his listings and help you arrange a property tour in Placencia.
Editor's Note: We often write about profiling yourself to figure out what type of property you should buy.
And you should also profile yourself if you're looking to retire overseas. In this short video, International Living editors Dan Prescher and Suzan Haskins give you some valuable tips on finding your dream retirement spot.
---
---
You might also be interested in:
A Luxury Home on the Beach in Belize
---
Posted Under:
---