Saturday, April 09, 2011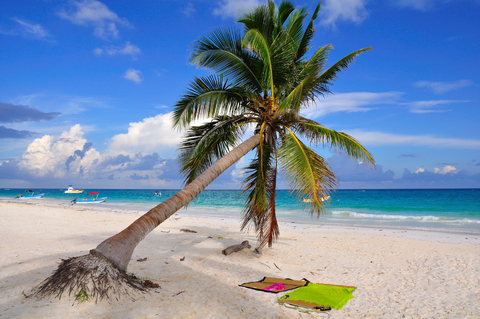 Wish you were here? Read on to find out how you can spend time on this beach...
Dear Reader,
I spent last weekend on Mexico's Riviera Maya with colleague Ronan McMahon and a group of RETA members at a private retreat. The hot topic was the Path of Progress. We were in the perfect location to discuss this. The Riviera Maya is a fascinating study over a forty year period on infrastructure, how it affects the pace of development, and property prices.
In case you're wondering about the photo, we spent some time on this beach. I'll tell you more in a moment on how you can spend time here too...
Until the 1970s, Cancun was a sandy spit of land. The only high rises in sight were coconut palms. But the Mexican government's tourism and development arm, FONATUR, recognized Cancun's potential. They could see past the empty beach and lack of electricity or roads. They knew that the crystalline ocean and baby-soft sand would appeal to North American tourists. They just had to make it easy for those tourists to visit.
So they invested in infrastructure... an international airport, utilities, and good modern highways. They helped developers get started on the hotels (the first hotel opened in 1974), golf courses, resorts and other tourist amenities.
Today, Cancun is a popular tourist destination, with mammoth hotels (170 at the last count), ritzy shopping malls and restaurants, residential towers and a marina surrounded by luxury homes.
Following the success of Cancun, FONATUR looked down the stretch of coast south of Cancun for their next hot spot. They settled on Playa del Carmen, a fishing village with sandy streets, small local homes and many empty lots. In 2005 and 2006, the town earned the distinction of fastest-growing community in the world. Today, the town boasts not only paved streets, but also organic cafes, trendy night clubs and bars, and homes on the beach with million dollar price tags.
FONATUR renamed the section of coast south of Cancun to Tulum the Riviera Maya. And the Path of Progress continued. Next in its sights: the little town of Tulum.
In 2010, the government announced a tourism plan for the Tulum area (including an international airport) that calls for up to eleven million tourists to come here. That's a lot of potential renters...and property buyers, in a place that is currently undeveloped. But that's slowly changing.
When I first visited Tulum four years back, the town had one supermarket, and no bank. Last weekend when we drove through, it had a second supermarket, new gas stations, and no less than three banks. A nicely-finished cycle path runs to the beach.
Down on the beach itself, everything is off-grid. This too had ramped up since my first visit. Some of the rustic-style boutique hotels are distinctly upscale. They offer spa treatments, bikini boot camps, and yoga retreats. Organic and vegetarian fare is available from the many cafes and restaurants, as well as wood-fired pizzas and locally-caught fish dishes.
This eco-chic vibe is something Tulum wants to preserve. While welcoming development, it has no ambitions to become another Cancun. Strict height and density regulations and a lack of developable land (ocean on one side, and 2.3 million acres of protected land in a biosphere on the other) should ensure that.
Tapping into Tulum's potential is easy for real estate investors. Just 12 minutes from the beach in the top photo, Los Arboles offers home and lot packages. Each lot covers five forested acres. You know your neighbors are close by, but you can't hear or see them...you are surrounded by tranquil nature. Our RETA group enjoyed a cocktail and some spicy home-made tacos in the community's model home. We met up with a fellow reader who had just bought in Los Arboles. He'd traveled the world...lived in many exotic locations...but liked the potential Tulum offered.
If you'd like to see why he chose Tulum, you can join Los Arboles on a chill weekend next month (May 12th-15th). You'll spend time at Los Arboles, see Tulum for yourself, explore the biosphere, and get a feel for the area...for $199. (That price includes accommodation transport, and meals. ) You'll spend some time on that glorious beach, too...the trip is worth it for that alone. Spaces are limited, so reserve your spot today.
Margaret Summerfield
---
---
You might also be interested in:
---
Posted Under:
---
Sign up here for your free Pathfinder Alert e-letter, and we'll send you our $50,000 Report...showcasing seven real estate opportunities for $50,000.
We value your privacy.