Wednesday, December 28, 2011
Dear Reader,
Today's free prize draw gives you the chance to win a chill weekend for two in Costa Rica's Southern Zone.
It's a part of Costa Rica that didn't get the swarms of tourists that flocked to other parts of Costa Rica. Yet it's stunningly beautiful…a lush landscape of dizzying mountain peaks, rich green forests and deserted sandy beaches.
But it was tough getting here - with bad roads and rickety bridges. That kept mainstream tourists away. But in January 2010 the new coastal highway opened. That makes getting to the Southern Zone quicker and easier than ever before. We're already seeing more tourists traveling here…and more property buyers, too.
This isn't a remote outpost, though. A small group of pioneering expats put down roots here. They started businesses - small restaurants, cafes, and stores…adding a touch of convenience and luxury to this scenic spot.
The winner of the prize draw gets a four-day chill weekend for two, with meals, accommodation and transport included. It's a $500 value. All you have to do is get yourself to San Jose.
It's a perfect opportunity to explore the jaw-dropping scenery of the Southern Zone…investigate the longest-established development in the area…and enjoy a mini-vacation while you decide if this place is right for you.
You can enter the free prize draw here.
We'll announce the winner on January 6th. You can read on below to find out more about Costa Rica's hottest investment zone.
Margaret Summerfield
It's a Little Like Tahiti…

It looks a little like Tahiti…but what's not to like?
Dear Reader,
A complaint about a recent chill weekend in Costa Rica's Southern Zone surprised me. "It's a bit like Tahiti" ran the comment, "not what I'd expected at all. I mean, who wants Tahiti?"
For once, I didn't know what to say. I couldn't figure what was wrong with Tahiti. To set the record straight, I've never visited Tahiti. But online photos capture an island of sharp forest-clad mountain peaks, long sandy beaches, and the scarlet splash of hibiscus flowers. It looks very appealing. And yes, it does look a little like the Southern Zone…
The Southern Zone is where the mountains meet the sea. It's Costa Rica's final frontier. You won't see big cities, sprawling resorts or mega-malls on this coast. Around two-thirds of the land lies inside protected reserves and national parks. Cloud-ringed mountains cloaked in rich green rainforest sweep majestically down to soft-sand beaches and the wide blue ocean. Waterfalls tumble their way down rocky crags.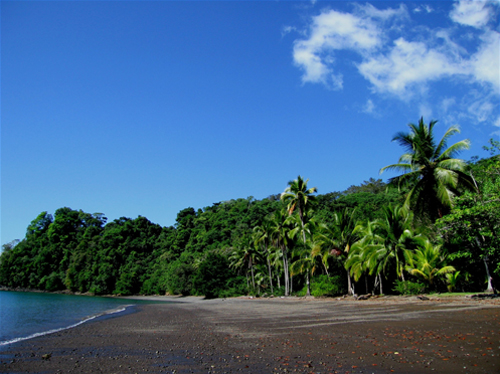 Around two-thirds of the land in the Southern Zone lies in national parks and reserves
Corcovado National Park, just one of several parks in the area, is truly wild. It doesn't have roads, stores or hotels. Massive trees tower overhead, filled with chattering monkeys, neon-bright frogs and spectacular birds. Vines drape themselves over tree branches, and around immense tree trunks. The thick undergrowth conceals big cats and tapirs. Giant otters play in sparkling rivers. This is the "most biologically intense" spot on the planet, according to National Geographic.
The Southern Zone stayed pristine because it was so tough to get to. Poor roads and rickety bridges made the trip slow and uncomfortable. But a new coastal road opened in January 2010, cutting the drive time from San Jose (Costa Rica's capital) to three and a half hours. The new road is putting the Southern Zone firmly on the map…and within the sights of tourists, developers and property shoppers.
For now, the Southern Zone is like a giant outdoor playground. Swimming, surfing, sea kayaking, canopy tours, zip lining, horse riding, bird watching…adventure and fun…await you.
Surprisingly, there's a large residential community in the Southern Zone called Pacific Lots. The developer visited in the 1980s, fell in love with the location and bought a farm on a whim. When she got home, her family and friends told her she was crazy. But then they asked her to sell them an acre here and an acre there. That's how the development started. Today, it covers almost 14,000 acres, and more than 200 owners have already built homes here.

A couple of the 200 homes in Pacific Lots
It's attracted a small band of expats who live in the community, work with the developer, or run businesses close by. So in this little outpost you can savor a rich cup of coffee…fresh-baked baguettes…oven-fired pizza and smokehouse chicken…French, Italian and Indonesian cooking…even pick up fine wine, Italian cheese, or Swiss chocolate for a picnic treat.
While the landscape in the Southern Zone might remind you of Tahiti, the property prices won't. Lots in Pacific Lots start from only $40,000. Custom construction runs around $100 a square foot. Windows, doors, balconies and cabinetry are all made on-site in a huge wood shop. The homes in the community look stunning, inside and out.
And to see this hidden gem for yourself, why not enter our free prize draw to win a Southern Zone chill weekend?
You'll travel the new coastal road, spend time in Pacific Lots…enjoy freshly-prepared, delicious meals…and explore the beaches and parks nearby. You'll try on the Southern Zone for size, and see if it fits…
If you win, all you have to do is get to San Jose, and the developer will take care of the rest. The prize includes airport transfers, meals, transport, and accommodation. You get to sit back, soak up the Southern Zone's magical atmosphere, decide if it's right for you….and see if it reminds you of Tahiti…
You can enter the free prize draw here.
Margaret Summerfield
---
---
You might also be interested in:
The Great Christmas Giveaway Starts Here
Win a Chill Weekend in Ecuador
See Costa Rica's Lake Country for Free
Scouting Ecuador's South Pacific on Someone Else's Dime
---
Posted Under:
costa rica, chill weekends, prize draw
---
Sign up here for your free Pathfinder Alert e-letter, and we'll send you our $50,000 Report...showcasing seven real estate opportunities for $50,000.
We value your privacy.