Sunday, June 24, 2012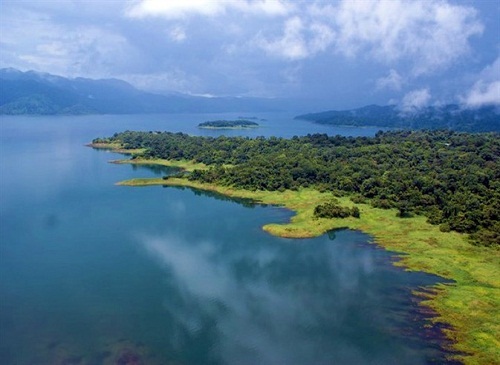 This place is overlooked and undervalued...but why?
Dear Reader,
Arenal is a stunningly beautiful, special place. It's overlooked and undervalued. I can't explain why. It's just one of those anomalies.
Sometimes things of great beauty and value are overlooked...for a while. Like the work of a great artist that gathers dust on a shelf until someone finally notices it.
Then everyone wonders why they didn't spot it sooner.
It's not that Arenal is tough to get to. The highway from San Jose, Costa Rica's capital, is modern and smooth. It takes three hours to get to Arenal. And the drive takes you through some beautiful landscapes. The road twists and turns its way through green hills and mountains, past cloud forests and tumbling streams.
Hand-painted signs hang from fences and gate posts, pointing the way to fresh local produce, cheese and honey for sale. You'll see towns devoted to making hand-crafted furniture and even little cigar factories where you can hand-roll your own cigars.
Roadside sodas, small rustic cafes common in Costa Rica, offer the chance of a break, cheap but tasty local-style food, and in some places amazing views of the mountains and valleys below.
Hot-orange bird of paradise flowers grow wild in the roadside verges, alongside lush ferns and exotic palm trees. It's all a sharp contrast to the hustle and bustle of downtown San Jose.
As you get closer to Arenal, the scenery changes. You'll pass flat, fertile fields, with cattle grazing peacefully, trailed by snow-white egrets. Heading in to the tourist town of La Fortuna, you'll see the dramatic flared cone of a volcano rising skywards from a magnificent lake, its peak shrouded in cloud.
The volcano provides a mesmerizing backdrop to La Fortuna. It also powers the hot springs that the town is famous for. Visitors come here for cleansing volcanic mud treatments, to soak in steamy rock pools, and for soothing massages.

It steals the scene, day or night: Volcan Arenal
Pizzerias, cafes, restaurants, supermarkets and souvenir stores line La Fortuna's streets. A cluster of new luxury spa resorts and hotels sits on the edge of the town.
One of those resorts was the setting for an episode of the hit television show The Bachelor in 2011. That brought La Fortuna to the attention of mainstream TV audiences in the U.S. Today, some of the luxury hotels in town charge $400 and $500 a night for superstar pampering.
For most people, their journey ends in La Fortuna. They come for a few days of relaxation. Even though it's only a 45-minute drive, few venture to the other side of the lake.
That's a shame for them. They don't know what they're missing. But it's a huge plus for us. Because it means that property prices on the other side of the lake are still incredibly good value. Here, a lake view lot will set you back as little as $17,500.
Lake Living at its Finest
Driving from La Fortuna to the other side of the lake, you'll notice a few things.
The landscape becomes richer and lusher, with hills and forests surrounding the lake. The temperature drops noticeably, hitting a comfortable mid-70s in the refreshing breezes that blow from the lake.
You won't see fancy spa resorts or souvenir stores on this side of the lake. This is pristine lake living at its finest...no development, no crowds, and no luxury price tags.
Howler monkeys sit in the trees overhead, eating placidly. Big yellow butterflies dance around giant feathery grasses on the lakeshore. A breeze sends soft ripples across the lake, breaking the reflection of the volcano into a thousand pieces.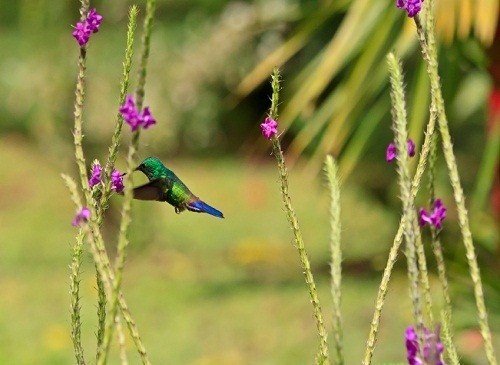 The Arenal area is surrounded by national parks and reserves
The lake is huge. It's a 33 square mile expanse of water, up to 200 feet deep in parts. Boating on the lake is magical. It's like floating across a mirror, framed by green hills, mountains, and forests, with the volcano as the focal point. Amazingly, you're likely to have the lake all to yourself, apart from the odd fisherman or kayaker.
With the cooling lake breezes, warm, sunny weather year-round, and such a dramatic landscape, it's not surprising that this place is ideal for outdoor activities. You can swim, kayak, water-ski or boat on the lake. You can fish for rainbow bass and tilapia. One side of the lake offers good conditions for wind-surfing.
You can hike, bird watch or horse ride in the hills above the lake. You can trek the cloud forests and nature reserves nearby -or zip line or rappel, if that's more your style.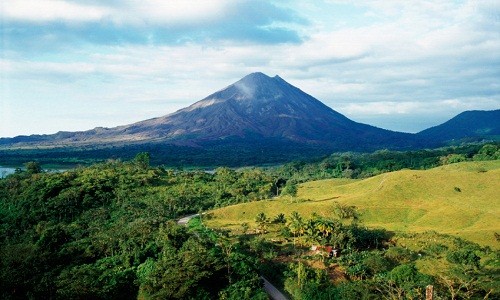 Lake Arenal is superb for boating, kayaking, water skiing and fishing
With La Fortuna only 45 minutes away, you can relax in hot springs or enjoy a blissful massage.
At night, stars twinkle and the volcano glows. This is a special place. It surely won't stay secret for long.
Only a handful of expats have discovered this side of the lake so far. They came as tourists...went a little off the beaten track...and decided to put down roots in this hidden gem.
They set up small hotels and restaurants. They began to develop residential communities. They formed a tight-knit expat group that meets regularly, supports each other's businesses, and makes newcomers feel right at home.
They're a mixed bunch here: Former professional rugby players, corporate attorneys, entrepreneurs, and an international chef. The chef runs a restaurant with the best food in Costa Rica. It's not something you'd expect to find in a location like this. But this place works its magic on those that find it...
A Superb Location with a Chance to Profit
This side of the lake reminds Americans of Lake Tahoe...without the crowds. It reminds Europeans of lake country in Switzerland or Austria...without the snow.
And it doesn't come with the sticker shock property prices you'll see in Lake Tahoe or Switzerland. It's only 45 minutes from La Fortuna, a popular tourist destination. Yet it's off the tourist trail...off the beaten track. It's an undiscovered beauty waiting for someone to take it from its shelf, shake the dust off, and proclaim it a masterpiece.
But that means opportunity...a chance to get in ahead of the mainstream. A chance to profit...
Once word gets out about this place, and it becomes trendy or hip, it could explode. There's no reason for its low property prices, other than the fact that nobody knows about it.
We've seen situations like this before. In Roatan and in Boquete, Panama. Beautiful undiscovered locations that stayed off the mainstream radar for years. But once they got that mainstream attention, it only took a few short years for them to reach their full potential - and for property prices to soar.
Rich & Luxurious - But with Bargain Price Tags
Don't get me wrong. This place is rich and luxurious in every way, from the landscape to the community spirit. But the property prices don't reflect that.
Here's a sample of some of the properties on offer that grabbed my attention:
A lake-view lot for $17,500 - and it's open to offers.
A three-bed, three-bath condo with lake views, alongside to a country club. The price? An amazing $75,000.
A 15-acre farm with lake and volcano views, two rivers and a small local-style house for $179,000.
A two-bed, two-bath fully furnished cottage that sits above a small lake for $105,000.
A three-bed three-bath home with a garage, close to town, for $135,000.
38 acres of rainforest, pasture, rivers and springs - and stunning volcano views - for $139,000.
This is a great place for a second or retirement home. And it's a fun place to visit.
There's an easy way for you to explore this tranquil location for yourself...meet the friendly expats...and see the best property bargains on offer here.
Chill out in Costa Rica's Lake Country
My go-to contact on the ground in Arenal is Terry Moran. He's been a real estate agent in the tropics for decades. He's spent the last decade on the shores of Lake Arenal. He's a wealth of knowledge on the area...and he's got the best listings - from modest houses, luxury homes, and lake-view lots, to farms and hotels.
Terry's got something to suit just about everyone- and to suit all budgets.
And he's happy to help you see Arenal on a custom chill weekend.
You'll stay in the Gingerbread hotel. It's a boutique hotel with only five guest rooms. Downstairs is the restaurant with the best food in Costa Rica. It's the meeting place for the expats in the area, who come here to relax over a beer, share a bowl of spicy chili, and swap stories.
Terry will organize real estate viewings for you. He'll discuss with you what you're looking for, send you sample listings, and arrange a customized schedule that's tailor-made for you.
The chill weekend will give you a taste of Arenal's relaxed lakeside living. You'll really get a feel for what it's like to live here. And remember, you'll only see the properties that interest you...at your own pace.
Contact Terry here today to start planning your custom chill weekend.
Margaret Summerfield
---
---
You might also be interested in:
A Fiery Chef, a Friendly Town & Property Steals
---
Posted Under:
costa rica, affordable, opportunities, lake, real estate tour
---
Sign up here for your free Pathfinder Alert e-letter, and we'll send you our $50,000 Report...showcasing seven real estate opportunities for $50,000.
We value your privacy.