Monday, September 13, 2010
Dear Reader,
This upscale resort near Tulum on the southern end of Mexico's Riviera Maya is dotted with multi-million dollar homes. In fact, the average price of a home here is $1m plus. You can buy into this resort for a fraction of that cost...enjoy the five-star amenities on your doorstep... and look forward to appreciation potential and rental income.
The project I'm talking about is in the Gran Bahia Principe resort. Set on Mexico's stunning Riviera Maya, Gran Bahia boasts a 27-hole golf course...three hotels...a choice of restaurants and bars...entertainment, shopping, a medical clinic...and a coral-sand beach washed by the sun-dappled Caribbean.
Gran Bahia brings in vacationers year-round to its hotels, who can pay $1155 a week to stay here. And they're clearly happy with what they're getting for their money. The hotels' occupancy rate averaged 88% over the last 10 years. Yet we've found a way for you to own a piece of the resort...for $1288 a month.
A huge plus of owning in an established resort like this is that the infrastructure is already in, with $100m invested to date to get the resort looking the way it does today. The finishes and materials are high-end. Design parameters clearly set out what the resort (and homes within it) will look like. The houses here are sleek and modern--with clean elegant lines, and stylish interiors. They certainly look like million-dollar homes. And at this new project, you'll get a similar design and feel as those much pricier homes...with a much smaller price tag.
Smaller homes, higher density, and clever use of outside space have allowed the developer to do this without losing high-end finishes. So your dollar goes further...and you won't have to sacrifice on quality.
These town homes are right on the golf course...like an island surrounded by the front nine. Robert Trent Jones II made the most of the cenotes (natural wells) dotting the course. It weaves its way through natural limestone rock outcrops and thick jungle. It's a world-class course. I can't wait to get back down there and play it again...and again.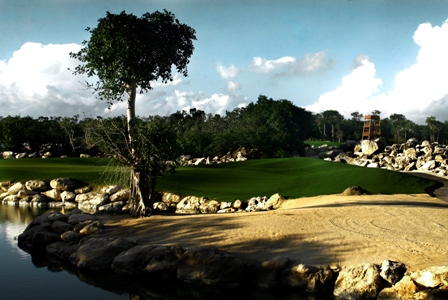 The golf course weaves its way through natural water features, and limestone outcrops
The site for the townhomes runs along the fairway of the golf course.The new 7,600-square-meter clubhouse... where you can enjoy tennis courts, relaxing at the spa, and dining in fine restaurants overlooking the cenotes and the golf course, is slated to open at the end of this year.
And don't forget that gorgeous Caribbean beach. A regular shuttle bus takes you to and from the beach and main hotel amenities. Residents and visitors can take full advantage of the entire resort amenities...restaurants, the beach, the medical center, and the shops.
At the heart of this project is the Tao center, where you can stay active with yoga and Pilates on specially constructed glass platforms over caves...swim in the lap pools that weave their way through the landscaped grounds... or work out in the gym. In the evenings, you can take part in group activities such as cooking lessons, Spanish or salsa classes. So, although your home is in a resort setting, you'll still be part of a local community.
The townhouses in the project are 2,100 square-feet including outside space.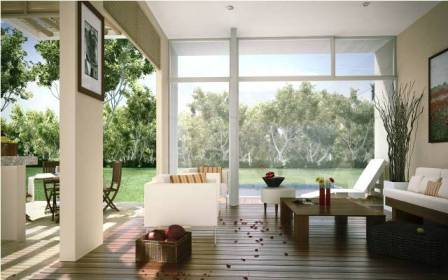 The chic interior of the townhomes
These are just the type of high end units, in the right resort, in the right area, to suit Tulum's chic jet-set. High ceilings and an open-plan design make the interiors feel light and airy. Outside, you don't have to worry about maintenance of the communal gardens. This is all taken care of. You can just lock the door and leave...hassle-free. Perfect for "simplifying your life" ....allowing you the flexibility to travel, and earn rental income when you aren't using your home.
As a reader of the Pathfinder Alert, you will know that I'm bullish on Tulum. The white-sand beaches and turquoise water are the best in Mexico. And this project is very easy to get to. Today it's only one and a half hours from Cancun's international airport. It's going to get even easier though. Plans call for a new international airport in Tulum that will land 3 million passengers a year here. The site for the new airport is fifteen minutes away. Now is the time to buy here...before construction starts on the new airport... and prices start to go through the roof.
I took a small group of readers to Tulum in March this year. I had a great time in this five-star destination, and I can't wait to go back. I'd love you to have the same opportunity. I've put together a very special five day program for Pathfinder readers. You'll experience the best of Tulum's unspoiled beaches, stunning landscape and her top two real estate opportunities... first-hand.
Pathfinder readers will only pay $199 for a five-day and four-night trip. That's less than $40 a day...for a mini-vacation on a stunning coast. The trip runs October 21st-25th, 2010.
The price covers five days in Tulum...your accommodation, and meals... cocktails at sunset on the white sand beaches...all for only $199. When you arrive at the airport, you'll see your name on a board...and you'll be whisked away to begin your Caribbean adventure.
This opportunity is strictly limited to 24 Pathfinder Alert readers. We want everyone to enjoy their time here to the fullest, and have the opportunity to ask questions one-on-one, so we're limiting the trip to a small number.
The price of $199 is only valid until close of business on Tuesday September 21st. If all 24 seats don't sell in the next eight days (I'll be very surprised if they don't sell immediately...who can resist five days in paradise at this price?) the price will revert to $399.
I strongly urge you to visit Tulum and see her beauty and amazing real estate values for yourself. Contact Jhoanna here to lock down your place.
Ronan McMahon
P.S. Remember, we only have 24 spots on this trip...and the $199 offer expires on September 21st. Click here to reserve your spot now.
---
---
Posted Under:
---
Sign up here for your free Pathfinder Alert e-letter, and we'll send you our $50,000 Report...showcasing seven real estate opportunities for $50,000.
We value your privacy.