Saturday, October 16, 2010

Granada's beautiful colonial buildings, and quiet plazas, sit beside Lake Nicaragua
Dear Reader,
There's something unique about the colonial city of Granada, Nicaragua. It's a beautiful city...with brightly-painted colonial buildings, and plazas with lofty shade trees, framed by regal volcanoes, and sparkling lakes. The city's atmosphere sets it apart, though. I don't know if it's down to the relaxed locals, the gentle pace of life, or the drowsy afternoon warmth (or a combination of all three), but every time I visit, I slow down a notch or two.
Once you spend some time in this little city, you'll fall under its spell. It bewitches you, seduces you...you'll find it easy to fall in with Granada, and almost impossible to tear yourself away.
Heading away from the central plaza's restaurants, cafes, and lively street market, you'll reach the shores of Lake Nicaragua. This huge freshwater lake (all 3191 square miles of it) provides cooling, refreshing breezes, and a nice spot for a quiet stroll.
A short drive away, you'll find towering volcanoes and crater lakes, and cloud forests. The market town of Masaya is close by, and worth a trip for local handcrafts (the area is famous for painted ceramics, bright-colored hand-woven fabrics, hammocks, and hand-carved wood furniture). Moreover, you're still close to the stunning beaches and sandy coves scattered along the country's southern Pacific coast.
The city's grand colonial buildings in shades of egg-yolk yellow and washed-out blue lining the quiet plazas give way to single-storey homes on the little side streets. These smaller homes (colonial in style), with their traditional wooden doors, red tile roofs and elaborate ironwork, beg to be photographed.
Don't let street frontage deceive you. Some homes here look tiny from the street--just a central doorway, flanked by a window or two either side. It's what lies behind the street that counts, though. Some properties stretch back a long way. You'll discover central patios with lushly-planted gardens, cascading fountains, or swimming pools...open-plan (and often open-air) kitchens...and large, spacious living rooms... in this private space, hidden from public view.
The city's colonial properties attracted the interest of foreign investors over the years--mainly North Americans and Europeans. Some of the larger colonials became small boutique hotels, and B&Bs. You'll see many examples of well-restored properties, with gorgeous colonial details. Local craftsmen can provide any missing period pieces (wood doors, floor tiles, and ironwork) at very reasonable prices. Small antique stores offer the finishing touches...furniture, decorative paintings and figurines.
If you want an old colonial...original, unrestored, or renovated...chances are you'll find one that fits your budget. The going price for an unrenovated colonial home here is $60,000; renovated ones average $150,000. The cost of renovation runs from $430-$700 a square meter, depending on the amount of restoration required, and the standard of finish you want. You'll have to factor in the grading of the property, too; it may restrict what you plan on doing to the property.
If you don't want the hassle of restoring your own colonial home, then the home below presents a good alternative.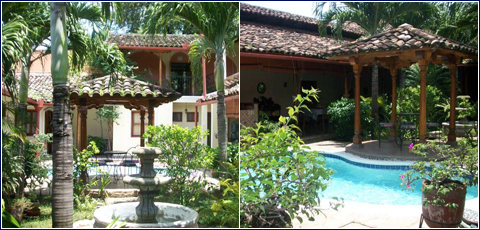 This large property comes with a walled garden and swimming pool
With 500 square meters of space (5380 square feet), this spacious property has three bedrooms, three bathrooms, a maid's quarters, garage, swimming pool, and air conditioning. Located four blocks from the city's main plaza, the property was renovated in 2004. An additional "secret" walled garden covers 2300 square feet, planted with fruit trees, banana plants and bougainvillea.
The property is on the market for $280,000. To give you a comparison, a similar home in Casco Viejo, Panama's historic quarter, would cost up to four times that price...and one in Cartagena, Colombia's colonial gem, would run up to six times the price. The home rents for up to $950 a week. Contact local broker David Joyce here to find out more.
Margaret Summerfield
P.S. As I said, you'll find colonials to suit all budgets in Granada. If you want a smaller property...a more affordable property...an unrestored property...contact David here. He can help you find exactly what you're looking for.
---
---
Posted Under:
---
Sign up here for your free Pathfinder Alert e-letter, and we'll send you our $50,000 Report...showcasing seven real estate opportunities for $50,000.
We value your privacy.