Friday, August 13, 2010
Dear Reader,
I'm back in Costa Rica this week, for International Living's Live & Invest in Costa Rica seminar. We have 200 attendees here with us, eager to find out more about the numerous advantages this country offers ...and (of course) to get the lowdown on Costa Rica's best real estate opportunities.
We've lined up some exciting deals, and money-off vouchers for attendees, but don't worry if you couldn't join us. We've negotiated a couple of deals for Pathfinder readers, too.
If you thought you couldn't afford to own a piece of Costa Rica, keep reading. Today's offer is a 15% discount on lots in Costa Rica's Caribbean. That cuts the start price for a spacious 1.5-acre lot here to $42,500.
This offer's off the table on August 31st, so you'll need to act fast to lock down your discounted lot. Read on below to find out more--and how you can check out the area, and those lots, first-hand...for free.
Margaret Summerfield
Costa Rica's Forgotten Coast
Dear Reader,
Costa Rica's Caribbean coast got a welcome boost from the New York Times in April, with an article centered on the laid-back surfer towns of Puerto Viejo and Manzanillo. The article described the area as "often overlooked". It wasn't overlooked by Pathfinder, though...
Two years back, we started telling you that this coast was up-and-coming. We called it the Forgotten Coast. We'd heard about a billion-dollar gentrification scheme, more cruise ship arrivals, and new hotels and businesses. It all pointed to one thing: more tourists, and more tourists who'll want to own a piece of this coast for themselves. And now the mainstream is catching on.
Previously, most travelers (and property shoppers) headed straight for Costa Rica's Pacific coast. They thought there was nothing on the Caribbean side...no infrastructure, bad roads, and no tourist amenities. That may have been the case in the past, but it's no longer true. A lot has changed on the Caribbean coast in the last 5 years...and major investment upgrades are planned. But the lingering stereotypes have one upside--they held property prices down...for now.
Today, word is slowly getting out about this up-and-coming destination.
Truth is, the Caribbean coast is around two hours from the capital (San José) on a good paved highway, or 40 minutes on a domestic flight. The first high-end boutique hotel on the coast opened late last year. Tour companies now bring well-heeled travelers to the Caribbean side. The number of cruise ships docking here should double in the next 2 years. And serious investors are snapping up coastal land parcels...
The Caribbean Side Is on the Move
For much of the last century, Puerto Limón was a company town, run by United Fruit.
This controversial company managed the port, built the railroad from San José, ran the local businesses, and constructed most of the buildings you see in the city today.
Back then, bananas were a better business than tourism. When the company pulled out of Limón in the 1960s, they took most of the province's jobs with them. Limón gradually slipped into decline, becoming Costa Rica's forgotten province: unknown, and untamed.
When the Costa Rica tourism machine began bringing in droves of foreign visitors in the 1980s, it was the northern Pacific coast that most benefited.
That's set to change. The government has ambitious plans for the province of Limón. They paln to develop Limón, with a billion-dollar gentrification project. A billion is a lot to spend on a scheme like this. But Limón needs a lot of work.
In October 2009, the Costa Rican President allocated $80 million to kick-start the restoration of cultural buildings in Limón and improve the city infrastructure and tourism amenities. The rest of the money ($900 million) will come from private investment.
With more amenities here, the tourist stampede should be staggering.
Cruise ship arrivals in the port of Moin should hit 500 a year in the next two years, double the current number. That means more upscale travelers coming to the area...
The Transat Jacques Vabre transatlantic yacht race, one of the world's top yacht races, was run between Le Havre, France, and Limón last year. It was the first time the yacht race had come to Costa Rica.
Tour companies Wildland Adventures and Disney Adventures now offer trips to the Caribbean coast, covering national parks like Tortuguero and Braulio Carrillo. National Geographic Adventure included the Wildland tour in their 25 Best New Trips for 2010.
The first luxury boutique hotel, Le Caméléon, opened late last year, too. The hotel caters to the growing numbers of sophisticated travelers in the area. You'll also find Costa Rica's finest Italian food here, at the La Pecora Negra restaurant...and some of the country's top luxury eco-lodges.
No doubt about it, the "Caribbean side" is on the move...and if you get in on the right side of this massive cash injection, you could make a lot of money.
The Caribbean coast doesn't currently have much choice when it comes to developments. The best we've found in the area is Grand View Estates.
The perfect location...
Grand View Estates is located just 1.5 hours east of San José. And it's only 30 minutes from the beautiful white sand beaches and the sparkling waters of the Caribbean.
Unlike the Pacific Coast, the Costa Rican Caribbean enjoys year-round rainfall without a dry season. So instead of the parched, dusty environment found in some areas, you'll find lush green tropical forests, tumbling rivers, and abundant tropical wildlife.
The nearby city of Limón is home to 75,000 people, 40% of whom speak English. It's equipped with up-to-date supermarkets, excellent small specialty stores, and a modern hospital.
Just south of Limón, the coastal towns of Cahuita and Puerto Viejo have become popular European tourist destinations, and enjoy a number of excellent European restaurants. Puerto Viejo also boasts world-class surfing, while nearby Punta Uva ranks as one of the top 10 beaches in the world, according to Outside magazine.
Rainforest, rivers, waterfalls, and wildlife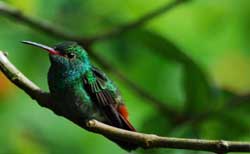 Nestled deep in the Talamanca Mountains, Grand View Estates enjoys magnificent views of the Caribbean and the surrounding mountains and valleys. The 1,300 foot elevation allows for fresh ocean breezes. The 640-acre site is diverse, with virgin rainforest, five rivers, two waterfalls, and gently rolling hills.
The wildlife is abundant, with hundreds of bird and animal species. If you'd rather explore on horseback, Grand View Estates offers stables on the property.
Nearby, more adventures of the tropics await you. You can enjoy a nature hike, a volcano tour, or a visit to an indigenous village. Maybe kayaking and white-water rafting are more your style. And with the Caribbean nearby, don't forget sport fishing, dolphin-watching, or snorkeling and scuba diving. No matter what kind of healthy, outdoor lifestyle you'd like to lead in Costa Rica, Grand View Estates delivers it to your doorstep.
Grand View Estates offers large lots that afford privacy, while taking advantage of spectacular views of the Caribbean, valleys, and mountains. Lots range from one to five acres...you'll have plenty of room to stretch out.
Explore this Costa Rican Dream...
Grand View has lots from $50,000-$89,000. That price reflects the "early bird" nature of the market on the Caribbean side of the country--you can expect to pay four times that amount for similar properties on the Pacific side.
And your 15% discount slashes those lot prices to $42,500-$75,650. With a start price of $42,500, you can afford to own a piece of Costa Rica...
Grand View Estates is one of a kind...there's really nothing to compare it to. So frankly, it's hard to know if this style of country living is really what you're after, without giving it a try.
Which is exactly what the developers of Grand View Estates have agreed to do: Let you experience the community and the area, before you buy. You can spend a relaxing and invigorating three days at as a guest of Grand View Estates absolutely free.
You'll be met at San Jose airport, and taken to Grand View, where you'll spend two nights in the developer's own house. You'll have a chance to explore Costa Rica's Caribbean...and wander the 640 acres of tropical paradise known as Grand View Estates...try it on for size...and see if it's the lifestyle you're looking for.
If the prospect of owning a piece of the Costa Rican Caribbean sounds enticing (especially at these low prices), but you're just not sure...then this is an offer you don't want to miss out on.
But please don't hesitate. The 15% discount runs out on August 31st, and space is strictly limited for the free stay.
Margaret Summerfield
---
---
Posted Under:
---
Sign up here for your free Pathfinder Alert e-letter, and we'll send you our $50,000 Report...showcasing seven real estate opportunities for $50,000.
We value your privacy.