Sunday, April 10, 2011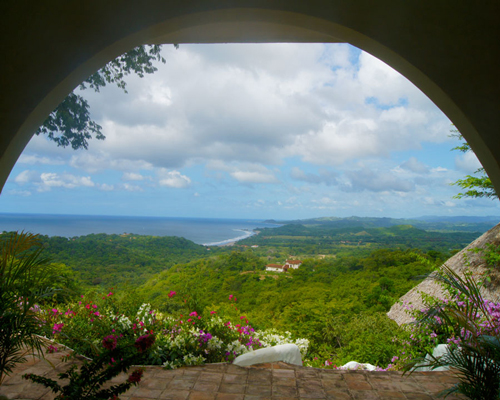 Where You Can Start the Day With This View...
Dear Reader,
This Pacific Coast paradise has long held a reputation as a destination for independent retirees and second-home owners with an adventuresome spirit...
Looking for something a little special, and willing to step off the beaten track, they choose this place over many others. In fact, once you come here, it's hard not to fall in love with the raw natural beauty, and the sense of wide open space this pristine undeveloped coastline gives you...
The incredibly affordable real estate is a big draw too. Right now, you can snap up a half-acre ocean view lot for $100,000 in a stunning Pacific coast community boasting five pristine beaches.
You can laze away the afternoons riding horses along the sand...surfing the waves...or enjoying a soothing massage at the community's spa. In the evenings, you can sip cocktails in the private clubhouse or dine in the restaurant while the scarlet sun sinks into the crashing waves below.
All this in a community which earned the title of 'simply stunning' from Forbes...
Nicaragua's reputation as one of Latin America's most unspoiled, undervalued destinations is well-deserved. Slipping under the mainstream radar, Nicaragua has managed to avoid the overdevelopment which has marred other emerging destinations during the recent 'boom' years. But the tide is turning for this quiet Pacific coast outpost. Nicaragua has been slowly and steadily catching up to neighboring Costa Rica as an affordable retirement and second home option. It's slowly taking center stage...
MSN Money ranked Nicaragua top of their the list of Top Ten Exotic Retirement Spots for 2011, telling readers that 2011 is the time to put this country at the top of your super-cheap overseas retirement list.
CNN Money are calling it The Next Costa Rica... claiming that eco-tourists are now turning to Nicaragua instead of Costa Rica.
Featuring twice on MSNBC's list of the Top Ten Beaches in Central America, Nicaragua's transformation is officially announced..."Nicaragua flashed onto the radar and was dubbed the new Costa Rica"...
After recent years of continued growth and investment, Nicaragua is transforming itself from a destination with a reputation as a frontier outpost to a popular, safe, mainstream destination-- an inexpensive paradise that makes an ideal retirement and second-home location.
The Investment is Paying Off...
Nicaragua has seen how boosting tourism has transformed other Latin America destinations such as Costa Rica... and is following the same path to success.
The government implemented Law 306, which lets anyone setting up a tourism-related business pay no income taxes for up to 10 years...pay no real estate taxes for up to 10 years...and bring in (or buy locally) all the supplies you need...tax free.
The 2010 SURVIVOR show set in the Southern Pacific Coast of Nicaragua broadcast direct to 13 million weekly viewers in the US last year. It was the final stamp of approval for Nicaragua.
2010 was a record year for tourism in Nicaragua. Visitor numbers exceeded the one million mark. Figures for the first two months of 2011 already show an increase on last year's numbers.
Lonely Planet ranked Nicaragua second in their Top Ten Value Destinations for 2011... and say it's "one of the safest countries in the Americas..."
And it's not just tourism. In 2010, exports grew, reaching a record $1.9 billion. The country added 150,000 new jobs. With economic growth predicted to hit 3% for 2010, the economic outlook for 2011 is also good.
Indeed, the government plans to increase direct foreign investment (up 15% in 2010), mainly in the energy and telecommunications sectors.
The World's Best Kept Secret is No Longer Secret!
Now, Nicaragua isn't for everyone...it's still emerging as a mainstream destination. But for anyone who values natural beauty, and a low cost of living, the real estate opportunities here are right on the button. And the time to act is now, while the tide is still turning.
Northwest Costa Rica (an established tourism and second-home destination) and southwest Nicaragua both share the same climate, the same rocky outcrops, pounding surf, and the same stretches of pristine beach. Indeed, at one point they shared a government. And you need only look to what happened to real estate values in northwest Costa Rica once the tourism marketing machine kicked in, to see what could happen in southwest Nicaragua.
In the 1980s, northwest Costa Rica led the charge in attracting North American tourists and property buyers. A marketing machine created "Brand Costa Rica"...one of the most successful country marketing campaigns the world has seen. In a short three year period, the price of prime land quadrupled. Today, a half-acre ocean view lot in a private community on Costa Rica's northwest coast could set you back as much as $550,000.
Our top pick in Nicaragua is an established development, just 50 miles north of the Costa Rican border, where, for now at least, $100,000 buys you a half-acre ocean view lot. The setting is unrivalled....2,700 acres of pristine, secluded forest, green valleys, and sandy coastline along the stunning Pacific Riviera.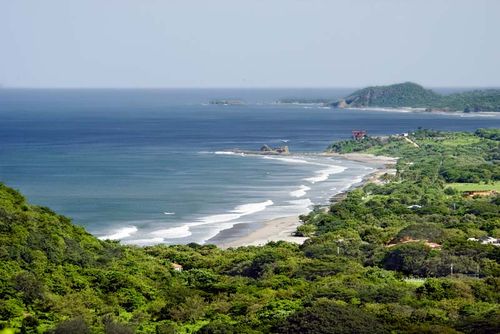 Enjoy one of the most spectacular stretches of coastline in the world...
This is a first-class development. No wonder Forbes called it 'simply stunning'.The options for recreation are almost limitless. Rancho Santana has over three kilometers of spectacular Pacific coastline and, tucked between dramatic rock formations, five sandy beaches (one rose-colored), where you can enjoy the sand, sun, and surf... away from the crowds.
There's something for just about every taste...from hiking or horseback-riding through the lush surrounding nature preserve (there's a fully-staffed stable with horses on site)...to just lazing an afternoon away poolside, or pampering yourself at the spa. There's a workout center, and tennis and basketball courts, too.
There is a real buzz of community and progress here. Rancho Santana continues to cement its reputation as the premier development in Nicaragua.
There is a real buzz of activity here...
You don't need to worry about the infrastructure, because it's already in. With more than 50 luxury homes already built, residents have alreadyset down roots here. Last year, construction began on new beachfront condos...and work is well under way on a new clubhouse. With a large terrace that wraps around the clubhouse, and an indoor bar and lounge areas, the new clubhouse will make the perfect spot for watching Santana's spectacular fiery-red ocean sunsets, over dinner and drinks. There will be a first-class restaurant and conference center here too.
There are several styles of living for you to choose from in this 2,700-acre setting. You can opt for a tastefully-designed oceanfront villa just a short stroll from the clubhouse facilities, or a lot several acres in size for a family estate. And with labor costs here significantly lower than back home,you can afford to build the luxury home of your dreams.


At Rancho Santana, you can afford to build the house of your dreams
Rancho Santana is backed by International Living's parent company. Investors and home owners include International Living's founder Bill Bonner and his top executives, who use this as a personal getaway. Rancho Santana is building on its reputation as Nicaragua's premier residential community. But don't take my word for it. You are invited to check out this undervalued destination for yourself...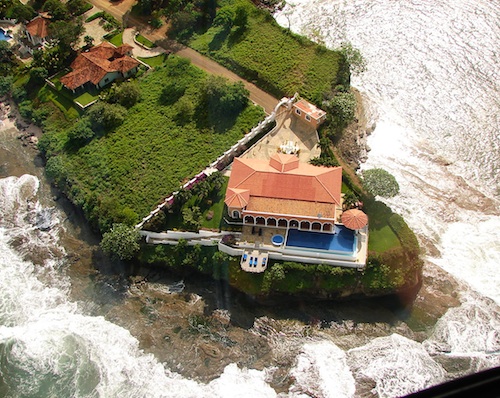 In this low cost paradise you can afford a luxury home...
Check Out This Pacific Coast Paradise in Person--For Free!
While staying in this luxurious beachfront development perched above the crashing Pacific waves, you can pass the time snorkeling, surfing, or exploring the five beaches... swinging in a hammock rocked by the cool ocean breezes...while you find out how you can pick up a piece of real estate along Nicaragua's stunning Pacific Coast at a ground-floor price.
All you have to do is get to Managua airport, and the Rancho Santana team will take care of the rest. Best of all, the trip is FREE for Pathfinder readers...two nights at Rancho Santana, accommodation and airport transfers included. Don't worry. There won't be any hard sell. Rancho Santana sells itself. You will love what you see once you get here!
You can take advantage of this trip to check out the amenities, the clubhouse, the view, the roads, the location, the climate, your would-be neighborhood...whatever is most important to you. To meet the residents, or ask all the right questions about owning a property here. To kick back, relax--and enjoy the Santana lifestyle.
The free stay is limited to the first six readers who reserve their spot and pay a fully refundable $5,000 deposit.
Don't wait until the best inventory is gone, and values have gone up. Reserve your place today by clicking here.
Margaret Summerfield
P.S. I strongly urge you to visit as soon as you can. Rancho Santana has established itself as one of the finest communities in Central America....and the new clubhouse will cement its reputation as Nicaragua's premier residential community. With only six spots available, contact the developer here to snap up your place.
---
---
You might also be interested in:
Why Settle for One Beach, When You Can Have Five?
---
Posted Under:
---
Sign up here for your free Pathfinder Alert e-letter, and we'll send you our $50,000 Report...showcasing seven real estate opportunities for $50,000.
We value your privacy.