Wednesday, March 03, 2010
Dear Reader,
This week we look at our top four second-home destinations for beach-lovers.  
It's not difficult at this time of year to see why so many of us want warmth and sunshine. Winters spent shoveling snow or stuck indoors while it's pouring rain outside make choosing an overseas destination more of a priority than ever.
It's easy to find year-round sunshine. What's harder is finding warmth without excessive heat or high humidity, or the threat of hurricanes.
The key to avoiding excessive heat is elevation close to the coast, or a location favored by sea breezes. Let's take a look at a few warm locations that tend to remain comfortable all year.
The landscape in Costa Rica's Southern Zone is dramatic. Lush, tree-covered slopes, ridges, and mountain spines, with clouds drifting past the peaks. The roadsides are thick with hot tropical-orange bird-of-paradise flowers. The emerald-green hillsides slope down to deserted beaches, and the afternoon sun glimmering through the lush vegetation creates a magical show of light and shadow.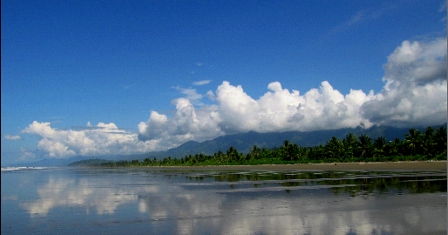 The mountains meet the sea in the Southern Zone, and the area benefits from a combination of ocean breezes and cooler mountain air. The average temperature is 82F. Many homeowners still have air conditioning, mainly to remove humidity. The average rainfall is 150 inches yearly, falling in heavy tropical downpours that only last a few hours in rainy season.
Property prices stayed low here because it's been difficult to get to. Now, the coastal road resurfacing has finished, and plans are afoot for a new international airport. As soon as word gets out that this area is now quickly and comfortably accessible, property prices will rise.
Pacific Lots is the "gold standard??? project in this area. It's established, with more than 100 homes already constructed. And it's fully serviced with roads, water, electricity, satellite TV, internet, and a modern communications system. For as little as $40,000, you can purchase a home site, with superb mountain views…or a lot with both mountain and ocean views starting at $100,000. With custom homebuilding for only $100 per square-foot, you could build a 2,000-square-foot dream home on a lot with a to-die-for mountain view, for $240,000 in total.
Nicaragua has majestic mountain peaks and cliffs, secluded coves and inlets, and a variety of beaches (white sand, black sand, pink sand; take your pick). Inland are volcanoes, crater lakes, and the colonial cities of Leon and Granada. The south Pacific Coast is one of the most stunning seacoasts in the region, with high cliffs that fall straight to the sea.
Temperatures in the south Pacific coast are in the 80s all year, but can go higher in dry season. The rainfall is much less than that in Costa Rica's Southern Zone, at only 45 inches a year. In dry season (December-April), the landscape looks parched, crisp, and brown, but the foliage becomes luxuriantly rich within weeks of rainy season starting. This is prime surf territory, too, and the best time for surfing is in the wet season. That means you'll have potential renters year-round. Better yet, property prices here are a fraction of what you'd pay across the border in northern Costa Rica, where a half-acre ocean view lot can cost $600,000, compared to less than $50,000 in Nicaragua.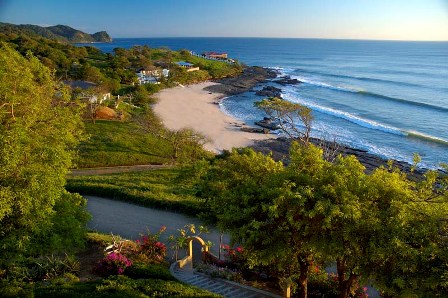 Rancho Santana has over three kilometers of spectacular Pacific coastline and, tucked between dramatic rock formations, five sandy beaches (one rose-colored), where you can enjoy the sand, sun, and surf away from the crowds. It's an established resort community, with the infrastructure complete, along with a restaurant, bar and spa, riding stables and clinic. The homes look a million dollars…yet you can buy a half-acre ocean view lot for less than $50,000.
The Panama coastline is fairly flat, and can be oppressively hot and humid. Leave Panama City, however, and you wave goodbye to the stifling humidity. Travel west along the Pacific Coast and you're in the Arco Seco, or Dry Arc. This zone has the 80F heat you find in the city, but much lower humidity. It's still very warm—but it's a more comfortable, bearable heat that doesn't leave your shirt sticking to your back.
Within Arco Seco lies, the Azuero peninsula, steeped in history. You'll see Spanish colonial-style buildings with red-tile roofs, elaborate ironwork, and ornate wooden window and doorframes in the tiny villages. Secluded beaches ribbon into the distance. This is not frothy all-inclusive resort territory though, but has a deeper grounded feel that will appeal to those looking for a hidden, more real, Panama. You can still find affordable properties too—if you know where to look.
Properties in Azuero currently for sale include a 1296 square foot house for $65,000. A new country home of just under 2500 square feet, on an acre of land, is $175,000. The interior of this home has nice finishings, with hardwood, Spanish tiles and granite countertops. A half-acre ocean-view lot will set you back $20,000; it's a five minute drive to beautiful, deserted beaches and three minutes from a charming village. Contact us at .(JavaScript must be enabled to view this email address)  to find out more on Azuero properties.
But my top pick for beach-style weather has got to be Brazil's northeast coast. The difference here is cooling ocean breezes (without elevation)...and they really make a difference. All three locations below have average daytime temperatures in the 80s, but the breeze makes it feel cooler. You won't normally need air conditioning if you're close to the beach or on a higher floor of a condo building.
You get an average eight hours of sunshine daily, too…ideal for sun-lovers. And property prices in Brazil's northeast are highly affordable, particularly when you factor in that many developers offer developer financing and affordable monthly payments.
Cumbuco, thirty minutes west of Fortaleza, has a dazzling-white sand beach with a curve of coconut palms hugging the bay. Off shore, the brilliant blue sky meets the deep blue of the ocean. Fishermen cast their nets from their little jangadas (boats), and the beachside bars serve up the day's catch—you don't get much fresher than that. Rainfall here is only around 50 inches annually.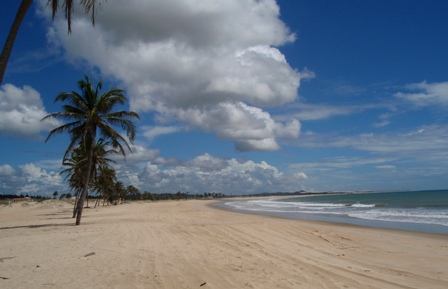 Many wealthy Brazilian families have traditionally owned large homes in Cumbuco. But recently, it's caught the attention of developers as well. The first golf course in the area is due to start, as part of a major development by a Portuguese group. The first high-end boutique condo-hotel is due to open soon. This is a major upgrade in the village, as this luxury hotel will be in a class of its own in Cumbuco. Once the new residential developments and golf course are complete, this village will have a market for the chic restaurants and cafes that will surely follow.
Lots in a gated community close to the beach in Cumbuco are available. Averaging 400 square meters, the start price is R$70,000 reals ($39,029). For something right on the sand, R$250,728 reals ($1395,798) buys you a 75 square meter (807 square feet) condo, currently under construction. Contact .(JavaScript must be enabled to view this email address) if you want more information on properties in Cumbuco.
João Pessoa is the capital of the state of Paraíba. It's one of the oldest cities in Brazil's northeast, and home to 700,000 inhabitants. It's the most easterly point in Brazil, known as "The City Where the Sun Rises First???.
The city has 1,730 acres of forest (7 square km), providing a green backdrop to almost 25 miles of beach (40 km). João Pessoa has some of the best city beaches I've seen. Moreover, beachfront properties are still affordable.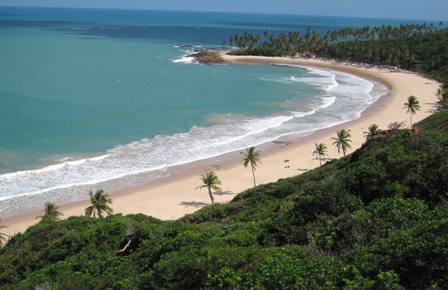 A pre-construction development in Bessa offers beachside apartments from R$230,000 reals ($128,242) for a 65 square meter unit. These are true beachfront properties—there is no boardwalk, and you walk straight from the building onto the sand. A 650 square foot apartment, directly on the boardwalk in a prime area, is R$170,000 reals ($94,788). A beachfront apartment boasting nearly 2000 square feet of living space is also on the market for R$300,000 reals ($167,273). Email .(JavaScript must be enabled to view this email address) to find out more.
You should always visit your chosen destination, when the weather is worst…rainy season…dry season…when you may have difficulties adjusting to heat or humidity levels. It's amazing how different 80F can feel in two different places, even when they are close to each other. A little elevation, or the position of a house relative to the sun or wind, makes a huge difference in a warm-weather location.
Next week, we'll investigate how you can make sure that getting to your overseas home is easy and affordable.
Margaret Summerfield
---
---
You might also be interested in:
How to Choose the Right Overseas Destination
How to Upgrade your Life while Spending Less
What You Should Know About Overseas Medical Care
How to Find the Perfect Climate
---
Posted Under:
costa rica, beachfront, panama, nicaragua, brazil
---
Sign up here for your free Pathfinder Alert e-letter, and we'll send you our $50,000 Report...showcasing seven real estate opportunities for $50,000.
We value your privacy.