Wednesday, December 21, 2011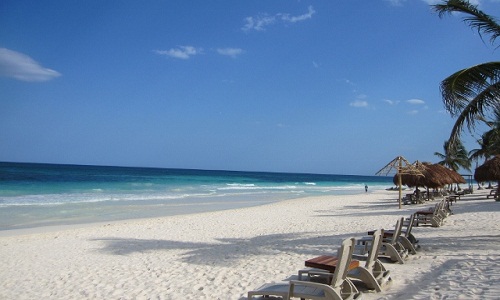 Government plans call for 8 million additional tourists to visit this place
Dear Reader,
Tulum on Mexico's Caribbean coast is set to go from "secret chic??? to "jet-set chic???, with plans that include:
-Major road improvements between Tulum and Cancun's international airport. The flyover system at Playa del Carmen recently opened, reducing drive time from Cancun to under ninety minutes
-A government plan (including a new international airport near Tulum) that calls for tourist numbers in this area to increase from 2.9 million to 11 million by 2020.
Tulum is a pristine, unspoiled paradise…home to a protected biosphere that's a UNESCO World Heritage site, ancient Mayan ruins and lush green jungle. It's the quintessential Caribbean.
Just 80 miles from Cancun, the coral-sand beaches and clear blue waters are the finest in Mexico. This tranquil retreat that is Tulum has stayed off the radar, attracting a chic and trendy set looking to escape the crowded resorts in Cancun.
Bordered on one side by the Sian Ka'an UNESCO protected reserve and on the other by those white-powder Caribbean beaches, Tulum has a relatively small amount of land to develop. That means a supply constraint at a time demand is set to surge.
Now is the time to stake a claim in this area and get in ahead of the Path of Progress - and ahead of jet-set prices.
In Tulum, you'll find some of the world's finest white powder beaches, backed by palm trees that rustle in the Caribbean breezes..
A twelve minute drive from the white sand and sparkling turquoise waters of the Caribbean Sea you'll find a one-of-a-kind project called Los Arboles Tulum.
I'm really impressed with what developer Greg Schnurr is doing here. He's finishing the houses in Los Arboles with stone taken from the site… he's carving roads around majestic trees to preserve them… and he's turning some of the natural caves on the property into little amphitheaters.
Los Arboles Tulum is a development of 221 five-acre residential lots, and 12 commercial lots, set in 1200 acres of pristine jungle. Your back yard is home to hundreds of species of flora and fauna. At five acres, lots here are big. You'll have plenty of room to stretch out…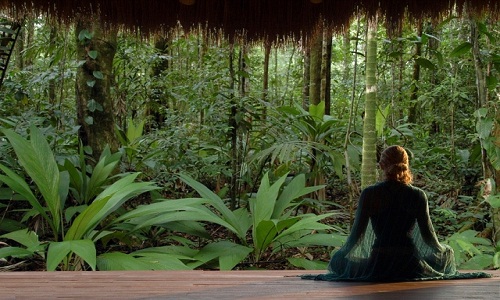 Owners in Los Arboles get five acres to stretch out in
The project will have a community area. Owners will also get access to a beach club twelve minutes away on Tulum's stunning beach. Tulum's still a chilled-out place…almost rustic (but very definitely chic) down at the beach. There won't be any high-rises or sprawling resorts on this stretch of sand. Just boutique hotels, bikini boot camps, spa and yoga retreats.
When I last visited the progress Greg had made in the six months since my previous visit was impressive. Roads meander around endangered and rare trees, and all stone curbing in the development is built by hand from stone recycled from the site. Greg's environmental consultants have designed this residential project to have a community feel…yet preserve 95% of the virgin jungle. Fifteen acres of nature trails weave their way through the project.
The concept is eco-friendly. Each lot is completely off-grid. While pre-approved low decibel generators are permitted, your power will mostly come from the sun and the refreshing breezes that blow above the tree line.
While this is an "eco??? project, it doesn't mean you have to make sacrifices. You can see this in the homes currently built and under construction.
This is a place where your imagination can run wild when it comes to house design. I wouldn't be surprised if you'll see one of the homes currently under construction show up in a glossy magazine in the not too distant future…maybe even in Architectural Digest. This mansion, which covers 10,000 square feet or so, is built around entertaining and partying. It's got a massive open-plan living area that will sit at the tree-line level.
For more than a year now, Greg has been working on a collection of custom home designs. This has been his labor of love.
Eight unique home design styles are available and each design is integrated with, and flows seamlessly into, your five acres of forest garden. Homes sizes go from 1,000 to 3,000 square feet of interior space. Add exterior covered space and the range is 1200 to over 4000 square feet. Prices for the smallest homes start at $203,000. That includes your five-acre lot.
You can contact Los Arboles here for a full information package.
Ronan McMahon
---
---
Posted Under:
mexico, appreciation potential, profit play, caribbean
---
Sign up here for your free Pathfinder Alert e-letter, and we'll send you our $50,000 Report...showcasing seven real estate opportunities for $50,000.
We value your privacy.