Sunday, August 07, 2011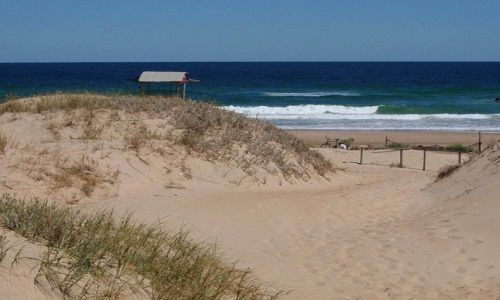 A typical beach in Rocha: beautiful, untamed, and empty...
Dear Reader,
As we crested the dunes, the beach came into view. It was gorgeous: a wide silky ribbon of white sand, bordered by the sapphire ocean sparkling in the sun. The rhythmic swoosh of the waves rolling up on the sand and the call of seabirds broke the peaceful silence. The beach was empty. We had it all to ourselves, for swimming, sunbathing, and walking barefoot in the sand...
This is the province of Rocha, on Uruguay's eastern seaboard. While it holds a certain cachet for a select few, it's not particularly well-known. Punta del Este, Uruguay's (and South America's) most glamorous resort town overshadows Rocha.
Rocha is very different to Punta. It doesn't have the swanky high-rises or the fairy-dust magic of celebrities. It's more tranquil...more discreet. And it's a lot more affordable than Punta. You can buy a spacious home site from only $31,900. More on that in a moment. But first, why you should seriously consider the Rocha area.
Rocha: A Beautiful Coast at a Beautiful Price
For starters, the beaches here are the best in Uruguay. Wide and untamed...with soft white sand...and white-capped breakers running across the navy-blue ocean. Sand dunes crouch protectively behind the beach. On the other side of the dunes lies a different watery oasis: a huge lake, Laguna de Rocha. It's protected, and covers more than 22,000 acres. Both the lake and the beach are open to anyone to enjoy.
The landscape around the lake is a rural one of rolling grassland, pine forests and fields dotted with cows and sheep.
Close by, you have a choice of two popular beach towns. La Paloma, favored by Uruguayans, is the larger of the two. It has more amenities: a bank, post office, supermarkets, clinic, taxi ranks, bus depot, and many restaurants and cafes. A new boutique hotel on the edge of town offers chic modern style.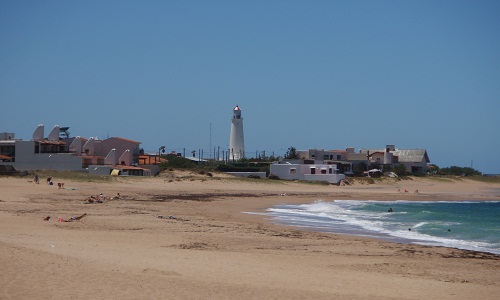 The beach at La Paloma with the town's famous lighthouse
The town's lighthouse (one of a series dotted along the Uruguayan coast) is a much-photographed landmark. La Paloma's pretty beaches fill with vacationers, surfers and backpackers in peak season.
La Pedrera is much quieter, and attracts Argentineans and Europeans. It lacks many of Paloma's amenities. Two boutique hotels, a handful of little restaurants and a small grocery store stocking the basics...and that's about it.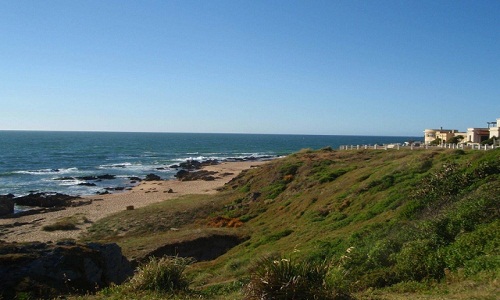 La Pedrera: chic, upscale, and tranquil

The homes in the town are a mix of ultra-modern architecture and upscale rustic. Set on a low cliff, the town overlooks sweeping curves and coves of white sand. Rocky reefs and outcrops shoot ocean spray skywards.
Unspoiled Chic or High-end Glamour?
These little beach towns are a sharp contrast to Punta del Este. Punta is the traditional summer and vacation resort of Argentineans, and increasingly for Brazilians. For six weeks a year, royalty, the seriously wealthy, and stars from the worlds of fashion, music and cinema gather in Punta to party. Punta's trendy restaurants and designer stores cater to this exclusive market. From the sleek yachts moored in the marina, to the multi-million dollar condos on the boardwalk, Punta oozes money and glamour.
That popularity impacts real estate prices. New condos in Punta now average $3000 per square meter. A lot in a gated community can cost up to $500,000. It hasn't stopped buyers coming. Real estate sales in Punta hit $2.2 billion in the 12 months to April 2011. But those escalating prices are pushing real estate development along the coast, away from Punta, and towards the border with Brazil. That's where you'll find Rocha.
When I first visited Rocha four years back, there wasn't much in the way of development. I only found a couple of small private communities, and some re-sales.
Since then, things have started moving in Rocha. You still won't see high-rises, condo towers, or mega-resort hotels. But a prominent Argentinean developer plans a $350 million project here...the founder of clothing chains Mango and Etiqueta Negra plans to do another one...and smaller developments are starting up.
And we've uncovered one community, close to the ocean and the lake, with spacious lots from only $31,900.
La Serena Golf
La Serena Golf is developer Daniel Ok's second development in this area. His first, Las Tajamares, features heavily in a glossy coffee table book showcasing homes from Argentina's foremost architects. Owners in Tajamares selected some of the best architects to design their homes. It's the only project in the book in the Rocha area.
With 225 acres, La Serena's 179 lots vary from a half-acre to three-quarters of an acre in size. More than 50% of the land will stay as green space. Seven lakes will dot the project, adding to the relaxed country feel of the property. Amenities will include a nine-hole golf course, a putting green and tennis courts. This is the first golf course in Rocha.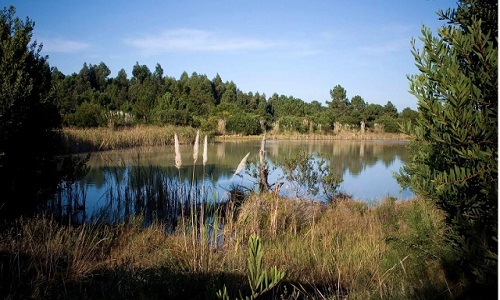 The landscape around La Serena: pine forests, pastureland...lake and ocean

Many of the lots have ocean views. And La Serena is only 400 meters from the ocean and beach. It's a kilometer to Laguna de Rocha and four kilometers to the beach town of La Paloma.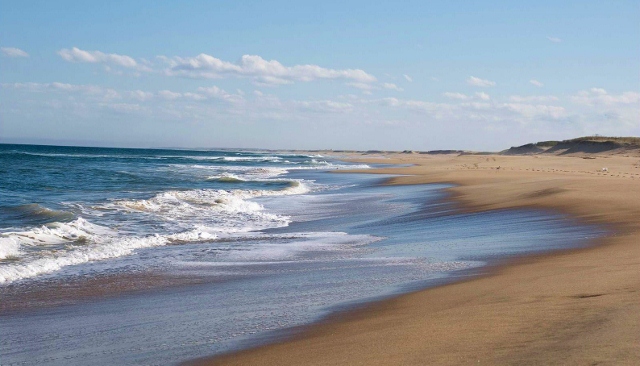 This beach is 400 meters from La Serena
Despite the amenities, lots in La Serena start from $31,900. That gets you 2120 square meters (a half-acre). If you want sea views, you'll pay a little more. $69,300 buys you a three-quarter acre lot with panoramic ocean views. You don't have a build requirement, so you can sit on your lot as long as you like, and only start to construct a home when you're ready.
You can contact Daniel here for a pricelist and availability.
You'll enjoy spending time on Rocha's beautiful coastline. And La Serena Golf is in the right place...at the right time...ahead of the development path that's sweeping along this coast from Punta. Plus, it's a great price for lots in a private community with this level of amenities and ocean views. Contact Daniel here today to find out more.
Margaret Summerfield
P.S. I love the Rocha coastline...and I'm sure you will too. Daniel will help you with arrangements in-country if you'd like to visit and see this place for yourself. Contact him here to find out more about La Serena Golf and to start planning your trip.
---
---
You might also be interested in:
Undervalued Property with Upside Potential in Uruguay
---
Posted Under:
uruguay, appreciation potential, affordable
---
Sign up here for your free Pathfinder Alert e-letter, and we'll send you our $50,000 Report...showcasing seven real estate opportunities for $50,000.
We value your privacy.