Wednesday, September 19, 2012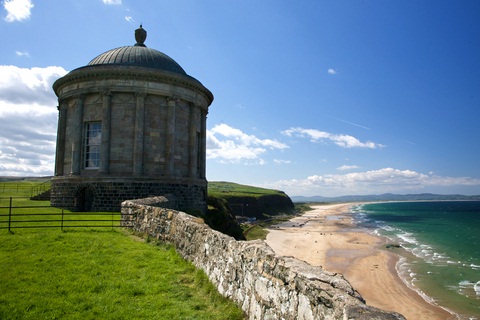 Ireland: it's still a magical place, and it's now much more affordable
Dear Reader,
The place: Waterford, a small city on Ireland's southeast coast. The date: January 2007. I'd just asked my landlord if we could quit our lease 2 months early as we were moving to Panama. That suited the landlord just fine because he wanted to sell the house.
The list price floored me: €330,000 ($429,384).
Based on that price tag you might think we were renting a palatial mansion. Not so. The house was very, very average. Average size (1200 square feet), average location, average finishes. The kind of place aimed at young couples planning to start a family – if they could get a mortgage on it. The asking price was probably 10 times the average salary.
Buying it as a rental investment didn't make much sense either. We paid €750 a month in rent. That wouldn't cover the repayments on a €330,000 mortgage. And the gross rental yield based on the list price was a paltry 2.69%.
That's a really low yield. You might take it in a low-risk blue-chip location (prime neighborhoods in Paris, London or New York) or if you'd get strong capital appreciation. This wasn't a blue-chip location and I felt that the property was already wildly over-priced with zip prospects of appreciation. This property market was due a correction.
I'm not sure if the house sold for the full list price. If it did, the buyer must regret it. I saw a house a few doors down the street on a listings website last year. It came fully furnished. The asking price was $185,000 - open to offers. And another house in the same street recently became available to rent – for €670 a month.
It all highlights the madness of the Irish property boom, a boom fuelled by cheap credit, fear and greed. Banks competed to lend to borrowers who couldn't really afford to re-pay their loans. They lent huge sums to developers who went belly up when the market crashed - leaving huge debts with the banks.
People jumped into the market not because they wanted or needed a home right now, but because they worried if they left it another few years they couldn't afford to buy anything. Others jumped in hoping to make a fat profit, as their friends or family had already done. Real estate prices soared without anything concrete to justify the sky-high price tags.
A flood of foreign buyers hadn't invaded the market. Market prices were too high in relation to average local salaries. They were also too high when you compared them to other countries in the region. Rental yields had hit the floor.
In 2008 it all started to unravel. The economy shrank. The property market stalled. The Irish government stepped in to guarantee bank deposits and liabilities. They created a "bad" bank, NAMA, to hold property developer loans.
But prices didn't drop immediately. Real estate agents talked up the market. Many sellers still listed their property at peak prices, but buyers didn't want to pay their inflated prices. Potential buyers found it tough to get a mortgage. The days of cheap easy credit had gone.
In April 2011 the UK auction house Allsop held their first fire sale auction in Ireland. It was the first glimpse of more realistic market prices. Units sold at up to 80% off peak prices. Most of the units sold at that first auction. Allsops have held regular auctions since then. Other auction groups have joined in with varying degrees of success.
So, is now the time to buy in Ireland?
It's worth remembering that most of the properties sold so far at auction were from foreign banks wanting to cut their losses in Ireland. The Irish banks and the bad bank NAMA are still sitting on thousands of properties. If their release isn't carefully controlled it could cause another sharp fall in prices.
Plus, Ireland has a glut of average houses in places without a need or demand for them. In the boom years many builders seemed to think they could build poor-quality houses in marginal locations and the buyers would still come. Even with sizeable discounts these homes aren't worth buying.
But prices on quality property are falling, too. If you've always dreamed of owning a vacation home in one of Ireland's prettiest spots, now is the time to start looking. Agricultural land is also worth checking out. And the price of large historic and country homes has fallen sharply. In the boom years, they were the ultimate trophy home for some. Developers with ambitious plans for golf courses, hotels and hundreds of holiday homes snapped them up for mega-bucks.
Today, they sell for a fraction of their list price back in the boom years.
Tomorrow, we'll look at an upcoming property auction – and find out which of the properties on offer hold the most potential.
Margaret Summerfield
---
---
Posted Under:
fire sale, irish properties, irish property crash, fire sale ireland
---
Sign up here for your free Pathfinder Alert e-letter, and we'll send you our $50,000 Report...showcasing seven real estate opportunities for $50,000.
We value your privacy.