Sunday, January 27, 2013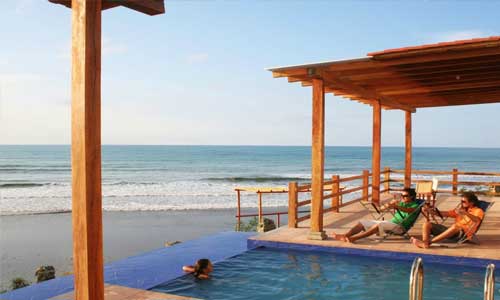 Living the good life on Ecuador's Pacific coast
Dear Reader,
Fellow readers Tim and Carol H. say that there are "many reasons" why they bought a property in Jama Campay, on Ecuador's Pacific coast. But it all starts with the ocean.
Carol describes their beach house: "Like every house and condo built at Jama Campay, from the moment you walk in the front door, you are welcomed by a spectacular view of deep turquoise surf with fresh sea breezes. The houses are designed to optimize the views of the ocean and access to the beach. And this location offers a peaceful experience away from the crowded beaches of the coastal cities. It's perfect for beachcombing or biking on the beach, body surfing, surf boarding, and hiking on the trails into the nearby forest."
The weather surprised Tim and Carol: "The climate is superb and the water is bathwater warm. It was a surprising discovery for us that instead of finding a swelteringly hot and sticky climate (like Miami, Houston, Panama, or Costa Rica), we found temperatures for beach life at the equator consistently in the 70's and 80's, with a pleasant humidity level; even requiring a light jacket perhaps on an overcast day."
But Tim and Carol admit that it's not just the Jama area that impressed him. They appreciate Ecuador and especially her people: "It is indeed in the enchanting land of Ecuador, and what really makes it all come together is the people; the people of Ecuador generally, and the people at Jama Campay in particular. We have been impressed over and over again by the warmth and genuine friendliness of virtually everyone we have met in Ecuador. It's hard to describe in a few short words, but unmistakable when you're there. There is something very genuine and very tangible about the people and culture of Ecuador. It's something you have to experience for yourself to really appreciate."
Carol describes Ecuador as "possibly the most bio-diverse country on the planet including more than 30 indigenous cultures. It encompasses the Andes Mountains, hundreds of miles of ocean coastline, the Amazon and mid-elevation cloud forest, metropolitan Quito and colonial Cuenca. Ecuador provides unlimited exploration potential for everyone."
Tim and Carol bought their house as a personal vacation home, but they have already seen an increase in the value of their home. They explain why: "The potential for increasing property values is driven by the new road connecting Quito to this section of the coast, and the new bridge and highway work connecting the northern Pacific coast (the location of Jama Campay) to the rest of the Ecuadorian coast."
The new coastal road connects Quito to this section of Ecuador's north Pacific coast. It cuts the previous 7-hour drive in half, to 3.5-hours. It makes this the closest beach area to Quito and her 2.5 million residents. It's now a weekend beach vacation spot for them, as well as foreign visitors.
The new road is opening this coast up to tourism and investment. Developers are snapping up land parcels for residential communities. We're already seeing a trend of rising prices and increasing demand for rentals.
Carol writes: "Many elect to buy in Jama for their own personal use exclusively. But there is also this tremendous potential for rental income for those of us who want to exercise that option."
Tim and Carol love their beach house and their new community: "Jama Campay is a fantastic location, operated by a great group of people who go way above and beyond expectations, who are making a dream location into a positive reality for us. We are thrilled with our new house and can't be gone more than a few days without missing Ecuador. What a place!"
It's not just Tim and Carol. Jama Campay has proved hugely popular with fellow readers and local buyers alike. The houses in the community sold out fast (although you can still buy a lot and build your own house). And the condos are selling quickly, too. That's understandable when you see the price - from $94,000 for a two-bed, two-bath ocean-view condo a short stroll to the beach.
There's no better way to get a taste of the Jama Campay lifestyle than on a chill weekend. You'll travel the new coastal road, through the mighty Andes, cloud forest and the little towns and villages on the way. You'll stay in Jama Campay, enjoy freshly-prepared food and get plenty of time to relax on the beach.
The chill weekends cost $550 and include round-trip transfers from Quito to Jama Campay, accommodation and meals.
The next trip runs March 5th-8th, 2013.
These trips fill fast. If you're interested, contact the Jama Campay team here to get more details.
You can also contact them here if you can't make the March dates but you'd still like to visit.
Margaret Summerfield

---
---
Posted Under:
ecuador, chill weekends, testimonial
---