Sunday, May 20, 2012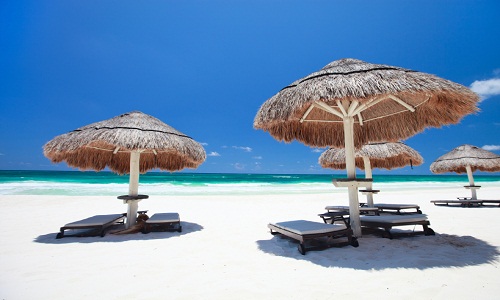 "I thought, 'why not go down and at least have a nice vacation'…. But when I arrived, I was blown away and surprised by Riviera Maya's beauty…. And really surprised by the quality of the development….. and at the end of my stay, I decided to buy a condo". - Len H.
Dear Reader,
The Riviera Maya…that piece of coast that runs south from Cancun to the little beach town of Tulum…is spectacular. It's a seductive blend of super-soft, super-fine sand, shimmering turquoise seas, and bright tropical sunshine. More than one visitor (including your fellow reader above) has fallen in love with its charms.
But this stretch of coast offers so much more than breath taking beaches. There's an investment story, too. This area comes with huge upside potential.
It began in the 1970s in Cancun. Back then, the Mexican government had a vision. They could see past the empty, sandy spit of land that was Cancun then – to a future Cancun, packed with amenities and stuffed with tourists.
Cancun, you see, started with excellent "bones". Super-soft, super-fine sand, shimmering turquoise seas…you get the picture.  The Mexican government knew that once tourists came here, they'd love it. They just had to make it easy for them to get to Cancun.
So they set to work building an international airport, installing roads and streets and utilities, and encouraging hotel chains to set up shop. In 1974, the first hotel opened.
Golf courses, mammoth resorts, shopping malls, ritzy nightclubs and a marina followed. Today, the international airport lands 800,000 visitors a month in peak season. More than 170 hotels line Cancun's powder beaches.
Cancun's transformation is complete. And that transformation made Cancun more desirable. Real estate values rocketed.
The Mexican government wanted to repeat that success. They dubbed the 80-mile section of coast south of Cancun the Riviera Maya. That gives a clue to their plans for this location.
Riviera Magic
Despite Cancun's success, the government doesn't want another Cancun. They plan to triple the number of tourists to the Tulum area, but they don't want spring break crowds or drunken bachelor parties.
They want well-heeled tourists – Riviera tourists. The kind of tourist that practices yoga on the beach at dawn. The kind that sips organic coffee. The kind that hangs out in a "simple" kaftan that cost thousands of dollars and carries a well-known designer label…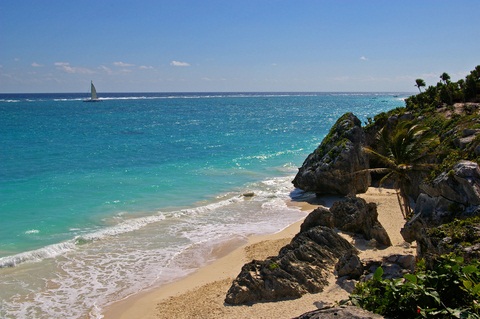 This stunning place already attracts upscale travelers
Tulum already attracts that kind of tourist. It's growing slowly. In 2011, hotel occupancy rates averaged 73% on the Riviera Maya. That's a rise of almost 4% on 2010. And tourist numbers are forecast to increase again in 2012.
Those growing tourist numbers are growing Tulum. In 1986, Tulum's resident population numbered 600 or so. Today, there are about 20,000. Five years ago, the town was a sorry-looking straggle of dusty homes and a single supermarket. Now, it's got two supermarkets, new gas stations and three banks. Small new condo projects, guesthouses and little cafes are dotted around the town. A cycle path connects the town with the beach.
Down on the beach, you'll find boutique hotels, pizzerias, rustic restaurants and cafes. Spas offer hot stone massages and pampering facials. You can try yoga, a detox retreat or bikini boot camp.
Tulum's a beautiful, fashionable, and very desirable location right now. And its desirability will increase with the rise in tourist numbers. Those tourists will need more hotels, more restaurants and cafes. We'll see more residential communities springing up to cater to the tourists that want to spend more time here (like your fellow reader who went on vacation and bought a condo).
All of those things need one basic ingredient: land. And that's a problem in Tulum.
Hemmed in by the Caribbean Sea on one side, and more than two million acres of protected land on the other, Tulum has a lack of developable land. Moreover, much of the beachfront property is communally-owned.
Strict planning laws limit building height and density. You won't see a string of high-rise towers blocking the sand on Tulum's beaches anytime soon.
So, developable land is scarce. And tourist (and second home buyer) numbers keep on growing. It's a classic "high demand, limited inventory" story. The kind you see on popular Caribbean islands, where property prices skyrocket because there simply isn't enough land to go round.
And that means huge potential…
Potential, Potential, Potential
We can already see that potential unfolding. Some of your fellow readers bought condos in a project in this area for $199,000 in 2009. Only ten months later, similar units were selling for $244,000.
They bought in the Gran Bahia Principe resort, from developer Ben Beja. And Ben's second project in the resort, Tao, shows the same upward pricing trend as his first.
Hardly surprising when you consider how much bang for your buck you get in Tao. It starts with a great location. It's in the heart of Mexico's Caribbean coast, just 80 minutes from Cancun international airport. It's close to chic beach towns, Mayan ruins, water parks, nature reserves, an immense coral reef...and the country's top beaches.
Then you add in the amenities at the Gran Bahia. This resort boasts a 27-hole golf course, cafes, restaurants, bars and a spa...and a long stretch of powder-sand beach, washed by the bright blue Caribbean Sea.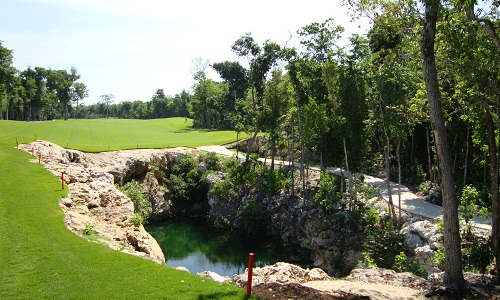 The golf course at the Gran Bahia
Tao adds another layer of amenities. The focal point of the Tao community, the Tao Center, opened a few weeks ago. Here, owners can swim in lap pools, work out in the fitness center, or practice yoga and meditation.
They can also take part in classes on salsa, Mexican cooking, or get some tips on speaking Spanish. The Tao Center will host guest speakers too, with topics ranging from the mysteries of the ancient Maya to inner well-being. It's all part of the Tao mind/body wellbeing program put together by Jonathan Ellerby (former spiritual director of Canyon Ranch).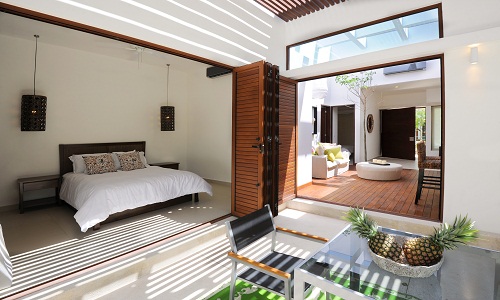 Tao style: chic, elegant, with clean modern lines
Tao condos are priced from $182,000. That's a great price for a home in a Caribbean resort. It's also much lower than what you'll pay for a similar property in the town of Playa del Carmen, a short drive away.
And easy developer finance makes your Tao home even more affordable. You can buy a luxury condo here from $999 a month with a manageable down payment and annual balloon payments.
No wonder Tao was our readers' #1 second home buy in 2011.
Try Before You Buy
So, this is a little slice of paradise where you can profit. And it's the perfect spot for a second home. And there's an easy way for you to get the real skinny on this place.
On a Riviera Maya chill weekend.
This short trip gives you the chance to explore this beautiful location, check out the amenities, and see the potential with your own eyes. Get a taster of what your life here could be like…
You'll swim in the turquoise seas, relax on the powder sand beaches, sip cocktails under the stars...and see the Tao community first-hand.
This Caribbean outpost is quietly transforming itself into the Next Big Thing. There's a window of opportunity open for now. Don't miss your chance to profit.
Contact the developer here today to get more details – and to book your spot on the next Riviera Maya chill weekend.
Margaret Summerfield
---
---
Posted Under:
---
Sign up here for your free Pathfinder Alert e-letter, and we'll send you our $50,000 Report...showcasing seven real estate opportunities for $50,000.
We value your privacy.