Saturday, August 04, 2012
Dear Reader,
Surprising people is an occupational hazard for Gill Phelan. Gill is one of the developers of Grand View Estates in Costa Rica. He's also an expat, originally from the US. Gill moved to Costa Rica in 2002. He checked out a lot of different locations in Costa Rica before settling in a little town called Siquirres on Costa Rica's Caribbean side. When he tells people this, the first question they ask is: What made you choose Costa Rica's Caribbean side?
And that's when Gill starts surprising them...
He starts by telling them about Costa Rica's Caribbean coast. It's beautiful, with pretty white-sand beaches, fun beach towns and small fishing villages. Gill loves diving and sport fishing and Siquirres is only a 30-minute drive from the clear warm waters of the Caribbean coast. The beaches on this coastline are often empty: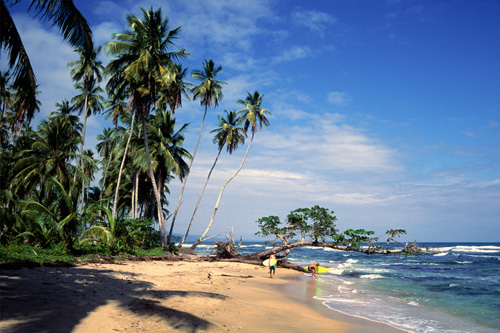 That comes as a surprise to many. Costa Rica is a tourism hot spot, and it's hard to believe you'd get a beach like this all to yourself. That's because the Caribbean coast receives fewer visitors than the Pacific, and it's much less developed - you won't find high rises or big resort hotels.
Gill also chose Siquirres because of its climate. It's not as wet as the Caribbean coast itself, but it's not as dry as other areas in Costa Rica either. It gets 80-120 inches of rain spread throughout the year. There isn't a very wet season or a very dry season. That's important to Gill, because he likes to grow his own produce year-round (papaya, coconuts, sugar cane, apples, bananas, oranges, watermelon, avocado...and more!)
Gill enjoys the relaxed country lifestyle in Siquirres. But he likes the fact that it's less than two hours to downtown San Jose on a good paved road. If he wants to shop in a big box store or supermarket, go to a movie theater or mall, or treat himself to a gourmet meal, he knows it's only a drive away. San Jose has an international airport and world-class hospitals too.
Something else that surprises anyone that chats with Gill is how affordable it is to live in Siquirres. Gill reckons that you can live very comfortably on a budget of $1500 a month for a couple. That figure includes healthcare, help around the house, eating out and running a car. Gill reckons he's cut his cost of living, improved the quality of his life, and shed a lot of stress since his move overseas.
Costa Rica's Caribbean side is more affordable when it comes to property, too. I mentioned that Gill is one of the developers of Grand View Estates. Lots in Grand View are big - from 1.24 to 2.4 acres. That's large enough to grow your own produce, put in a swimming pool...or simply enjoy the privacy it gives you. Lot prices start at $70,070.
Gill wants to extend an invitation to you to join him for a free webinar this Tuesday, August 14, 2012 at 9PM EDT. You can reserve your webinar seat here.
During the webinar, Gill will show you Costa Rica's Caribbean side, and tell you about a big news story that promises to bring jobs and businesses to this coast. He'll explain why he loves living here, and how you can live affordably, healthily, and happily on Costa Rica's Caribbean. This webinar will surprise you...in a nice way.
Best of all, Gill will give you a special 10% discount on lots at Grand View.
The webinar is free, but spaces are strictly limited. You can reserve you seat here.
Margaret Summerfield
---
---
You might also be interested in:
---
Posted Under:
---
Sign up here for your free Pathfinder Alert e-letter, and we'll send you our $50,000 Report...showcasing seven real estate opportunities for $50,000.
We value your privacy.