Wednesday, January 16, 2013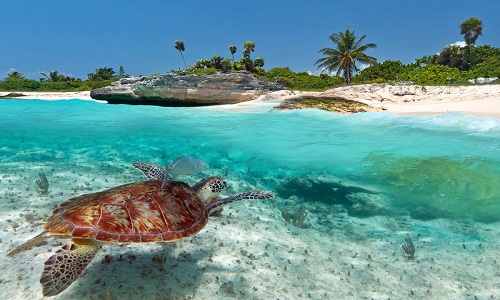 Want to swap cold grey weather for a beach lifestyle?
Dear Reader,
If it's cold, grey and miserable outside…if you're tired of cranking up the heating, shoveling snow and scraping ice…you should pay close attention to this week's mailings.
We're covering our top beach locations. We'll look at luxury resorts, natural beaches and bargain destinations where your real estate dollar goes a long way.
Let's kick off with an easy beach option.
It's the Riviera Maya on Mexico's Caribbean coast. It's quick and easy to get to – a 60-90-minute drive on an excellent highway from Cancun. Cancun is a short flight from many U.S. cities (one hour and 45 minutes from Miami, two hours 15 minutes from Houston, and four hours 20 minutes from New York). And budget airlines like Spirit and JetBlue offer low-cost fares.
It's easy to see why this place rates as a top tourist destination. It boasts turquoise Caribbean Sea and powder beaches. You can kick back with a cocktail from a rustic-chic beach bar. Or soak up the sun on a secluded beach with nobody else in sight…
It's easy to entertain yourself. You can swim with whale sharks, dive and snorkel, or explore a huge barrier reef teeming with tropical fish. Wildlife and bird watchers will love the nature parks and reserves on this section of coast. And history buffs should check out the ancient Mayan ruins and pyramids.
Whether you're looking for world-class golf courses, shopping, spas, restaurants or bars, you'll find it on your doorstep.
I really can't think of another location where you can enjoy stunning beaches with no compromise on infrastructure or amenities.
Plus, it's easy to own here, in a community called Tao.
Tao gives you luxury amenities and a luxury lifestyle without a luxury price tag. Homes in the resort cost a million dollars plus. Homes in Tao come with a similar modern style and nice finishes. But thanks to the developer financing on offer at Tao, you can buy a condo from as little as $800 a month.
Tao is set in a five-star resort with a gorgeous beach, a 27-hole golf course, swimming pools, a gym, spa, wellness center and a choice of restaurants and bars. Although it's an amenity-packed resort with top-grade infrastructure, it feels surprisingly private. It's the kind of place where you can jog on the paved streets in the early mornings and see wild turkeys, coatis and squirrels.
The easy way to see Tao and the Riviera Maya for yourself is on a chill weekend. You'll check out first-hand the resort, the Tao community, the wellness center and golf course. You'll swim in the clear waters, swing in the hammock in the shade of palm trees, snorkel the reef and explore the ruins.
And you'll indulge yourself in a Caribbean beach lifestyle - even if it's only for a few days.
The next chill weekend runs March 21st-24th, 2013.
It's a four-day trip and only costs $180 per person. That includes accommodation and all your meals. It's the best (and the easiest) way to see if this is the right beach location for you.
Spaces are strictly limited to 20 and these trips usually fill fast.
You can get more information on the trip and reserve your spot here.
Margaret Summerfield
---
---
You might also be interested in:
---
Posted Under:
---