Saturday, March 05, 2011
Dear Reader,
The catwalk show was in full swing as I left the hotel. Women sized up the designer clothes, and men sized up the shapely young models. The pulsing beat of music followed me as I headed past the beach. The beach was busy too...filled with families out for a bit of R&R at the weekend.
Kids ran excitedly across the sand to dive into the warm ocean, kicked footballs around, and raced tiny kites. Beach umbrellas dotted the sand with splashes of color...yellow, green and red. On the deep-blue ocean, jet skis buzzed across the bay, and a catamaran sailed serenely away from the marina. Voices called out on the breeze...offering ice cream, cool drinks, and snacks...overpowered at times by the growling engines of expensive cars and motorcycles driving down the boardwalk.
I was in Salinas on Ecuador's south Pacific coast ...and Salinas was in full-on party mode.
I wasn't in Salinas to party, though. I wanted to see just how far your real estate dollar will stretch in this place. Prices here are still some of the lowest for beachfront property, out of all the countries on our radar. But it's getting harder to find the super-cheap houses for $50,000-$80,000 that I saw when I first scouted the Salinas area four years back. That's down to a steady appreciation in property prices. And it's partly down to a trickle of foreign buyers, slowly cottoning on to the potential of Ecuador's south Pacific...
The beaches close to Salinas are some of the nicest in Ecuador. At Punta Carnero, big waves roll onto a long ribbon of cream-colored sand. In Punta Blanca and Ballenita, the ocean is calmer, but the sand just as soft. These beach towns don't have Salinas' tourist crowds...but they do have some great low-priced beach homes.

You'll have miles of coastline to explore here in your free time
Close to Salinas (and only a few blocks from the beach), a three-bed, two-bath home with a large patio is on the market, for $45,000. A short drive away, again for $45,000, you can get a two-bed, two-bath house in Ballenita. That doesn't get you an ocean-view, but the home is comfortable and ready to move into.
You can also get luxury beach houses in the Salinas area...for a fraction of the price you'd pay elsewhere in the region. I saw a brand-new home in Ballenita, set on a hilltop with ocean views. The three-bed, three-bath house has an open-plan living and dining area. The living space opens onto a wide terrace, and a nicely landscaped yard. It's on the market for $124,000.
Ballenita is starting to attract more foreign buyers, due to its proximity to Salinas, the low-priced homes you can find here, and the expansive ocean views many of those properties have, thanks to the hillside setting of the town.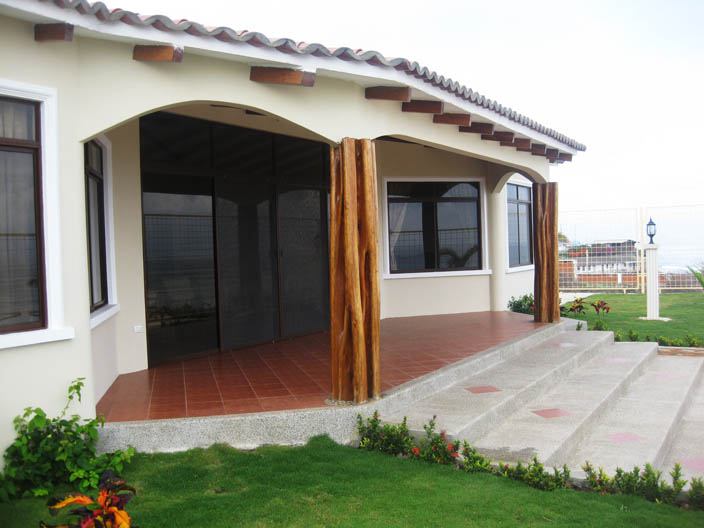 This new ocean-view house in Ballenita is on the market for $124,000
Just past Ballenita, a small complex caught my eye. This community looked chic, with its white-painted homes offset by the sparkling blue ocean. The complex has a private entrance to a quiet beach...a beautiful curve of light-colored sand.
A home for sale in this community has 317 square meters (3410 square feet) of living space. The top floor opens directly onto a rooftop terrace with amazing ocean views. With five beds, a patio and pool that you share with only three other neighbors, and beach access, the price tag comes as a nice surprise: $170,000.
Another home in the same community, with 2400 square feet of living space, is listed at $160,000. This recently remodeled home is truly move-in ready, complete with furniture and appliances.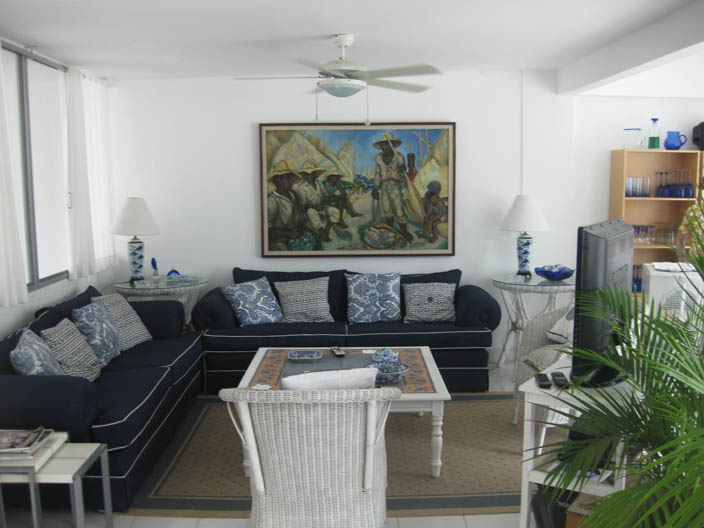 This home in Capaes comes furnished for $160,000
To buy a home of similar quality...in a beachfront community, close to a city...in Panama, Costa Rica, or Nicaragua...you could easily pay twice the price. That's because Ecuador hasn't had the sharp upward growth in property prices experienced in those other countries, triggered by a huge influx of foreign buyers. Instead, the local middle classes exert the biggest influence on the real estate market.
But that's changing. Over the last three years, more foreign buyers are coming to Ecuador...lured by low cost properties, a low cost of living, and a relaxed pace of life. And while foreign buyers used to focus on highland homes, they're now waking up to the possibilities of Ecuador's coast...and its ultra-affordable beach homes.
I toured these properties with local broker Amy Pinoargote. Amy offers both group and private tours in the Salinas area (her home base). Her listings include condos, townhomes and houses...beachfront, oceanfront, ocean-view and city...with a wide price bracket, from $45,000 to $336,000. She works with other local agents, too, to help you find your dream home. Contact Amy here to let her know what you are looking for...and find out just how much more you can get on a budget on Ecuador's south Pacific coast.
Margaret Summerfield
---
---
Posted Under:
ecuador, beachfront, appreciation potential
---
Sign up here for your free Pathfinder Alert e-letter, and we'll send you our $50,000 Report...showcasing seven real estate opportunities for $50,000.
We value your privacy.