Saturday, September 25, 2010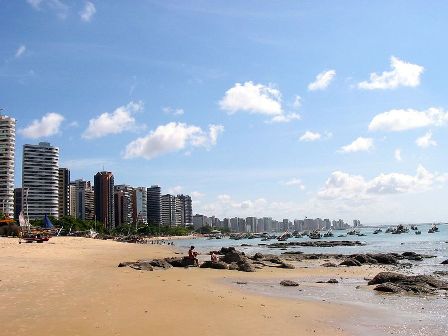 Fortaleza is a boomtown in a country that's emerging as a global superstar
Dear Reader,
The $3.3 billion takeover of Burger King by a Brazil-backed investment group (including Brazil's second-richest man, Jorge Paulo Lemann) made headlines worldwide this month. Lemann epitomizes the success, and potential, of his home country. Starting as a tennis champion, he now has a personal self-made fortune estimated at $11.5 billion.
Unlike Lemann, millions of ordinary Brazilians don't make the headlines. Yet their story is just as compelling. Every year, more of them are joining the ranks of the middle class. Their income level is going up, too. And once they have more money in their pocket, they want the same things we all want: vacations, new cars, a shiny new home, or a second home at the beach. Their buying power fuels the Brazilian economy, which in turn pushes more people into the middle class bracket, which means more buying power, which fuels the economy...
The forecast for economic growth this year is 7.3%. That's a good figure in any year, and an amazing one considering how many countries are posting negative or zero growth. Moreover, that strong economy created 1.95 million new jobs in the first eight months of 2010, double the figure for the same period last year. The figure topped the previous record of 1.61 million jobs created in 2007.
The new middle classes and their bigger wallets affect all levels of business. Fish consumption increased by 40% from 2003-2009, to an average 9.03 kg per year. Some of the newfound wealth goes towards a better diet, and a healthier lifestyle. Some of it goes towards luxuries.
Domestic airline GOL recorded a 33.9% increase in demand year-on-year in August 2010, even though August is not the best month for tourist flights. International flights did best, thanks to the strength of the Brazilian currency (the real), and more demand for international travel from (yes, you've guessed it) those middle classes. In fact, last year, thirty percent of Gol's passengers were flying for the first time.
One part of Brazil that has out-performed the rest of the country in terms of growth, and growing middle class numbers, over the last 15 years, is the northeast. Fortaleza, the largest city in the northeast, is a boomtown in a country that's emerging as a global superstar. Fortaleza ranked third in July in terms of jobs created, behind Sao Paulo and Rio de Janeiro, both of which have populations 3-5 times the size of Fortaleza.
A port upgrade at Pecem should bring more jobs to the area...and a 10,500-acre duty free zone announced in June ups the stakes even more. Moreover, Fortaleza is Brazil's #1 domestic tourist destination. Passenger traffic at Fortaleza airport increased 23% year-on-year to the end of August, and cargo traffic rose by 40% in the same period.
The icing on the cake? The city plays host to the Confederations Cup and the World Cup in 2013 and 2014 respectively, which will bring in more foreign tourists, and showcase the city globally.
A lack of hotel rooms and decent short-term rentals in Fortaleza offers the prospect of strong rental yields. In July, we brought you a deal in a location close to a new stretch of boardwalk...at a low price...where a yield of 8% is achievable. Many of your fellow readers jumped at this deal - but a few units are still available.
One buyer furnished his unit a few weeks back, and it rented within three days, for 1822 reals ($1060) per month, on a 12-month contract.
The developer raised prices on the remaining units by 11% at the end of August, but he has agreed to honor the old price table for our readers, until September 30th. The start price is now 269,734 reals ($157,158). Payment terms are 25% down, with the rest of the purchase price spread over 100 monthly payments (plus monthly adjustments). Lock down your unit at the old price today by contacting Daniel Neves here.
Margaret Summerfield
---
---
Posted Under:
---
Sign up here for your free Pathfinder Alert e-letter, and we'll send you our $50,000 Report...showcasing seven real estate opportunities for $50,000.
We value your privacy.