Friday, November 09, 2012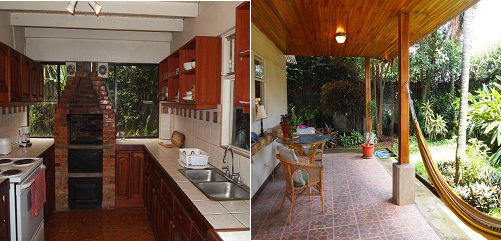 This property could make $19,200 a year
Dear Reader,
This week's beat is places where you can buy a second home and generate some income. That's something many Pathfinder readers want these days. They're looking for an income stream or a way to help cover their own cost of living. Today's property does just that.
It's a property in Costa Rica's Central Valley. It's listed for $159,000. And it could earn $19,200 a year.
The Central Valley covers around a fifth of the country. Sharp mountains and volcanoes surround a lush green plain. It's home to the capital city, San Jose, little towns and tiny highland villages. It's got great weather, warm and sunny by day and cool at night.
Almost three-quarters of Costa Rica's population live in the Central Valley. It's the country's economic hub. Costa Rica's business-friendly attitude attracts big multinational companies. Today, electronics, pharmaceuticals and financial services account for a big chunk of the country's exports.
Most multinationals base themselves in the Central Valley region. Intel built a huge microchip plant here for $300 million. They employ 2800 people.
Many expats also choose to live in the Central Valley. Some move here for work or to set up their own business. Others retire here for the cool climate, pretty landscapes and access to a wide range of amenities.
In the San Jose area, you'll find big-box stores, shopping malls, supermarkets and hardware stores. You'll see brands you're familiar with back home like Starbucks and Walmart. And San Jose's modern hospitals offer excellent, affordable medical care.
Of course, you can explore Costa Rica's natural attractions, including some amazing national parks on your doorstep.
When it comes to entertainment, you're spoiled for choice. You can dine out in style or eat a local-style lunch for $4-$5. You can catch a movie, watch ballet or listen to classical music at the National Theater or head to a bar or club for a fun night out.
On the western edge of San Jose, this property is close to the international airport and Hospital Mexico.
Originally a home, it was split into two separate apartments covering 3800 square feet. The downstairs apartment has two bedrooms and bathrooms, a kitchen and living/dining area. It's got an outside terrace overlooking the lush garden.
The second apartment is much larger. The master bedroom has an office and its own bathroom. The two guest bedrooms share a bathroom. It's got a living room, a big kitchen with a breakfast area, a separate dining area and a TV room.
You could rent the ground floor apartment for $750 a month long-term. The larger apartment would rent for around $850 a month.
The location would appeal to medical staff working at the local hospital or workers who need good access to San Jose and the airport.
The list price on the property is $159,000.
Even if you pay full list price, you could generate up to 12% gross yields. Or you could use one apartment as your personal home and rent the other one out, providing an income stream to help cover your own monthly running costs.
If you'd like more details on this property you can contact local real estate agent Ivo Henfling here.
Margaret Summerfield
---
---
Posted Under:
---