Friday, January 18, 2013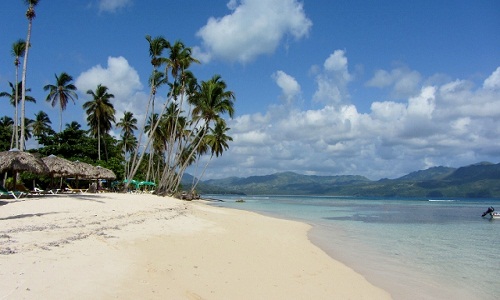 This island's beaches are simply stunning
Dear Reader,
When I mention the Dominican Republic most people think of low-cost package vacations, resort hotels blocking the beach and tourist crowds.
That certainly applies to the island's southeast coast. But it's a far cry from the Samana peninsula.
This beach location is low-key and laid-back. It's chic and free from tourist crowds. It's also very affordable. More on that in a moment. But first, what makes Samana an excellent destination for beach-lovers.
It's the place to go if you're looking for a relaxing time at the beach. You won't find high-rises, hotel loungers blanketing the sand or screaming spring breakers.
In the little town of Las Terrenas, bars, cafes and restaurants dot the in-town beaches. You can try grilled fish, wood-fired pizza, steak or lobster. You can buy warm flaky croissants from the French bakery in the morning and gourmet Italian ice-cream in the warm afternoons.
Outside town, the beaches run for miles. You might come across a rustic spot serving barbeque shrimp or chilled local beer. But often you'll share a beach with only the palm trees and seabirds for company.
And owning a home here won't break the bank. Unlike other Caribbean island locations, Samana is very affordable. Property prices stayed low because it was so tough to get here - until 2011. Today, a new road and direct flight connections from North America are starting to open this area up. But strict planning controls should keep its low-key, low-rise flavor.
To give you an idea of just how far your real estate dollar will go in Samana, take a look at these samples in Las Terrenas:
A one-bed, one-bath condo in the heart of Las Terrenas in a small complex with a swimming pool.

Price: from $72,000.

A one-bed, one-bath condo with a big terrace overlooking landscaped grounds and the swimming pool. It's got a good central location, close to shopping, dining and the beach.

Price: $110,000.

A one-bed, one-bath fully furnished garden condo in a great location. It's in a small complex with a swimming pool. Just across the street is a beautiful beach.

Price: $149,500.
There's another angle to this beach spot, too. The lack of big-brand hotels combined with the independent travelers that visit means rental opportunity. Your vacation home in Las Terrenas could generate 10% rental yields. That's an excellent return for a beach home.
If you'd like to see Las Terrenas and Samana first-hand, you can contact local real estate agent Toni Green here. She'll help you plan your trip -and show you a selection of properties based on your budget and the type of property you're looking for.
She'll give you the lowdown on the rental potential of Las Terrenas, what it's like to live there, and her top beach picks for fun days out in Samana.
Margaret Summerfield
---
---
Posted Under:
---