Sunday, November 28, 2010
Real Estate Bargains in Costa Rica

It looks like lake country in Europe...but it's much more affordable
Dear Reader,
It was Costa Rica's best-kept secret. I first scouted here three years ago. I fell in love with the setting, and the scenery. I enjoyed good food, and good company. It reminded me of lake country in Europe...from the dramatic, rich green landscape, the warm bread and crisp pastries in the little Austrian bakery, to the mini Swiss village on one side of the lake.
I couldn't believe just how affordable property was here, either. Only a handful of expats had discovered this location, and they preferred to keep it to themselves. But word is starting to get out slowly about this hidden gem...
At International Living's conference in Costa Rica in August 2010, this place stole the show. Some attendees toured the area before the conference. They liked what they saw...and they couldn't keep it to themselves. We should have had two small tours of the area, one before the conference and one afterwards. That soon turned into four bigger tours...and a lot of excitement. There's something special about this location...
Why Costa Rica?
It's close to the U.S., with many direct flights.
It's a stable democratic country.
It's affordable--with a low cost of living, and health care from $50 a month.
There are residency options for those with an income of $1000 a month.
It has a large expat community (30-50,000 US expats live here).
The landscape is beautiful, and one of the most intensely biodiverse on the planet.
It's the perfect spot for surfing, swimming, sport fishing, hiking, or bird watching.
The locals are warm, friendly, and welcoming to foreigners.
Costa Ricans have a high life expectancy (at 78.5 years, second only to Canada), and the country regularly tops The Happiness Index (a measure of well-being and satisfaction with life).
We're talking about Arenal, in north central Costa Rica. It's Costa Rica's lake country, and it ticks all the right boxes for a growing number of expats and retirees. The weather hovers in the high-70s year round. There's enough rain to keep the landscape fresh and green.
Arenal often reminds visitors of Lake Tahoe...without the crowds. If you love hiking, swimming, windsurfing, fishing, boating, bird watching, horse riding, or kayaking...this place is paradise. It's a secret part of Costa Rica, where you'll find gourmet food, good company, and property prices that seem to belong in a history book.
But the secret's slowly getting out...as more expats, retirees and property buyers uncover this hidden corner of Costa Rica.
Lakes, Rivers, Waterfalls, and Hot Springs
Let's start with the natural beauty. It's easy when you have the right ingredients: the country's largest lake (33 square miles), a lush landscape of soft rolling hills, lofty mountains, and a towering volcano. For much of the year, only fishermen and sailors break Lake Arenal's mirror-smooth surface; for a few months, stronger lake breezes bring in windsurfers.
The sharply pointed cone of the volcano reaches 5300 feet. It's live. That means a spectacular fiery display most evenings...and hot springs. Resorts offer a choice of outdoor pools, with different water temperatures, swim-up bars, and spa treatments--a perfect way to unwind at the end of a long day.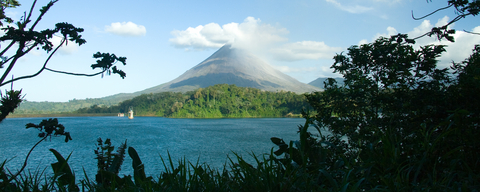 The volcano, the lake, and hot springs are major tourist attractions
The thermal water has reputed healing powers, and the volcanic mud is great for deep cleansing. There are a number of hotels that offer a variety of treatments...or you can simply soak contentedly outdoors in the heated water and relax.
Throw in crashing waterfalls, deep caverns, and misty cloud forests...and a total of 790 square miles of conservation area, parks and reserves...and "unspoiled paradise" sums this place up.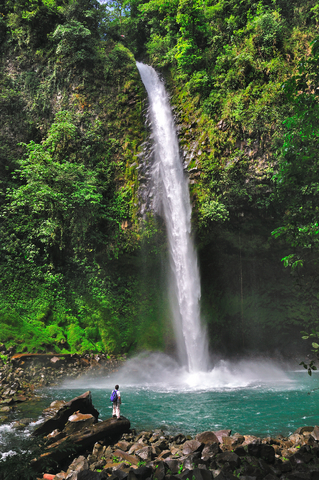 A Warm Welcome is Waiting...
The expat group in Arenal is small, but very active, and welcoming to newcomers. They meet regularly, often at the Gingerbread Hotel. Once you've dined here, you'll know why. The chef, Eyal, serves delicious, fresh, gourmet food. He prefers to use locally sourced products. On the taste front, his food ranks alongside the top restaurants in Europe or the US...and at much more wallet-friendly prices. It's by far the best food in Costa Rica.
And Now for the Bargains
The bargain-basement real estate is as mouth-watering as the food. Local-style three bed homes start at $55,000. For $179,000, you get fifteen acres of jungle, rivers, pasture, and a small house. A well-maintained 2-bed home in a private community is on the market for $89,000. A home with its own private lake set in two and a half acres is $159,000...
I could go on and on, but you get the idea. This overlooked area boasts a wide range of properties, from local "Tico" homes, to lake-view or volcano-view home sites, to US-style condos with a private marina overlooking the lake. They all have one thing in common: affordability.
If you want to check out Arenal for yourself...and see what's getting so many people buzzing about this place...contact Terry Moran here. Terry is a real estate broker we work with in Arenal, and he'll help you with your travel arrangements and accommodation. He'll show you a selection of properties in Arenal, based on your preferences...whether it's farmland, a second home, or a lake-view lot.
You'll meet other expats, who'll share why they chose this spot as their piece of paradise...
And you'll see just how far your real estate dollars will stretch here.
If you want to get a feel for Costa Rica's lake country, and immerse yourself in its charms for a few days, this is the easiest way to do it. Contact Terry today...and discover this hidden corner of Costa Rica...before the mainstream catches on.
Margaret Summerfield
---
---
Posted Under:
---
Sign up here for your free Pathfinder Alert e-letter, and we'll send you our $50,000 Report...showcasing seven real estate opportunities for $50,000.
We value your privacy.