Monday, December 26, 2011
Dear Reader,
Dig out your bathing suit, and unpack your flip-flops. Today's prize is a three-day stay in Salinas, a lively beach resort town on Ecuador's southern Pacific coast.
The trip's about more than sun, sand and surf. Salinas will certainly tempt you with her seductive beaches, city amenities, year-round beach weather and low-cost lifestyle. But it's also a chance to take a custom tour of the undervalued beach and ocean-view property in the area. These property bargains should seal the deal...
Take a one-bed condo, in a central location, close to shopping, the beach and the boardwalk. It boasts an ocean view. And the price tag is only $47,500.
That's just one of the properties you'll see if you win this trip. It's a three-day break for a couple, and includes airport transfers, accommodation and some meals. You'll get a custom real estate tour, too, with Amy Pinoargote. She'll show you the most exciting properties in Salinas. Just book your flight to Guayaquil - and then put on your flip-flops...and relax.
You can enter the free prize draw here. We'll announce the winner on January 6th. For more about Salinas' real estate bargains, read on.
Margaret Summerfield

***********************************************************************
Bargain Homes on Ecuador's South Pacific
Dear Reader,
Salinas is my favorite coastal city in Ecuador. It's on the country's southern Pacific coast. Salinas is a lively city, with lots of amenities and great beaches. It's a two-hour drive from the international airport in Guayaquil on a modern paved road. This section of coast has warm weather year-round, with low humidity - perfect beach weather. It's also a place where your real estate dollar stretches further.
On Ecuador's Pacific coast, you can afford a beach home, even one that's right on the sand. That's because property on Ecuador's coastline comes with significantly lower price tags than you'll see for similar homes in Costa Rica, Panama, Nicaragua or Brazil.
The cost of living is low here too. A couple can live comfortably on $1500-$2000 a month.
Today, I'm looking at three homes in the Salinas area with prices starting from only $47,500. And there's an easy way for you to see them for yourself: just enter our free prize draw here.
One-bed Condo, $47,500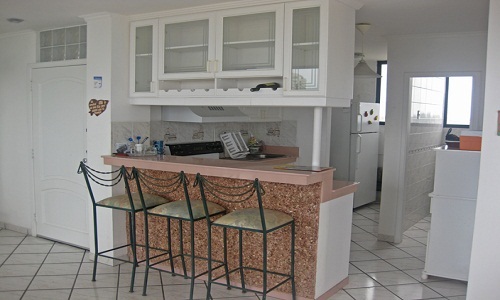 A $47,500 condo, close to the boardwalk...with $100 annual property tax

It sounds like a steal. A one-bed, one and a half bath condo, close to the beach, restaurants and cafes, for $47,500.
And it's not the size of a postage stamp. It covers 70 square meters (753 square feet). It's got a spacious open-plan layout. Better yet, it's got an ocean view.
It's not just the price tag that's low. The condo fees average $50 per month. And the current owner hasn't ever paid more than $100 property tax. That's $100 per year, by the way.
Three-Bed Villa, $74,500


A convenient location...and a 3-bed villa... for $74,500
This villa is conveniently located, close to Salinas' boardwalk and shopping mall, restaurants and grocery stores. The home features an open-plan kitchen and living space, with a breakfast bar.
It's a nice size, with 180 square meters (1936 square feet) of construction, three beds, two baths and a separate suite with its own entrance. Walk a few short blocks, and you'll find a nice beach. The list price is $74,500. That's only $414 per square meter.
Beach House in High-end Community, $107,500


A spacious home in an exclusive beach community for $107,500
This home is located in the Punta Blanca community, around 15 minutes north of Salinas. Punta Blanca feels very private and exclusive. Homes in the community are spacious and nicely designed. The community features an upscale beach club.
This four-bed home has unique details, such as hardwood floors and ceilings. The double-height living area has floor to ceiling windows. This leads to a wide terrace with ocean views. The master bedroom boasts ocean views, too.
There's a swimming pool in the yard. And the beach is two blocks from the home, a two-mile stretch of soft sand and deep-blue ocean.
The 185 square meter (2000 square foot) home comes part-furnished, and the asking price is $107,500. That's $581 per square meter...for a stylish home in an exclusive beachfront community.
The Free Prize Draw
These homes are just a few samples of some of the property bargains you'll come across in the Salinas area. You'll see a selection, of your choosing, on a custom property tour with local real estate agent Amy Pinoargote.
Amy's listings include condos, town homes and houses; beachfront, oceanfront, ocean-view and city properties. She covers properties with a wide price range. There's something for every budget, starting from $47,500.
Amy's an expat herself, originally from the U.S. Her husband Gerardo grew up in Salinas. They'll use their local knowledge and connections to find the best properties--at the best price. They'll help you uncover this amazing location, and give you the lowdown on what it's really like living here.
Enter the free prize draw here to win a three-day trip in Salinas, including accommodation, airport transfers and a custom property tour with Amy and Gerardo. We'll reveal the winner on January 6th.
Margaret Summerfield
---
---
Posted Under:
ecuador, chill weekends, prize draw
---
Sign up here for your free Pathfinder Alert e-letter, and we'll send you our $50,000 Report...showcasing seven real estate opportunities for $50,000.
We value your privacy.