Sunday, March 18, 2012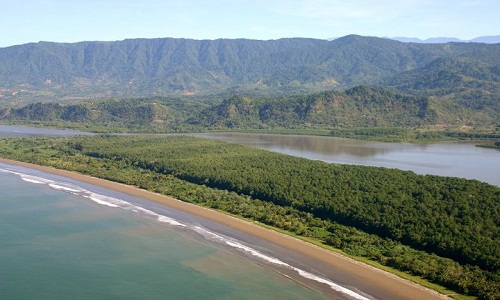 Around two-thirds of the land in this region lies in national parks and reserves
Dear Reader,
"Look closely...very closely" says your guide, "Can you see it?"
This untamed forest holds many secrets. Thanks to your guide, you spot the sloth, wrapped in sleep, curled up on a branch. He points out a tiny tree frog under a tiny waterfall, created by a giant leaf and a little pool of rainwater. He directs your gaze to the canopy, where four scarlet macaws sweep past, a riot of scarlet, blue and yellow feathers.
More than two thirds of the land in this part of the country lies in national parks and reserves. It's where the mountains meet the sea. It's where you'll see rare wildlife, exotic birds and wild cats.
Without your guide, you'd miss them all. He's your eyes and ears, your inside track to the rich diversity of this region.
And this location comes with other well-hidden treats...places you'll find when you spend time here. Or places you'll find with the help of someone that's a bit like your wildlife guide...
You'll discover an unusual hotel. It's not a famous chain, or cookie cutter bland. This hotel takes its inspiration from the well-equipped tents you see on luxury African safaris. Rio Tico Safari Lodge features raised platforms in the rainforest. Large tents top the platforms, complete with private bathrooms, king size beds, and unbeatable views. It's a unique way to enjoy the dramatic landscape in this area. And at $45 a night, it won't break the bank.
This final frontier isn't a remote wilderness. You'll find lots of little restaurants and cafes. And this small deli is a nice surprise. It stocks fine cheese, champagne and wine, Swiss and Belgian chocolate -and a selection of good cigars.
The beaches in this region don't come with tourist crowds or big hotels taking over the sand. It's easy to bag a big chunk of beach all to yourself. One beach that's a little harder to find is Playa Pinuela. It's in a pretty cove. It's the perfect spot for a picnic or a quiet afternoon soaking up the sun.
One of the biggest secrets in this region is the Pacific Lots community. It already has 260 homes. Owners get to spend their time in this wonderland, uncovering its secrets- and enjoying the great outdoors on their doorstep.
If you'd like to explore it for yourself, we've got the best guide for you. Steve Linder started coming to this area back in 2002. He travels here every month, showing insider groups the nicest beaches, the best restaurants, and where to shop for fresh produce, fish and crispy baguettes.
He'll also give you the lowdown on what makes this region so special -and why it's got so much potential.
Plus, he'll give you a complete tour of real estate options in Pacific Lots. You'll get a sneak peek inside finished homes...check out every stage of the build process...and rate the ocean and mountain view lots for yourself.
In short, Steve's your guide, sharing his knowledge - and pointing out the things you might miss on your own. This trip's an insider's shortcut to the best of this region.
If you're interested in taking part in an upcoming tour this May 17th-20th, 2012, contact Steve here.
Margaret Summerfield
---
---
You might also be interested in:
Chill in Costa Rica's Southern Zone
---
Posted Under:
costa rica, chill weekends, real estate tour
---
Sign up here for your free Pathfinder Alert e-letter, and we'll send you our $50,000 Report...showcasing seven real estate opportunities for $50,000.
We value your privacy.