Sunday, December 25, 2011
Dear Reader,
This place reminds North Americans of Lake Tahoe, without the crowds. It reminds Europeans of lake country in Austria or Switzerland, without the snow. It's a scenic spot with a huge lake, sharp mountains, and a smoking volcano.
But Costa Rica's Arenal offers much more than pretty landscapes. You'll find a friendly group of expats who love living here, and will welcome you with open arms. You'll enjoy gourmet food. You'll love the outdoors lifestyle. And you won't believe the low property prices.
You see, Arenal looks like Lake Tahoe - but Arenal's property prices are a steal. You can buy two acres of riverfront land for $9,500, or half-acre lake view lots for $19,000. If you're happy doing some work yourself, fixer-upper houses start from $55,000. A move-in ready house with an open-plan layout and granite counter tops, fully furnished, will set you back $125,000...and it's open to offers.
The winner of today's free prize draw gets to spend three days exploring Arenal's property bargains with local real estate agent Terry Moran. All you have to do is get yourself to San Jose, where Terry's team will meet you. The prize (for a couple) includes transport, accommodation and some meals.
You can enter the free prize draw here...and read on below to find out what makes this place so special.
Margaret Summerfield
Five Things to Do in Arenal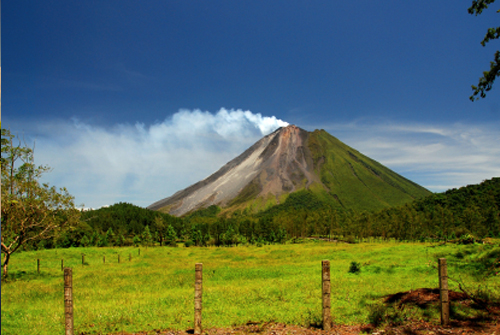 It's a dramatically beautiful setting with lots to do... and low-priced properties
Dear Reader,
Arenal's a little hidden corner of Costa Rica, with a dramatically beautiful setting. Lush green hills and mountains curl around a wide and deep-blue lake.
The show-stealer sits lakeside. It's a cone-shaped volcano, with smooth purple slopes rising skywards, its peak ringed by clouds. The scale of the views- the huge lake, the high volcano, the impressive mountains- contrasts sharply with the small towns and little farms scattered across the landscape.
It's not just the setting that draws a growing number of expats and property buyers to Arenal. The serene, placid, unhurried pace of life attracts them, too. Factor in low property prices, and Arenal's appeal becomes obvious.
More on the low property prices in a moment. But first, five things you'll enjoy if you visit Arenal...
#1, Water Sports. The 33-square mile Lake Arenal will win over water sports fans. You can try swimming, water-skiing, sailing, kayaking, wind-surfing or fishing. Close by, you can swim in waterfalls, or try your hand at white-water rafting.
If you prefer dry land, you can explore the cloud forest and national parks that surround the lake...go hiking, horse riding, or bird watching (you can spot hundreds of bird species here).
With warm sunny weather and cooling lake breezes year-round, you'll spend a lot of time outdoors in Arenal.
#2, See the Sights. Aside from the obvious lure of the lake and volcano...
You can check out the gigantic ceiba tree, that's around 500 years old and 197 feet high, at Ceiba Tree Lodge. Draped with ferns and orchids, and truly massive, this ceiba was Costa Rica's national tree in 2006.
It's a nature walk that will take some beating, and a must-see in Arenal: The Hanging Bridges. It offers 3 kilometers of walking trails, and six hanging bridges, suspended between towers. You'll see all kinds of wildlife as you walk through this tropical rainforest reserve.
If you prefer cool, dark, and underground, Venado Caves formed 15-20 million years ago. A ninety-minute tour will let you see limestone rock formations and marine fossils.
The Maleku indigenous village (thirty minutes from Arenal) gives you a glimpse of the traditional way of life of Costa Rica's smallest tribe. One tour option takes you into the forest to show you the medicinal plants used by the tribe.
#3, Thermal Springs. If relaxing is more your style, try soaking in thermal springs. La Fortuna, a town in Arenal, boasts a range of resorts and spas that make the most of the area's heated mineral water springs. The best resorts offer a selection of pools, with the water varying from cool to very hot. Some offer pampering massages, swim-up bars and cleansing volcanic mud treatments.
#4, Good Food. In the town of Nuevo Arenal, try fresh-baked bread from the German bakery. Or a recently opened steakhouse, with burgers, barbecue and wings on the menu. Little sodas offer low-cost, local plates...and there's a choice of pizzerias and cafes. Food gourmets should make a beeline for the Gingerbread restaurant. You won't find better food in Costa Rica.
#5, Good Company. Arenal's expat community is small, but friendly and active. They get together regularly, and support each other in a way I haven't seen elsewhere. It's a major factor cited by many of the expats who move to Arenal or buy a vacation home here.
Of course, Arenal's low property prices make it an even more attractive location. Here's a sample of some current listings:
Two acres of riverfront land for $9,500
Half-acre lake-view lot in a private community for $19,000
A 3-bed 3-bath condo with lake views for $75,000
An 8.25-acre estate lot with volcano and lake views for $195,000
93 acres with forest, pasture and rivers for $93,000
A new, two-bed, two-bath home with lake views, furnished, for $125,000-and it's open to offers
If you want to check out Arenal for yourself, you can enter the free prize draw here to win an Arenal chill weekend.
This is the easiest way to get a feel for Costa Rica's lake country. Enter the free prize draw today...and discover this hidden corner of Costa Rica for yourself.
Margaret Summerfield
---
---
You might also be interested in:
The Great Christmas Giveaway Starts Here
Win a Chill Weekend in Ecuador
---
Posted Under:
costa rica, chill weekends, prize draw
---
Sign up here for your free Pathfinder Alert e-letter, and we'll send you our $50,000 Report...showcasing seven real estate opportunities for $50,000.
We value your privacy.