Monday, December 24, 2012
Dear Reader,
Dig out your bathing suit, and unpack your flip-flops. Today's prize is a three-day stay in Salinas, a lively beach resort town on Ecuador's southern Pacific coast.
The trip's about more than sun, sand and surf. Salinas will certainly tempt you with her seductive beaches, city amenities, year-round beach weather and low-cost lifestyle. But this is also a chance to take a custom tour of the undervalued beach and ocean-view property in the Salinas area. The low price tags will surprise you.
The prize is a three-day break for a couple, and includes airport transfers, accommodation and some meals. You'll get a custom real estate tour, too, with Amy Pinoargote. She'll show you the most exciting properties in Salinas. All you need to do is book your flight to Guayaquil and pack those flip-flops…
You can enter the free prize draw here. We'll announce the winner on January 11th, 2013. For more about Salinas' real estate bargains, read on.
Latin America's Best-Value Beachfront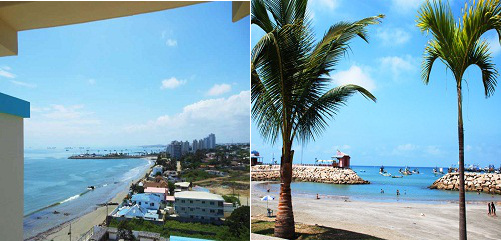 Enjoy a luxury beach lifestyle for less
Dear Reader,
If you're looking for beach and ocean living with lots of amenities put Salinas on your second-home shortlist. It's a fun resort city on Ecuador's Pacific coast.
Back in the 1940s and 1950s Ernest Hemingway, Harry Truman and Pablo Picasso visited Salinas for a spot of fishing. It's still a popular spot for sport fishermen. It's got two yacht clubs, one dating back to 1940.
The beaches around Salinas bring in tourists and expats who want to surf, swim or simply daydream on the sand. You can take your pick from long sweeping unspoiled beaches, little surf towns where you can dance the night away, and rustic beach eateries serving up the tastiest, freshest seafood.
Best of all, Salinas is a location where you can afford a beach or ocean-view home. Prices for this type of property are the lowest of any country on our beat. And the holding costs are a fraction of those back home.
It's Not Only a Vacation Spot
Salinas is easy to get to. It isn't waiting on a new road or bridge or coastal highway. It takes less than two hours to get here from Guayaquil's international airport on a nicely paved road.
Middle-class Ecuadorian families have vacationed in Salinas for generations. And it's now attracting North American buyers looking for a low-cost second home destination.
On my last trip to Salinas, I watched a fashion show in my hotel, with hot guys and girls parading past in designer swimwear. On the boardwalk, expensive sports cars cruised along, engines growling. Down on the beach, kids splashed in the surf, built sandcastles, and shared a picnic lunch with their parents.
But Salinas is more than a resort town. It's a thriving city of 45,000 residents (200,000 if you include the neighboring towns of La Libertad and Santa Elena). The city caters to both residents and tourists. It's got plenty of shopping, with malls, supermarkets, a farmers' market and smaller stores. Water sport enthusiasts will appreciate the city's two yacht clubs. The nightlife scene is fun, with a movie theater, restaurants, cafes, live music and clubs.
More retirees and second home buyers are coming to Salinas. They love the beaches. They love the amenities. They love the dry, warm weather. They love the low cost of living. And they love the low property price tags…
Latin America's Most Affordable Beach Property
Why Ecuador
The cost of living is incredibly low. A couple can live comfortably on $600 a month.
You can get retirement residency status with an income of $800 a month, entitling you to discounts of up to 50% on a wide range of goods and services, including air travel.
Or you can get residency by buying a property in Ecuador for $25,000.
The currency is the dollar—so comparing property prices, utility bills and grocery costs with those back home is easier. Moreover, you don't have the hassle of currency exchanges, or rate fluctuations.
Ecuador's coast reminds us of the Pacific coasts of Panama, Nicaragua and Costa Rica. North American buyers jumped on those countries, snapping up beach and ocean-view property. Property prices soared, doubling in only a couple of years.
Those real estate buyers overlooked Ecuador's coast. But the slowdown back home is putting Ecuador's coast on the radar of North American property shoppers. They're looking for a lower cost of living and a lower-priced beach home. Ecuador's coast ticks both those boxes.
Property prices haven't boomed in Salinas. Instead, they've risen steadily over the last five years. But it's still incredibly affordable - for now, at least.
You can own a boardwalk condo here from as little as $90,000.
Take a look at the property samples below…
Take Three in Salinas
A Boardwalk Condo.
It's steps from the beach and close to restaurants, shopping and entertainment.
It's a 3-bed 3-bath condo with an open-plan kitchen and a large closed balcony with beach and ocean views. It's got new plumbing and wiring and new tile in the kitchen and bathrooms.
List Price: $90,000.

A Modern Villa.
Unique in the Salinas market, this is a sleek modern-style villa built to order. It will have two bedrooms, two bathrooms and hardwood floors in the living area and bedrooms. The price includes appliances, air conditioning units and some furnishings. It's only one short block to the beach.
List Price: $97,500.

An Oceanfront Town home.
This new three-bed town home comes with granite counters, hardwood cabinets and ceramic tile floors. It's in an oceanfront complex with only 9 units. You get great ocean views and a fresh sea breeze on your balcony.
List Price: varies from $87,000-$108,000 depending on the size of the unit - they run from 1250 to 1720 square feet.


Seeing is Believing…
To get an up-close look at some of the most exciting, best-value properties in the Salinas area you can take a tour with Amy Pinoargote. Amy's an expat, originally from the US. She's married to Gerardo, an Ecuadorian from Salinas. They use their local knowledge and connections to find the best properties—at the best price. They'll help you uncover this amazing location and give you the lowdown on what it's really like living here year-round.
Enter the free prize draw here to win a three-day trip in Salinas, including accommodation, airport transfers and a custom property tour with Amy and Gerardo. We'll reveal the winner on January 11th, 2013.
Ecuador is the place where you can still afford that rare opportunity to live just a couple of steps from the sand. These low values won't remain low for much longer. You need to check out this affordable beach buy sooner rather than later.
Margaret Summerfield
---
---
Posted Under:
ecuador, chill weekends, prize draw
---