Sunday, June 13, 2010
Reserve Your Spot Today--and Save $100
Dear Reader,
I wanted to make sure you got one last chance to reserve your place on our upcoming real estate tour on Ecuador's Pacific coast.
You see, if you reserve today, you'll save $100 off the ticket price...
So you'll get a 3-day trip...including four nights' accommodation...for just $449.
Read on below to find out why you should check out this stretch of coast while it's still affordable.
Margaret Summerfield
The World's Best-Value Beachfront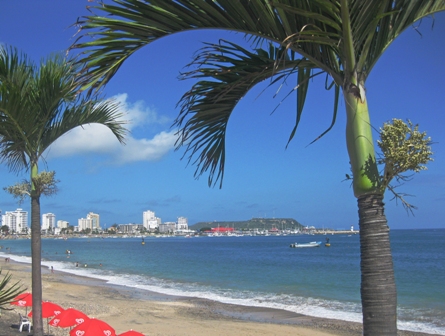 Enjoy a luxury beach lifestyle...in your $55,000 condo
Dear Reader,
What's the cheapest beachfront property you've seen this year?
We're watching one destination with 1400 miles of coastline, cobalt-blue Pacific waters, and properties for less than $1000 a square meter ($92 a square foot)--for a true toes-in-the-sand beachfront home. That means your own condo on the sand for $55,000...or a 3-bed ocean view home for $68,000.
Until now, this country's southern coast...with miles of unspoiled, pristine beaches...was overlooked. But that's changing...
This is Some of The World's Most Unspoiled--and Most Affordable--Beachfront
Here, you'll find mile after mile of breath taking beaches...washed by deep-blue Pacific Ocean. You'll likely have the beach to yourself...and the warm tropical weather for enjoying a quick dip.
Why Ecuador
The cost of living is incredibly low. A couple can live comfortably on $600 a month
You can get retirement residency status with an income of $800 a month, entitling you to discounts of up to 50% on a wide range of goods and services, including air travel. Plus, you can import household goods and vehicles tax-free.
Better yet, you can get residency by buying a property in Ecuador for $25,000.
The currency is the dollar--so comparing property prices, utility bills and grocery costs with those back home is easier. Moreover, you don't have the hassle of currency exchanges, or rate fluctuations.
I'm talking about Ecuador's stunning Pacific coast--and her top beach resort, Salinas, in particular.
Having spent more than a month exploring the length of this stunning Pacific coast, we identified a number of small towns and beach resorts which offer the best values...including sophisticated Salinas with its exclusive marinas, sandy beaches and incredibly affordable properties.
We'd like to offer you the chance to discover this stretch of coast for yourself...focusing on the bargain buys and hidden gems...at an unbeatable price. And you can save $100 on the ticket price if you reserve your spot today.  But more on that in a moment...
At Pathfinder we search for real estate markets poised to boom. That could happen here. Ecuador's coast reminds us of parts of the Pacific coast in Nicaragua and Costa Rica, before the real estate boom in those countries, triggered by an influx of foreign buyers. Ecuador's coast is now on the radar of an increasing number of overseas property shoppers. Faced with economic uncertainty in the US, they're exploring more affordable alternatives--a lower cost of living, and a lower-priced beach home. Ecuador's coast fits the bill.
Right now, you can find some of the world's best-value beachfront here. Undervalued beachfront on the doorstep of one of the world's lowest-cost retirement havens... you can guess that won't be overlooked for too long...
A $55,000 Condo in an Exclusive Beach Resort
About 90 miles from Guayaquil, Ecuador's largest city, Salinas has long been a vacation home destination for Ecuadorians. This is Ecuador's "in" playground...perfect for sunbathing, boating, surfing, and sport fishing. Residents and visitors enjoy the sun and water sports during the day. The evening is for enjoying fine dining and the vibrant nightlife.
A jetty divides the beach almost perfectly in half, close to the docks of Salinas Yacht Club. The sandy half-moon bay on the north side, where the abundance of action takes place, is Salinas Beach, lined with upscale high-rise apartments, hotels, restaurants, and shops. To the south is Chipipe Beach, quieter and more family oriented.

Tranquil Chipipe Beach attracts family groups
Despite the yacht clubs, and the sophistication you'll find in Salinas, though, it may be one of the world's least-expensive beach resorts.
You can own a condo with an exclusive yacht club and sandy beach just steps from your front door...for $55,000.
The Puerto Lucia yacht club attracts an international crowd of sailors and sport fishers...and well-heeled Ecuadorians, seeking a quiet, upscale neighborhood to raise their families. A development here, Spondylus, is minutes from grocery stores, a shopping mall, a country club, restaurants, and medical clinics. Plans for the condo community include 24-hour security, an oceanfront social area, a gym, pool, Jacuzzi, sauna, and secure parking. The first tower is nearing completion, and only a handful of units remain. Ocean-view condos in the development start at only $55,000, for a 580-square foot unit.
If condo living is not your scene, check out the quiet beach town of Ballenita, ten miles north of Salinas. In a private community, just across from the beach, is a 1250 sq. foot townhouse for $58,000.
$55,000 buys you another townhouse with 1200 square feet of living space. The five-year-old property is located in a beachfront complex with a pool, workout area, and a soda bar.
Fifteen minutes outside Salinas, you'll find Ancon, an undiscovered, unique beach town. This town was a hit with some of Ecuador's earliest expats. It slipped into anonymity in more recent years, but is regaining its popularity. For now, it's Ecuadorians based in the US that are buying second homes here...but expect a stampede of North Americans once word gets out about this place. An ocean-view home with 3-beds and 2-baths in a large lot is $68,000... a fully restored 4-bed 2-bath home on two-thirds of an acre, with more than 70 tropical trees, is $100,000...and a 3,000 square foot home with breathtaking ocean views is $150,000.

Ecuador's coast is currently overlooked
To get an up-close look at some of the most exciting, best value properties in Ecuador's Southern Pacific, take a tour with Amy Pinoargote, one of the Spondylus developers. Amy runs real estate tours in and around Salinas. She's an expat herself, originally from the US, and married to an Ecuadorian. She uses her local knowledge and connections to find the best properties--at the best price. Amy won't give you a hard-sell sales pitch on the tour...instead, she'll help you uncover this amazing location, and give you the lowdown on what it's really like living here year-round.
You'll see all the towns we've mentioned, and the properties...Spondylus and the Puerto Lucia area (of course), properties in Ballenita, and Ancon, the former expat haven that's now home to some amazing bargain homes.
The tour costs $449 per person if you reserve by close of business on June 14th, and $549 per person if you reserve after that date. The next tour runs July 14th-17th. The tour price includes four nights' accommodation, transport and some meals. A welcome cocktail on the first night gives you the chance to meet expats who have made the move already, and get the lowdown on what it's really like to live here. If you'd like more details, contact Amy here.
Ecuador is the place to go to make your retirement dollars stretch even further...and this applies not just to lifestyle, but to real estate values, too. This is where you'll find some of the worlds cheapest beachfront... where you can still afford that rare opportunity to live just a couple of steps from the sand.
Currently overlooked, Ecuador's coastline will be next on the list for U.S. retirees and vacation homebuyers. These low values won't remain low for much longer. I strongly urge you to check out this affordable beach buy sooner rather than later.
Margaret Summerfield
P.S. Don't forget, contact Amy by close of business tomorrow to secure your $100 savings on the ticket price.
---
---
Posted Under:
---