Sunday, January 06, 2013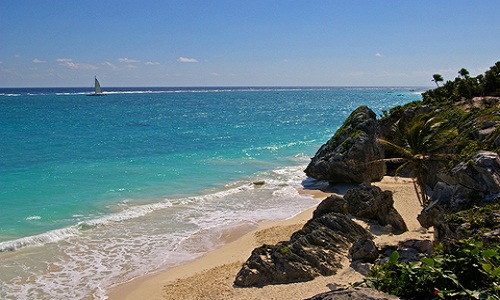 You can create your own private kingdom in this beautiful location
Dear Reader,
You're sitting on your outdoor terrace, enjoying your breakfast. You're surrounded by forest.
A small group of toucans forages overhead, their bright bills a brilliant streak of color against the cool green shade of the trees. Shafts of sunlight pierce the canopy and light up the forest floor, studded with giant limestone boulders. A soft breeze rustles through the treetops, breaking the stillness.
This is the secret hideaway you've always dreamed of.
Yet this hidden oasis is close to an international airport. It's close to grocery stores, banks, restaurants and cafes. It's close to golf, shopping and entertainment. And it's close to one of the world's finest beaches.
It's a unique community called Los Arboles.
Reef, Rivers, Ruins & Rainforest
Los Arboles isn't isolated. In fact, it's easy to get to. It's just outside Tulum on Mexico's Caribbean coast.
You arrive in Cancun airport after a short flight (1.45 hours from Miami, 2 hours from Houston, and 4 from New York). Then it's a two-hour drive on an excellent highway to your little slice of paradise.
You swap the city hustle and bustle and spring break crowds of Cancun for a peaceful getaway. In Tulum, the beaches are unspoiled, washed by warm surf and dotted with coconut palms.
Laid-back bars, gourmet restaurants and cool cafes line the beach. The area attracts chic, upscale travelers looking for a relaxed getaway. They want to hang out on the powder-soft beaches, take a dip in the tropical Caribbean Sea, try yoga on the beach at sunrise or a soothing massage.
This place is unspoiled but it's not remote. There's plenty to do. The world's second-largest barrier reef lies just off the coast, filled with a rainbow of exotic fish and jewel-like corals. You can swim, surf, dive or snorkel.
Sailing enthusiasts can take advantage of the small marinas along the coast. Golfers can challenge themselves on the many signature courses nearby.
If you want more adventure, you can explore an extensive underground system of caves, rivers and sinkholes. A huge biosphere reserve conceals a richness of wildlife (including manatees, pink flamingos, ocelots and turtles).
Ancient Mayan temples and cities are scattered throughout the forest. And this history isn't just part of the long-forgotten past. You can still see little Mayan villages in the region, with thatched-roof homes; the women wear traditional dresses with colorful embroidery. Life in these villages carries on in more or less the same way it has done for centuries.
If you want box-store shopping, big supermarkets, or fun nightlife, the beach town of Playa del Carmen has it all. It's only 35 minutes from your private oasis.
Your Own Private Kingdom
Los Arboles is two hours from Cancun's international airport. It's ten minutes from banks and grocery stores. It's twelve minutes from cafes, bars and restaurants. And it's twelve minutes from the stunning beach below.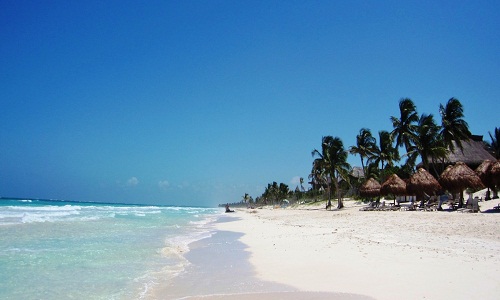 This is the beach that's twelve minutes from your forest retreat
Los Arboles is a private community. But it isn't a grid of cookie-cutter homes on postage-stamp-sized lots. Instead, each owner gets five whole acres of land. Five acres of trees to screen you from the outside world and give you the utmost in privacy. Five acres to create your own little kingdom.
You can't see or hear your neighbors. They're there when you want to socialize or need help. But you can't see or hear them. Your five forest acres act as a buffer.
And community rules at Los Arboles protect that buffer. You can only improve 5% of your five acres. The rest will stay as unspoiled forest.


Los Arboles is preserving the forest and its flora and fauna for you to enjoy
Each lot is completely off-grid. Your power will mostly come from the sun and the refreshing breezes that blow above the tree line. No utility poles or power lines block your view. No streetlights will dim the starlight that twinkles overhead.
The roads in the community feel like quiet country lanes. They curve around large, rare trees. All the road curbing is hand-built, using stone recycled from the site. Fifteen acres of nature trails weave their way through the community's 1200 acres. You'll see toucans, deer, foxes, coatis, exotic birds and tropical butterflies.
This is a dreamy forest setting where you can relax in your own private sanctuary, with a world of conveniences on your doorstep. You're off-grid, off the beaten track; but you're not isolated.
You Won't Pay a King's Ransom
Five-acre lots in Los Arboles cost $90,000. They come with a build requirement. Build costs run around $95 a square foot, so you can build a 1200-square-foot home for only $114,000.

One of the homes in the community
Only 26 lots remain for sale in Los Arboles, so if you're interested, you need to act fast. There simply isn't anything else like this community in this area.
Is It Right for Me?
As I said, this isn't your standard cookie-cutter community. So it's hard to say if it will suit you or not. Developer Greg Schnurr knows that. So he's arranged a way for you to sample the Los Arboles lifestyle, dip your toes in the laid-back lifestyle of this place, and see if it's right for you, on a Los Arboles chill weekend.
The chill weekend costs $249. Get yourself to Cancun airport, and Greg's team will meet you. From that point on, you can kick back, relax and soak up the atmosphere.
The trip gives you a flavor of the Tulum lifestyle. You'll visit the world-famous Mayan ruins. You'll swim in the cool clear waters of a natural limestone cenote. You'll discover the natural beauty of this location.
You'll spend time at Los Arboles, too. You'll check out some of the 27 homes that are complete or under construction. You'll see that off-grid doesn't mean sacrificing modern comforts or conveniences. And you'll really appreciate how five forested acres can shield you from the intrusions of the outside world.
Don't worry, you'll get to relax on Tulum's perfect beaches, too.
Come and Try it Out...
The next chill weekend runs March 7th-9th. Contact Greg's team here to book your spot (or ask about future dates, if you can't make the March trip).
Los Arboles is a special, secluded spot.
If you're looking for a secret bolt hole, where you can unwind and recharge, you should come and check it out.
If you want privacy but neighbors close at hand, you should check it out.
If you want epic beaches, charming beach towns and pristine forest, you should check it out.
If you want upscale living that protects nature, you should check it out.
In fact, you should just come and check it out. You'll fall in love with this place.
Contact the Los Arboles team here today to start planning your trip.
Margaret Summerfield
---
---
You might also be interested in:
He's Building His Dream Home – and So Can You
An Amazing Deal - But only for 26 Readers
---
Posted Under:
mexico, chill weekends, caribbean, eco-friendly
---